Kirk Cousins Contract: Vikings Say the Right Things but Have Few Options
As things stand, Kirk Cousins will be the Minnesota Vikings quarterback in 2022. New head coach Kevin O'Connell and general manager Kwesi Adofo-Mensah made that much clear in O'Connell's introductory press conference.
The Vikings are saying the right things about their veteran quarterback, but do they have a choice? Cousins' contract is about as iron-clad as they come, so even if O'Connell and Adofo-Mensah felt otherwise, Minnesota may not have a ton of options.
The Minnesota Vikings are committed to Kirk Cousins, for now
"Well, I know he's under contract and I'm excited to coach him," O'Connell said of Cousins, according to ESPN. "We've already started thinking about how we're going to build those systems for him and our other quarterbacks and really the tremendous skill group that we have, our guys up front. It takes all 11 to move the football on offense, to run it, to throw it, to score points in the red zone. But I'm anticipating Kirk being a part of what we do."
That's an endorsement from O'Connell but it's not the strongest statement in favor of Cousins.
The 33-year-old quarterback is in the final year of a fully-guaranteed $66 million contract. Sure, he's largely considered to be an upper-echelon NFL quarterback, but he hasn't been able to lead the Vikings to the promised land to this point. He's a decidedly average 33-29-1 in four seasons, and he's led the Vikings to the playoffs only once.
With only one year left on his contract and with a new regime in town, is Cousins really the long-term answer for Minnesota?
At least for now, the Vikings are saying yes.
"We're focused on building the team around him to set us up to succeed the best we can," Adofo-Mensah said of Cousins.
Do the Vikings have many choices but to stick with Cousins?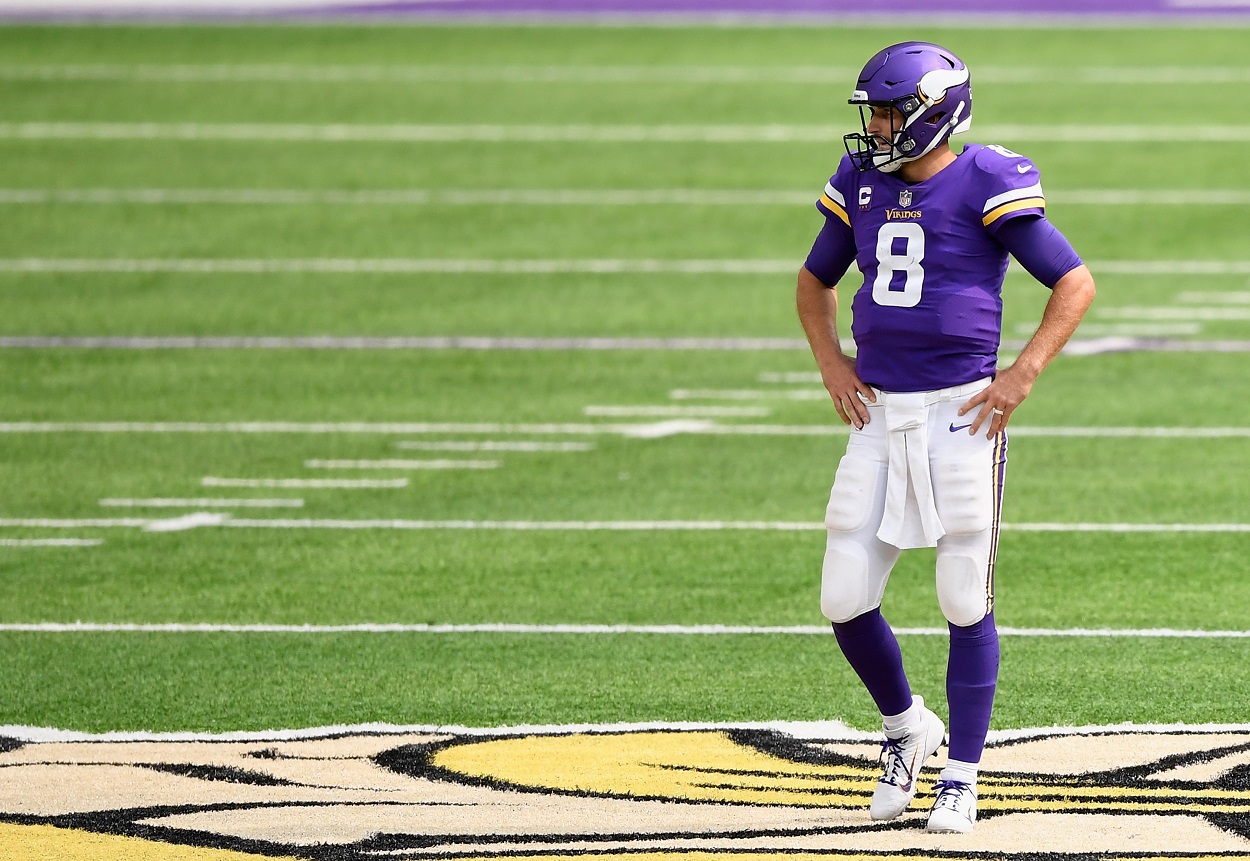 Cousins is a holdover from what the Vikings hope is an era of football that's firmly in the past.
The problem for Minnesota is that the previous regime, head coach Mike Zimmer and general manager Rick Spielman, obviously really liked Cousins. That, or they were terrible negotiators.
Either way, Minnesota signed Cousins to a fully-guaranteed contract back in 2018 and then gave him a two-year extension in March of 2020 that came with $66 million guaranteed.
He's in the final year of that extension and will be owed $35 million (his base salary) if he's on the roster come March 19th, 2022. He'll also count $45 million toward Minnesota's salary cap, which is the third biggest 2022 cap hit league-wide, just behind Matt Ryan ($48.6) and Aaron Rodgers ($46.6).
Both of those players have league MVPs to their names, mind you, with Rodgers boasting four.
To recap, the Vikings have a new leadership regime but are stuck with a good but somewhat underwhelming quarterback who will take up 21.43% of their salary cap in 2022. That's not even mentioning that the Vikings are expected to enter the league year almost $15 million over the cap.
The issue for Minnesota is that outside of a trade, the Vikings are hamstrung by Cousins' contract. If the Vikings can trade Cousins before June 1st, his dead cap number will be only $10 million and the Vikings can save $35 million. The issue is that fact alone kills his trade value because any potential trade-partners know what the Vikings would be saving if they can trade him before June 1st.
Why would they give away that leverage without sending back an underwhelming trade package in return?
It's really a lose-lose for Minnesota.
2022 could be Cousins' last season in Minnesota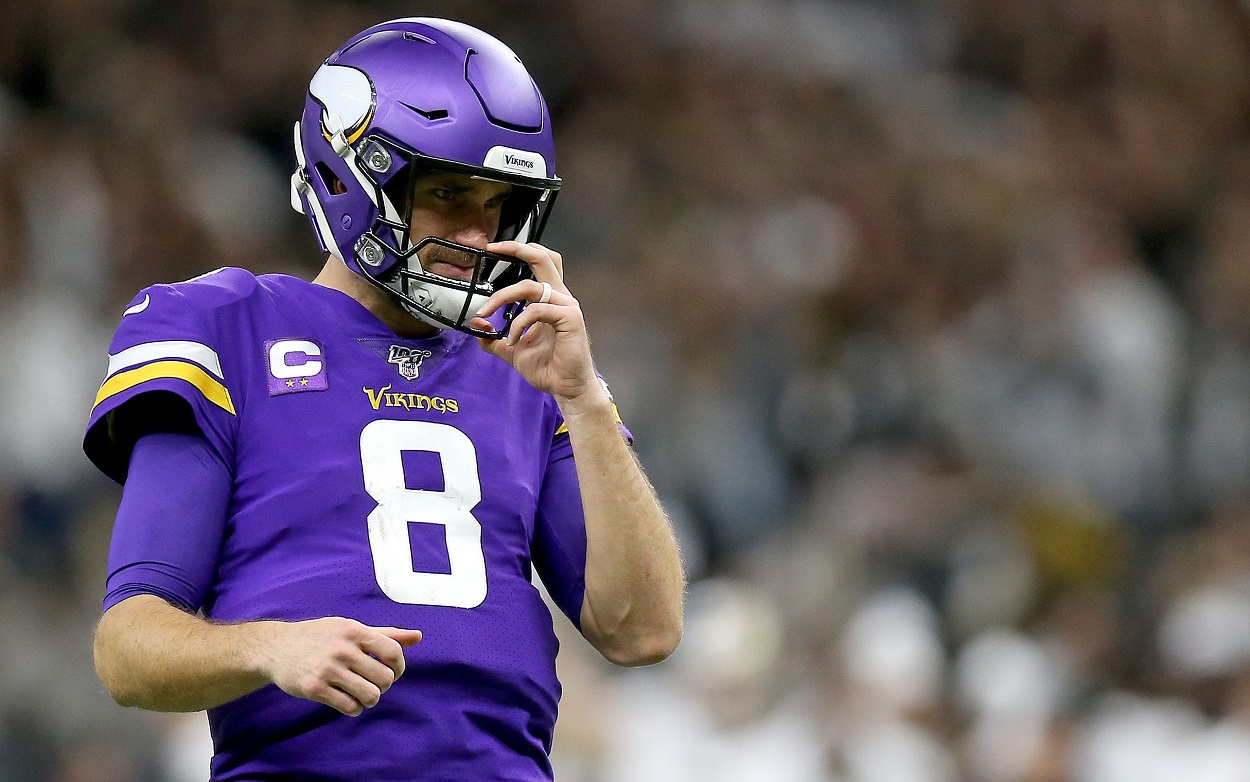 A lot of times, when a new regime takes over an organization, they want to go find "their guy" at quarterback. The Vikings saw that play out in Green Bay just a few years earlier. Despite having Rodgers, Matt LaFleur, Brian Gutekunst, and the Packers drafted Jordan Love in the first round of the 2020 NFL Draft.
O'Connell and Adofo-Mensah are first-timers in their respective positions. It would make sense if they wanted to find their hand-picked quarterback to lead them into the future. As we've now covered, though, even if they wanted to move on from Cousins, they're really stuck because of the way his contract is laid out.
The thing is, at least for this season, that's not a terrible thing.
O'Connell could do much worse than having an upper-echelon veteran quarterback in his first season as a head coach, and it's worth remembering that Cousins has quite an arsenal around him. Justin Jefferson is a top-five wideout, and Adam Thielen and Dalvin Cook can be elite when healthy.
Even if Cousins is not "the guy" the Vikings want at quarterback in the near future, he can be a good holdover in O'Connel's first year.
Maybe there's an intriguing quarterback prospect the Vikings want to take a flyer on in the mid-rounds of the 2022 NFL Draft, and Cousins can be a valuable mentor for that player. There's also the 2023 offseason to look ahead to. Sure, Cousins will be a free agent, but so will be players like Kyler Murray, Lamar Jackson, Derek Carr, and Baker Mayfield.
The point is this: Even if the Vikings don't want to continue with Cousins in 2022, they kind of have to at the moment.
That won't be the case in 2023 and beyond.
Stats courtesy of ESPN and Pro Football Reference. Contract information via Spotrac
RELATED: Justin Jefferson's Dominance Can't Save Kirk Cousins From a Difficult Truth Regarding His NFL Legacy