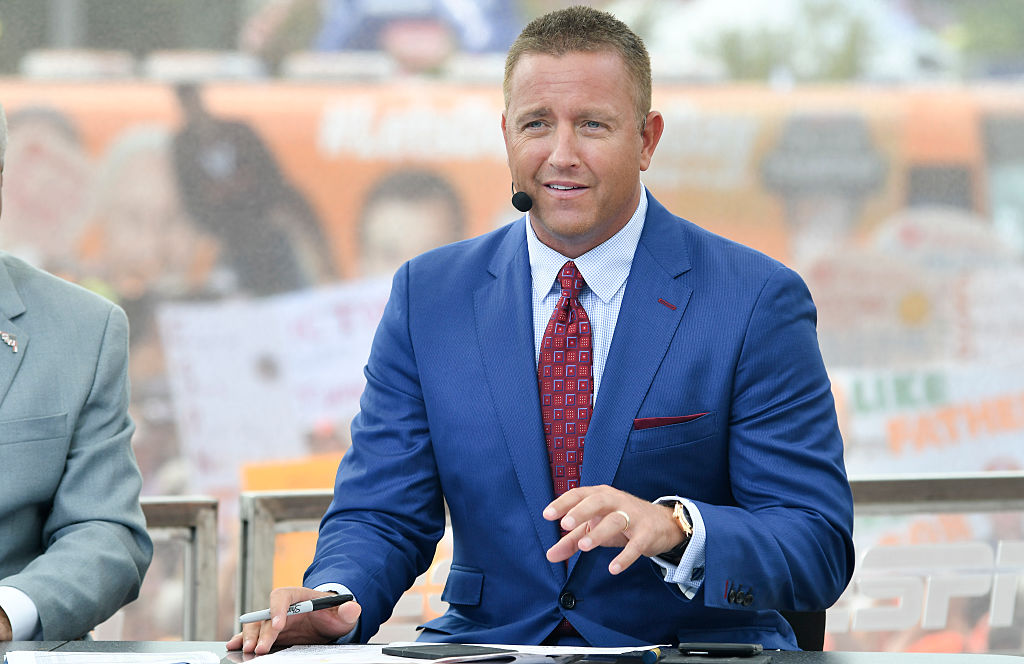 Kirk Herbstreit Has a Nice Net Worth Despite Being a Lousy Quarterback at Ohio State
Kirk Herbstreit was not a good quarterback at Ohio State. He has been excellent at ESPN, though, which has earned him a large net worth.
For over 20 years, Kirk Herbstreit has been on almost everyone's television during the college football season. He also makes appearances on ESPN during the NFL draft as the college athletes he covered take the next steps in their football careers. While Herbstreit has been phenomenal on TV, he was a below-average quarterback at Ohio State. Despite not being that successful during his playing career, though, Herbstreit still has a pretty decently-sized net worth.
Kirk Herbstreit was not a good QB at Ohio State
Through Herbstreit's first two seasons with the Ohio State Buckeyes in 1989 and 1990, Herbstreit only threw 10 total passes. However, he finally got a little more playing time during 1991 and 1992. 
In 1991, Kent Graham got most of the reps at quarterback for the Buckeyes, but Herbstreit still played a little bit. He went 38-of-75 through the air in 1991 for 485 yards, one touchdown, and three interceptions. He also ran for 153 yards and two touchdowns on 31 rushing attempts.
Then in 1992, Herbstreit was the main QB for the Buckeyes. His stats were still not great, though. He went 155-of-264 through the air for 1,904 yards, four touchdowns, and six interceptions. He did not play much of a role in the running game that season either. The Buckeyes ultimately went 8-3-1 that season and lost in the Citrus Bowl to Georgia. 
Herbstreit's overall career stats at Ohio State were not good. He threw for 2,437 yards, five touchdowns, and 11 interceptions. He has, however, had a much better career as a broadcaster. 
Finding success at ESPN
Kirk Herbstreit has worked at ESPN since 1995, according to ESPN Press Room, and has been extremely successful. ESPN hired him to be a college football sideline analyst in September 1995, and he was later moved to College GameDay which he has been on since August 1996. He proved that he was pretty talented on TV early too. Herbstreit was nominated for a 1997 Sports Emmy Award for a top studio analyst, according to ESPN Press Room.
He has ultimately earned seven sports Emmy nominations for best studio analyst and he has won three in 2010, 2011, and 2019, according to ESPN Press Room. He also received a sports Emmy for outstanding event analyst in 2018 as he has been the analyst for Saturday Night Football since 2006.
During his playing career, Herbstreit did earn team MVP in his senior season with the Buckeyes, but we know that he was not that great of a QB. His career as a broadcaster for ESPN, though, has been much more successful.
Herbstreit has a solid net worth despite being a lousy QB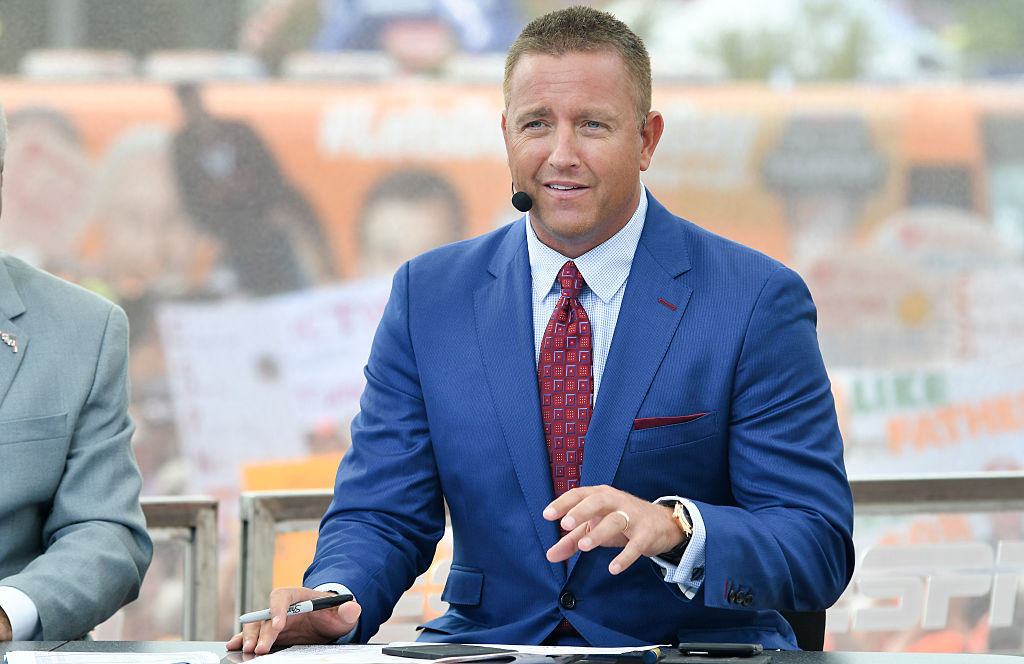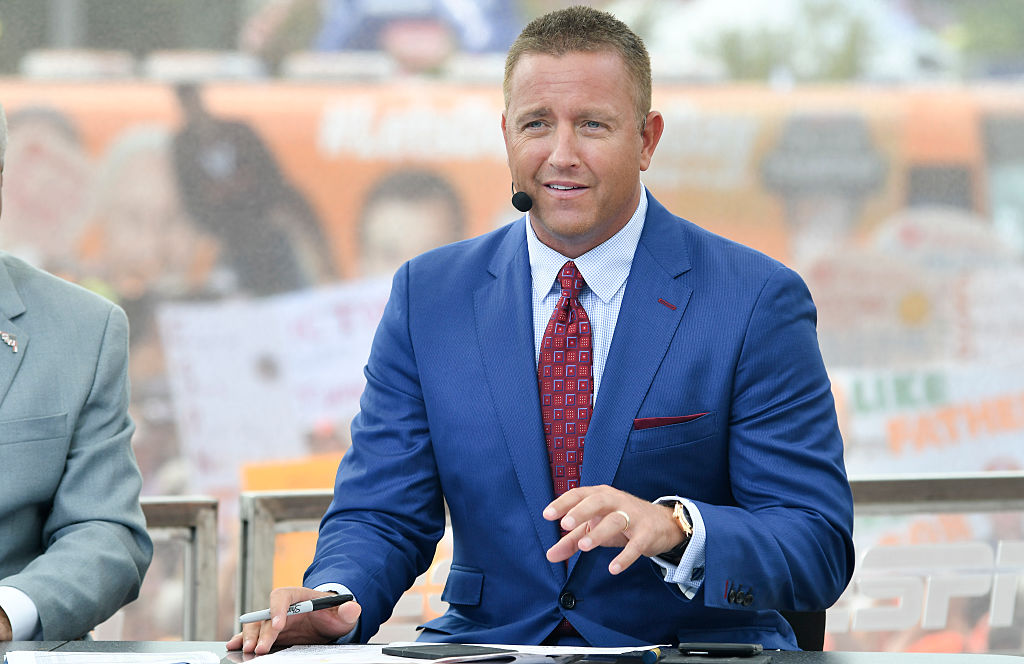 In June 2013, ESPN announced that Herbstreit signed a contract extension through 2022, according to ESPN Press Room.
"Kirk Herbstreit is synonymous with college football's biggest stage and moments. He is at the top of his game and he's ours into the next decade. We're thrilled," said former ESPN executive John Wildhack, according to ESPN Press Room. 

John Wildhack
Because of his success as a broadcaster and analyst, Herbstreit has made a good amount of money in his lifetime. Celebrity Net Worth reports that Herbstreit has a $2 million salary and that his overall net worth is $4 million. He probably did not expect to make that in his lifetime when he played at Ohio State.
Kirk Herbstreit was not a great quarterback for the Ohio State Buckeyes. He has been an excellent broadcaster and analyst for ESPN, though, and has been synonymous with college football over the past two decades. His success at ESPN has helped him have a pretty healthy net worth. Because of his continued success at the company, Herbstreit will probably earn a larger contract once his deal is up in 2022. ESPN would be foolish not to sign him to a larger deal once that time comes. A new deal should only increase his net worth even more too.