Kirk Herbstreit Just Made Some Interesting Comments About His Future at ESPN
Over the years, Kirk Herbstreit has become one of the most well-respected broadcasters in sports. He not only has become one of the faces of ESPN's College GameDay, but he is also one of the best announcers in the booth when calling college football games. Despite his success with college football, though, could Herbstreit's future at ESPN be in question? Yes, but not in a bad way.
Kirk Herbstreit has become a successful college football broadcaster at ESPN
RELATED: What Is Desmond Howard's Net Worth?
Prior to joining ESPN, Herbstreit was a quarterback for the Ohio State Buckeyes. He didn't have an incredible career with the Buckeyes, though. He only had one season with significant playing time in 1992 and only threw for 1,904 yards, four touchdowns, and six interceptions that year.
However, shortly after his career at Ohio State, Herbstreit joined ESPN, as he started working for the network in 1995 as a college football sideline analyst, per his bio on ESPN Press Room. He then became an analyst for College GameDay in August 1996 and has had a ton of success since then.
Herbstreit has ultimately earned seven nominations and three Sports Emmy Awards for his work on the show. 
He has also ventured out beyond College GameDay, though, as he is the game analyst for Saturday Night Football as well, and has been since 2006. Herbstreit even won a Sports Emmy for Outstanding Event Analyst in 2018.
Over the years at ESPN, Herbstreit has also appeared on shows like SportsCenter and Get Up.
He announced an NFL game earlier this season
RELATED: What Is 'College GameDay' Analyst Lee Corso's Net Worth?
During Week 1 of the 2020 NFL season, Herbstreit called an NFL game, as he and Chris Fowler — who he also calls college games with — called the Pittsburgh Steelers and New York Giants Monday Night Football game. The game was one of two Monday Night Football games that week, as the NFL typically airs two games on Mondays for Week 1 of each season.
Many people were very pleased with how Herbstreit and Fowler performed, too. Herbstreit has even gotten asked about whether he would want to continue working NFL games.
"I hope to always do college football, but if NFL would be in my future, I'm a lot more open to that thought than I was maybe prior to that experience," Herbstreit said in a conference call, per ESPN Press Room.
So, is Herbstreit serious about his desire to call NFL games?
Kirk Herbstreit addresses his future at ESPN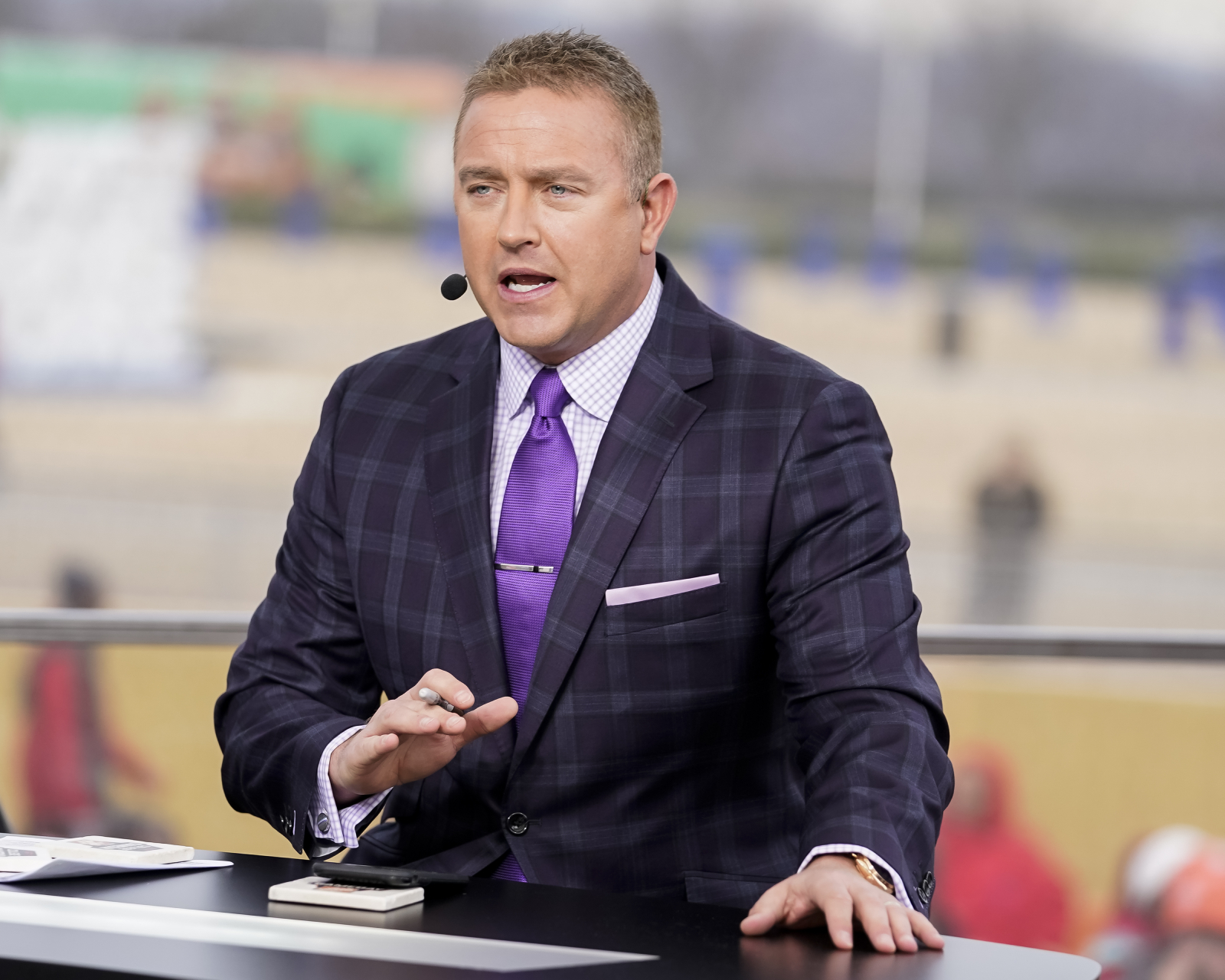 RELATED: ESPN's Max Kellerman Continues to Fight His Way to the Top After His Brother's Tragic Death
Kirk Herbstreit recently appeared on the SI Media Podcast, and he reiterated how much he loves college football and College GameDay.
"I hope to do it forever. I hope to be in college football forever," Herbstreit said, according to Sports Illustrated. "I'd love to keep doing what I'm doing for as long as I can, especially doing studio and the game, but hopefully they never ask me to leave doing studio. But we'll see."
He did, though, also discuss how much he enjoyed calling an NFL game.
"After that experience, I'd say I would love to entertain both. I would love the challenge," Herbstreit said, according to Sports Illustrated. "Ideally, in a perfect world, I would love the challenge of trying to do both. But I'm now much more open to the idea of doing the NFL."
Herbstreit then answered the question about what would happen if ESPN were to ask him to do NFL but not college football.
"I would think about it," Herbstreit said, according to Sports Illustrated. "But I would not say I'd definitely do that for sure. I just wanna see where the college game is when we get on the back end of this COVID and how the game changes, if it does at all, with the powers that be, the realignment, the conferences and where we're headed as a sport."
Well, that's interesting to read. It is hard to imagine college football without Kirk Herbstreit. However, maybe his future duties at ESPN aren't as set in stone as we thought they were.
Stats courtesy of Sports Reference