Klay Thompson Admits to Critical Missteps Before Achilles Injury
Today, Golden State Warriors guard Klay Thompson is trying to express realism about his current health and level of play relative to his pre-injury days, saying recently that he's still just at '80 percent.' Thompson might wish he showed a similar level of caution in the fall of 2020.
A torn ACL suffered in Game 6 of the 2019 NBA Finals cost Klay an entire season of his basketball career. The other half of the Splash Brothers ramped things back up in advance of the 2020-21 campaign, only to heartbreakingly suffer a torn Achilles during a workout on the night of the 2020 NBA Draft.
Unbeknownst to most, Thompson's body already underwent a significant change before the Achilles injury. He still wonders whether those physiological alterations contributed to the injury.
Klay Thompson came in well above his playing weight at the time of the Achilles injury
Thompson's game has always been built more on finesse and skill than power.
The Warriors 2-guard barely needs to have the ball in his hands to make his mark on a game. In fact, he's at his best when he sprints around pin-down screens and uses off-ball movement to generate open jumpers. Never was this more evident than when Klay scored 60 points on 11 dribbles in a 2016 thrashing of the Indiana Pacers.
Additionally, Thompson's defensive abilities are predicated on his length and agility. He can disrupt ball-handlers by getting into the pocket and keeping them out of the lane.
It's curious, then, that Thompson sought to put on extra muscle as he rehabbed from his 2019 ACL injury.
The Los Angeles native revealed to Anthony Slater of The Athletic that he did a lot of strength work leading into the 2020-21 season. Thompson said he came in about 10 pounds over his usual playing weight at the time of the Achilles injury. He wonders whether the added strength work played a part in his setback.
"I wasn't at playing weight. I was really strong. I was doing a lot of lifting, strengthening my knee. But I just missed the game so much at that time and I was cleared to play 5-on-5. But I'm not sure if it was the right move."

–Klay Thompson, via The Athletic
Thompson believes his 226- or 227-pound listing was "too big" for a shooting guard of his stature, especially given his playing weight typically varies between 216 and 220 pounds.
The injury resulted in Thompson missing another 1.5 seasons of basketball before he returned to the hardwood on Jan. 9 of this year. In all, injuries resulted in Klay missing 31 months in the prime of his career. He called the weight gain and eagerness to resume playing "costly," but he said the process served as a lesson learned.
Important takeaways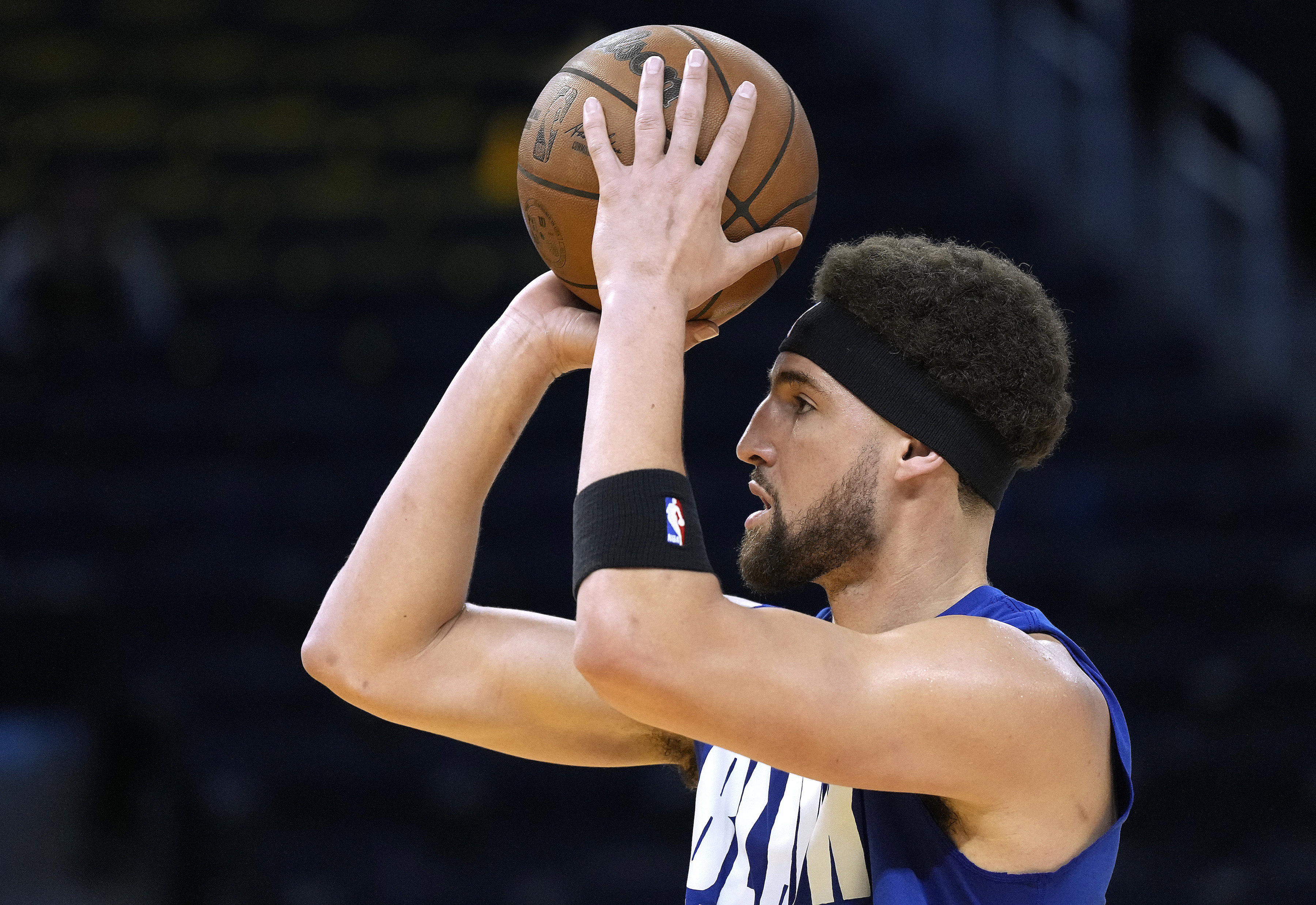 The difference between how Klay Thompson rehabbed from the ACL injury and how he responded to the Achilles is relatively simple: He spent much of his time in LA after the ACL, whereas he understood the necessity of being around the team after his Achilles.
Thompson explained his headspace heading into that fateful night on Nov. 18, 2020. He told Slater that he just wanted to play, free of any inhibitions or restrictions. Now, Klay understands he cannot always have such a mindset.
"I'm not in my early 20s anymore, where I can just play all offseason. That's what I was trying to do. Going forward, I'm not going to do that. I'm going to save it for the season."

–Klay Thompson, via The Athletic
And so, Klay changed things up.
Instead of rehabbing away from the Warriors in LA, Thompson headed to the Bay Area. He explained that everyone on Golden State's training staff committed time to him and ensured he did not cut corners.
The process proved challenging at times, mentally as well as physically. After a Nov. 26 contest against the Portland Trail Blazers, Thompson sat on the bench for an extra 35 minutes, overcome with emotion.
Still, Thompson said he feels grateful to the training staff for holding him back and ensuring he was 100% cleared to play. Now, when will Klay feel entirely like himself again?
Will the old Klay ever truly resurface for the Warriors?
Klay Thompson has shown glimpses of the guy he was before all the injuries. He scored a season-high 33 points against the LA Lakers on Feb. 12. However, inconsistency has plagued his return.
Immediately after the 33-point outing against the Purple and Gold, Thompson scored just seven points on 3-of-14 shooting in a loss to the LA Clippers. Two nights later, Klay shot 5-of-15 and 3-of-10 from beyond the arc.
In his first 16 games, Thompson averaged 17.1 points, 3.8 rebounds, and 3.1 assists, shooting 41.8% from the field and 37.4% from deep. Those are decent numbers, particularly for a guy who hadn't played competitively in nearly three seasons. Still, Thompson (admittedly) isn't feeling like himself quite yet.
The Warriors would surely love to see Thompson get in a rhythm. Golden State has a chance to make up ground on the Phoenix Suns following Chris Paul's injury, and some iteration of "Game 6" Klay would undoubtedly bolster their chances of closing the gap.
Thompson has already experienced an evolution, both in body and spirit. He'll try to help the Dubs rediscover that dynastic feeling of old.
Stats courtesy of Basketball Reference.
RELATED: James Wiseman's Imminent Warriors Return Spells Trouble for the Rest of the NBA