Klay Thompson Paid an Underrated Andre Iguodala the Ultimate Compliment, Though It's One Iggy Might Not Deserve
Golden State Warriors shooting guard Klay Thompson's admiration for Andre Iguodala goes a long way. In fact, Thompson believes that Iggy will one day end up in Springfield, Massachusetts.
Iguodala, who returned to Golden State this offseason, is at the tail end of his career. He will ultimately leave behind a legacy that, according to Thompson, should be honored by the Naismith Memorial Basketball Hall of Fame. But does the 2015 NBA Finals MVP deserve that recognition?
Klay Thompson praised Andre Iguodala and said he should be in the Hall of Fame
Klay Thompson is one of the more accomplished players in the NBA. He is a three-time champion, five-time All-Star, and two-time All-NBA selection. Yet, as good as Thompson is, he still goes to Andre Iguodala for counsel.
The Warriors 2-guard said Monday he seeks advice from Iguodala on a daily basis. He also made a bold declaration about Iguodala's status as an all-time great.
Thompson believes the Warriors should retire Iggy's number and stated, "He's a Hall of Famer in my book." Does the veteran swingman have the credentials to merit enshrinement in Springfield? Or is Thompson reaching when he suggests Iggy belongs in the Hall of Fame?
Andre Iguodala's Hall of Fame case
Klay Thompson's assertion that the Warriors should retire Iguodala's jersey is a strong one, though there's a case to be made on Iggy's behalf.
Igoudala, like Thompson, won three championships with the Dubs. He was named 2015 NBA Finals MVP and All-Defensive First Team during the 2013-14 campaign. However, it's Iguodala's willingness to take a back seat that has more resonance in terms of his legacy in Golden State.
The 37-year-old started in all 63 of his appearances in his first season with the Warriors. But he embraced his role as the sixth man for the 2014-15 team, paving the way for Draymond Green to enter the starting lineup. That move maximized Golden State's two-way potential and resulted in the Warriors winning their first championship.
While Iguodala had to adjust to a bench role, he maintained his quality on the defensive end of the floor and remained an integral part of Golden State's playoff rotations.
What about Iggy's Hall of Fame resume? That's slightly more difficult to interpret.
Iguodala has made just one All-Star team. His 15.4 career player efficiency mark isn't exactly remarkable. Basketball Reference gives him a mere 6.1% chance of making the Hall of Fame. Then again, it's worth noting that Toni Kukoc just entered the Hall of Fame with a 0.5% probability, though Kukoc's impact in Europe surely had something to do with his selection. Moreover, the Hoops Hall is a bit fickle when it comes to the induction process.
Of course, Iguodala has yet to hang it up. He has the chance to win another championship with the Warriors, and his reputation as a critical veteran leader could make all the difference in the long run.
Iggy could play a vital role in Klay Thompson's absence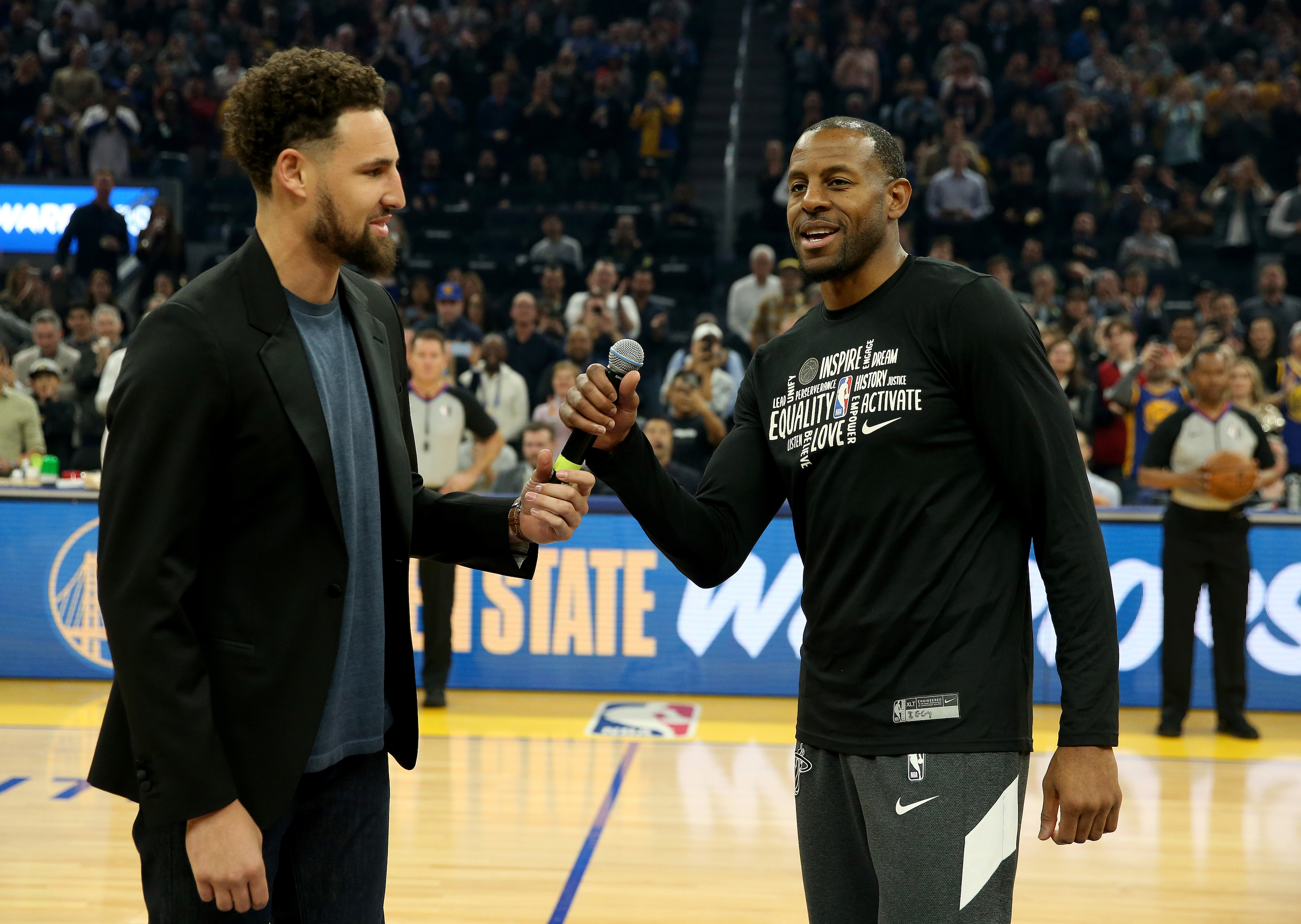 The Warriors will need Andre Iguodala to soak up vital minutes at the wing spot as they await Klay Thompson's eventual return from an Achilles injury.
Thompson is not expected to return until sometime in January. There is also uncertainty regarding Andrew Wiggins' status, given his opposition to the COVID-19 vaccine. Both those factors make Iguodala a key figure for the Warriors this season.
Golden State cannot allot tons of minutes to rookies Moses Moody and Jonathan Kuminga. Head coach Steve Kerr will likely want some stability in his rotations and look to preserve the team's identity on the defensive end of the floor. Iguodala's ability to defend multiple positions and be a secondary ball-handler and floor-spacer loom large in relation to the Dubs' roster construction.
Time will tell whether Iguodala is honored in Springfield. For now, the Warriors will likely hope he can provide valuable minutes and be a defensive stalwart as they eagerly anticipate the start of Thompson's comeback tour.
Stats courtesy of Basketball Reference.
RELATED: Klay Thompson's Epic Game 6 Performance Against the Thunder Prompted Charles Barkley to Coin an Awful New Nickname