Klay Thompson Made a Bold Claim Before Dominating the NBA Finals Game That Would Change His Career
It's not always wise for a player to make bold proclamations before a game in a championship series. It works out sometimes — Joe Namath can tell you — but it puts a lot of pressure on you to do well in the game. Klay Thompson made a bold claim before his Warriors played Game 6 of the 2019 NBA Finals. He dominated the game, but it was a costly performance.
Klay Thompson predicts a big game in the NBA Finals
RELATED: Kevin Love Revealed That Klay Thompson Has Always Been Insanely Cool
NBC Sports relays a story that Draymond Green recalled about Thompson heading into Game 6 of the 2019 Finals. Thompson, who has earned a reputation as a "quiet" Warrior, approached Green before taking the court against the Raptors for that game, and Thompson had one simple message for his teammate:
"Dray, I'm about to have one of those games. I'm telling you now, I'm about to have one of those games." Green asked for clarification, and he got it. "No, I'm about to destroy them. I'm telling you, just give me the ball, I'm about to have one of those games."
Thompson had a dominant game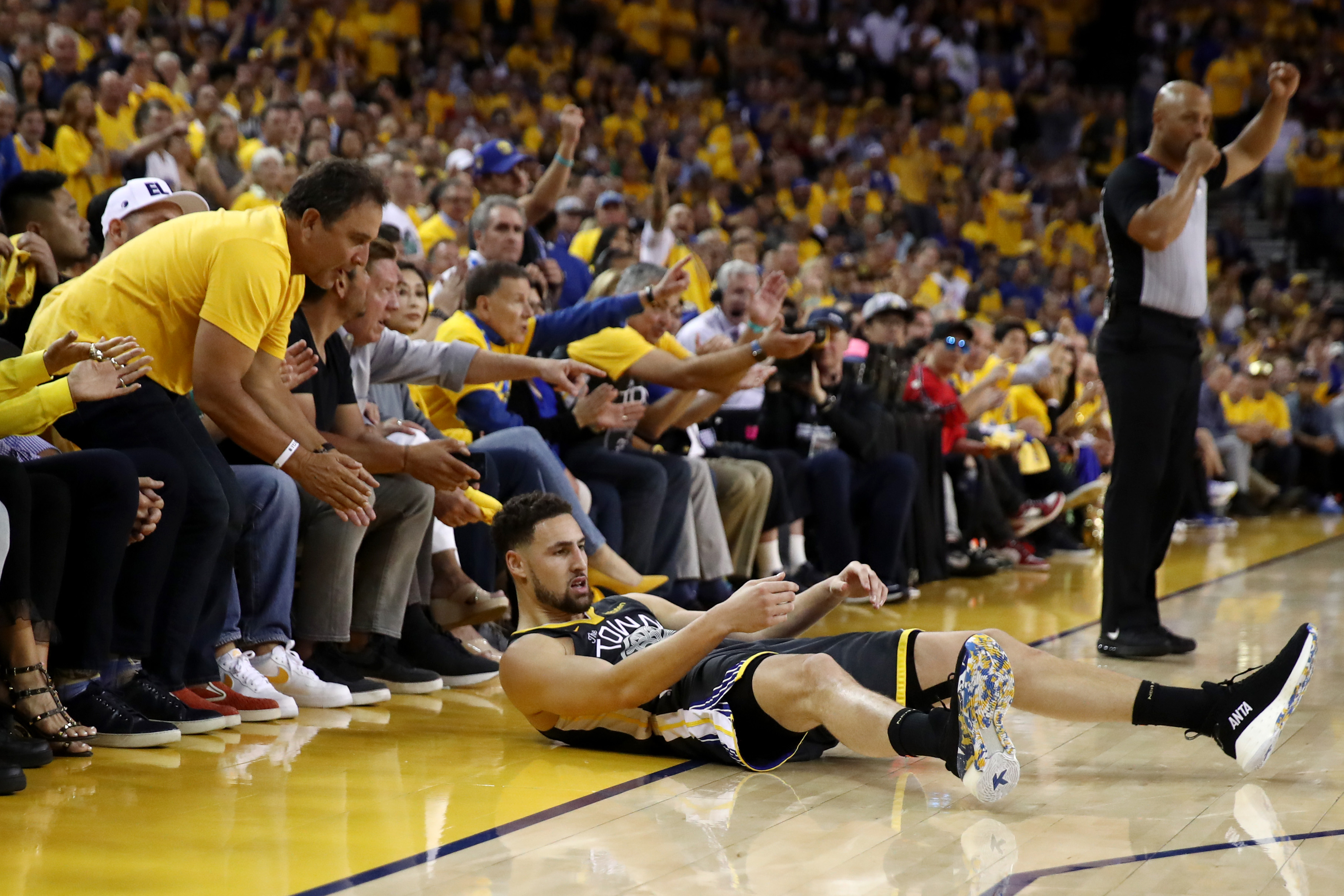 Thompson was right. He had "one of those games." The Washington State alum played nearly 32 minutes in the game, according to Basketball-Reference. He went 8-for-12 from the floor, shooting 4-of-6 beyond the arc, and was a perfect 10-for-10 from the free-throw line.
In total, Thompson scored 30 points on the night. He added five rebounds and two blocks to his stats line. The performance earned him a game score, which provides a total perspective on a player's statistical performance through the game, of 25.5 — which was Thompson's best game score of the 21 games he played in the 2019 postseason.
It wasn't all good news for Thompson, though. He only played 32 minutes because with three minutes left in the third quarter, he tore the ACL in his left knee.
Thompson's long recovery from the torn ACL
RELATED: Steve Kerr Reveals That Klay Thompson's Brutal Injury Forced the Warriors To Make a Specific Move
A torn ACL is a serious injury for any athlete that requires a long road to recovery. Unsurprisingly, he missed all of the shortened 2019-20 season, and 17 months after the original injury he was getting ready to return to the Warriors before suffering a major setback.
The Washington Post reports when he was working out last November, he suffered another injury. The team's worst fears were later confirmed when it was ruled that Thompson suffered a torn right Achilles' tendon. This meant his 2020-21 season ended before it started — keeping the five-time All-Star out of action for two full seasons.
Warriors general manager Bob Myers addressed the media after making his first-round selection in the 2020 NBA draft. The Washington Post described him as having "looked shaken" given the news he received about one of his stars. Myers admitted, "It was hard to disengage mentally" from Thompson's injury while facing the draft. He "couldn't really let [his] mind go all the way there."
Thompson's setback put the Warriors in a tough situation. Golden State had to decide whether they can still compete for titles in the near future with their three biggest stars — Thompson, Green, and Stephen Curry — all in their 30s and Thompson trying to make a comeback from what will be at least two full seasons between games since tearing his left ACL in the 2019 Finals.