Klay Thompson Is Close to Returning, but Won't Be Playing on Christmas
The Golden State Warriors are preparing for a high-profile showdown against the Phoenix Suns on NBA Christmas Day, but they'll be Klay Thompson.
At one point, the Dubs hoped shooting guard Thompson could return around Christmas. However, the star 2-guard remains without a specific timetable return as he continues to rehab from a torn Achilles suffered last fall.
Klay Thompson has not played basketball in over two years
The clock had already hit double-zeros on after the Golden State Warriors defeated the Portland Trail Blazers On Nov. 26 at the Chase Center. But Klay Thompson could still be seen on the Dubs bench.
Thompson sat on the bench alone for 35 minutes as he reflected on his journey. It's been a long and arduous one.
The 31-year-old's first setback came in Game 6 of the 2019 NBA Finals, when he suffered a torn ACL. After missing the entirety of the 2019-20 campaign, Thompson looked ready to reinvigorate the Warriors. But he suffered a torn Achilles on draft night in 2020, rendering him inactive once again.
Naturally, the emotions Thompson expressed last month are all the more understandable when considering he has not played basketball in over two years. Additionally, Golden State has exhibited an abundance of caution with respect to Klay's comeback.
Thompson is extremely close to returning after a stint in the G League. Still, he will not suit up for the Dubs' NBA Christmas Day matchup with the Suns.
Why isn't Klay Thompson playing on NBA Christmas Day?
Klay Thompson has spent time with the Santa Cruz Warriors. He's been cleared for full 5-on-5 work and continues to get up to game speed.
However, the Dubs have yet to announce when Thompson will make his long-awaited return to the hardwood. It certainly won't be happening on NBA Christmas Day.
Head coach Steve Kerr said on Dec. 22 (h/t ESPN's Nick Friedell) that Thompson is "coming along well" in his recovery. He scrimmaged with the team on Tuesday and a full practice on Wednesday. However, there is no timetable.
What about target dates? Adrian Wojnarowski reported earlier this week that Jan. 9 and Jan. 18 could both be in play. Both games occur at the Chase Center, with Woj noting that the Dubs plan to bring Thompson back in front of the home crowd.
Alas, the Warriors will keep relying on Jordan Poole and a revitalized Andrew Wiggins to continue providing scoring support for Stephen Curry as they plan for Thompson's return. Even when Klay reenters the rotation, Golden State will likely have to be patient.
What version of Thompson will the Warriors get?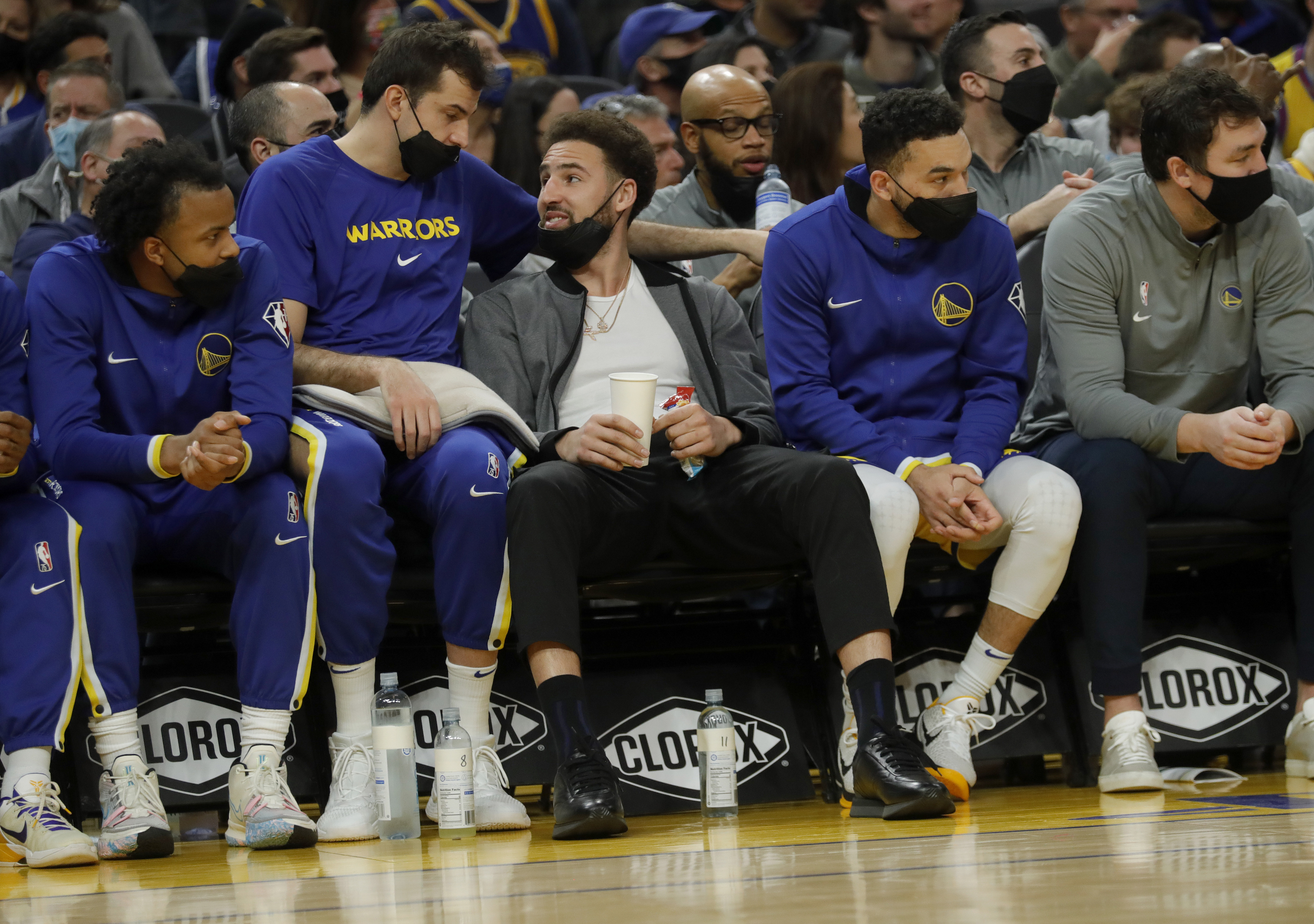 The Warriors are 25-6 through their first 30 games. Throw a healthy Klay Thompson in the mix, and they're probably the front-runners to win the NBA title, right? Maybe, but it's not that straightforward.
Thompson has been ramping up activity for some time and eliciting excitement around the league for the past couple of months. But the fact remains that he hasn't played an NBA game in over 30 months. As Charles Barkley previously stated, there will likely be some rough patches when Golden State reintroduces Klay.
All the same, Warriors fans and basketball fans at large have to be excited on Thompson's behalf. Even if his comeback won't be official on NBA Christmas Day, it's just over the horizon.
Stats courtesy of Basketball Reference.