Klay Thompson Could Return Sunday, but Warriors Fans Should Lower Expectations for His Season Debut
Golden State Warriors supporters can rejoice at the imminent return of star guard Klay Thompson. But while Thompson's long-awaited return to an NBA floor could come as soon as Jan. 9, fans should temper their expectations for the other "Splash Brother."
Thompson did not play on Christmas Day as the Dubs initially hoped he might. The Warriors have been cautious in how they've handled his recovery. That won't change anytime soon, even when Thompson officially receives clearance to play.
While there's plenty of reason for excitement and exuberance at seeing one of the best players in the league finally getting back to what he does best, it's time to lower expectations for Klay's season debut.
The Warriors are targeting Jan. 9 for Klay Thompson's return
Klay Thompson has not played an NBA game since June 2019. However, his long layoff could end as soon as this weekend.
On Monday, Adrian Wojnarowski of ESPN reported that the Warriors have "optimism" that Thompson will make his season debut on Jan. 6 against the Cleveland Cavaliers. Wojnarowski added that a decision is expected after the Dubs return from back-to-back road games on Friday.
Golden State wants to bring Thompson back at the Chase Center in front of the home fans. If Klay does not receive clearance for Jan. 9, his next opportunity will not come until a Jan. 18 matchup with the Detroit Pistons. However, all signs appear to point toward five-time All-Star getting the go-ahead before Sunday's game.
Thompson has a chance to make an early impact. Warriors head coach Steve Kerr said Klay would be inserted into the starting lineup immediately upon his return. Still, that does not mean the Dubs plan to give the 31-year-old extended runs from the jump.
Thompson will have a minutes restriction
Warriors fans hoping to see a lot of Klay Thompson as soon as he returns might be delusional for having such high hopes. In any event, the Dubs plan to use him sparsely.
Kerr told reporters on Tuesday (h/t Anthony Slater of The Athletic) that his "guess" is Thompson will play somewhere between 15-to-20 minutes in his return. He also indicated Golden State would hold the three-time champion out of back-to-backs for the time being.
This news shouldn't come as a surprise. Thompson had two debilitating injuries in consecutive seasons, first with the ACL tear suffered in Game 6 of the 2019 NBA Finals and later an Achilles in November 2020. It will take him time to get acclimated to game speed.
It wouldn't be a surprise if Kerr had Thompson play in spurts. That might seem frustrating for fans and Klay himself initially. Players can sometimes have difficulty finding a rhythm or getting accustomed to pace without long stretches of action.
Maybe the brilliance of Stephen Curry and Draymond Green, who is garnering MVP buzz from opposing coaches, and their respective abilities to involve other players will make things easier for Thompson. Regardless, the Warriors figure to keep Klay on a bit of a leash for the first several weeks.
When will Klay resemble his old self?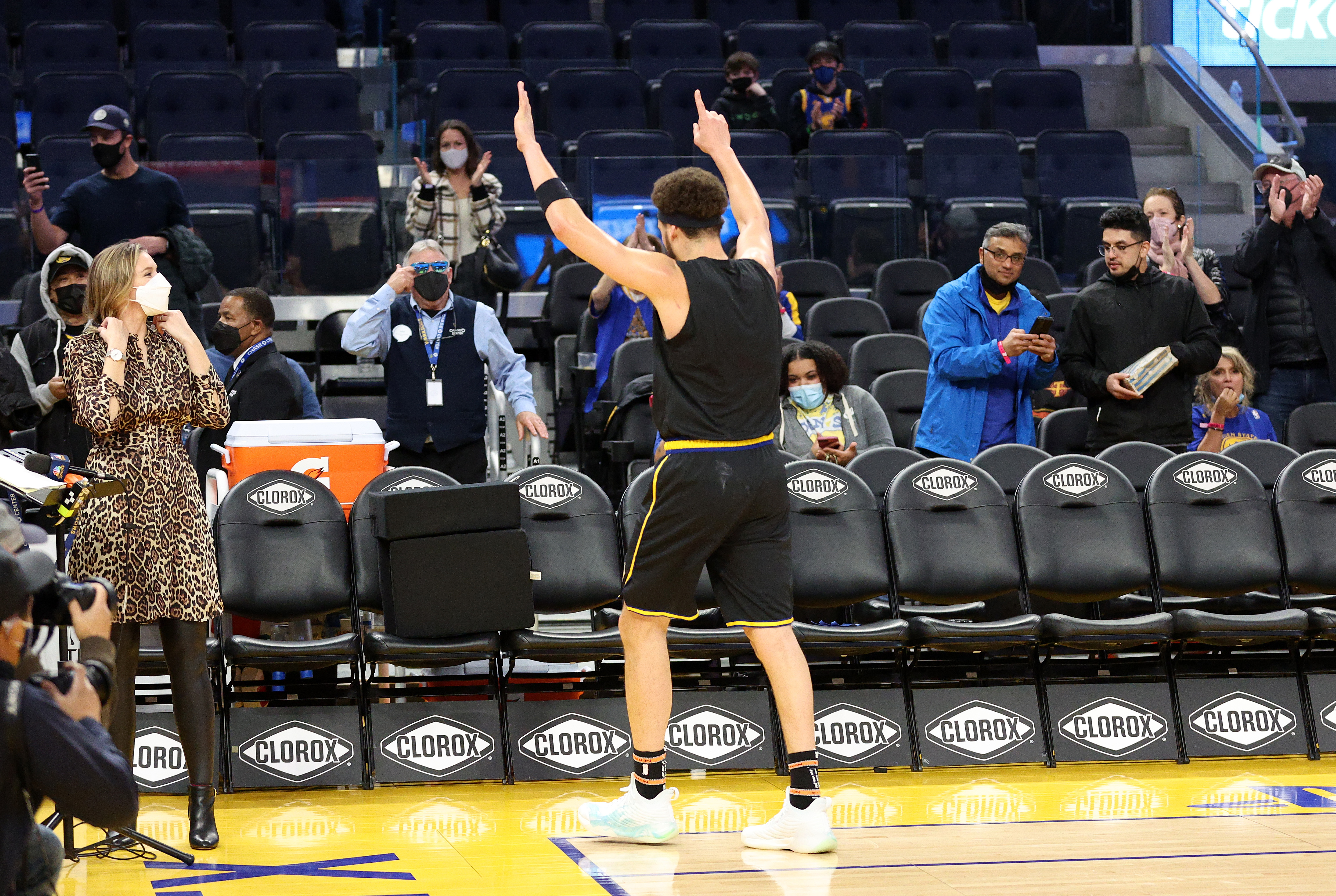 Adding a player of Thompson's caliber strengthens Golden State's title hopes and might make the Warriors the top favorite. But that's mostly assuming Thompson can play up to his old standards.
How long will it take Klay to get there?
That question is nearly impossible to answer. Encouraging reports of Thompson's rehabilitation have advanced the hype train considerably. He also spent time with the Santa Cruz Warriors in the G League and finally had the chance to play 5-on-5 with Curry and the rest of his teammates.
Having said all that, the fact remains it's been over 30 months since Thompson played an NBA game. There will likely be some bumps in the road.
Basketball fans everywhere should rejoice whenever Klay Thompson finally makes his return. But they should also modify expectations to account for the impending minutes restriction, not to mention the sheer time away from competitive basketball.