Klay Thompson May Be in Danger of Losing His Starting Spot Due to the Emergence of a New Warriors Splash Brother
It has been a long time since Klay Thompson played in an NBA game. Since Thompson's torn ACL in Game 6 of the 2019 NBA Finals, the Golden State Warriors have missed the playoffs in back-to-back seasons, the Los Angeles Lakers and Milwaukee Bucks have won a championship, and the league played an entire postseason at Disney's Wide World of Sports complex in Orlando, Florida.
Klay has waited a long time to take the court again for the Warriors. But his role once he returns may be in question, especially with the sudden emergence of a 22-year-old first-round pick.
Klay Thompson is on the road to recovery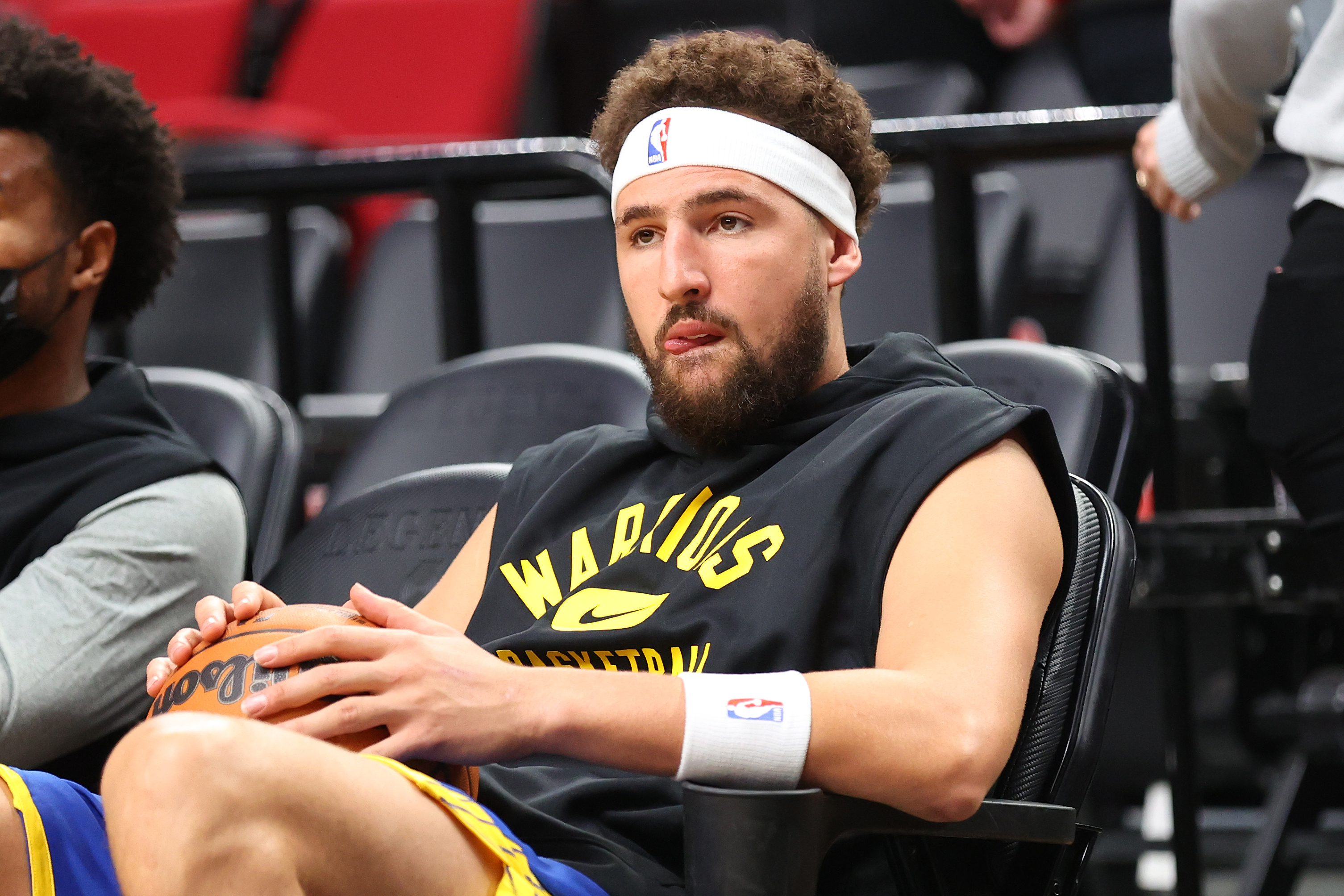 Thompson's ACL injury, suffered in Golden State's series-ending loss to the Toronto Raptors, kept him out for the entire 2019-20 season. But disaster struck again for Klay, who before last season tore his Achilles in a pickup game, thereby missing another full campaign. Now over 800 days since his last game, the 31-year-old told reporters at Warriors Media Day that he's roughly 75-80% of where he needs to be to return.
But that doesn't mean Klay is sitting off to the side. Head coach Steve Kerr was encouraged by what he saw from the five-time All-Star at practice.
"Everyone's excited that Klay is out on the floor," Kerr said. "He basically did every single thing in practice today. We didn't scrimmage, we didn't have any live contact, but Klay is just so happy to be playing and we're all so happy to see him part of it. So just a really good first day, first couple of days, and good energy as we start to get rolling."
There is no firm timetable for Thompson to be back, however. General manager Bob Myers did go as far as to say he hopes the eight-year veteran comes to the team in December or January and says he's ready for action. But by then, another sharp-shooter might force Klay to take a backseat.
Jordan Poole is emerging for the Golden State Warriors
While Stephen Curry has shouldered the load for the Warriors after Thompson's injuries and Kevin Durant's departure, he is getting some help in the form of Jordan Poole.
Poole was drafted with the 28th overall pick in 2019 and was immediately part of Golden State's rotation. In 22.4 minutes per game, the 6-foot-4 guard averaged 8.8 points on an inefficient 33.3% from the field and 27.9% from deep. However, Poole saw a significant jump in year two, shooting 43.2% from the field as well as a much-improved 35.1% on 5.4 threes per game. Because of the improved shooting, the former Michigan Wolverine averaged 12.0 points despite earning three fewer minutes a night compared to his rookie year.
Poole's improvement as a shooter was more evident than ever in Golden State's preseason opener against the Portland Trail Blazers. Serving as the other starting guard alongside Curry, the 22-year-old hit seven of 13 threes in a 30-point shooting clinic. Poole also contributed five rebounds, five assists, along with a steal and two blocks in 22 minutes of action.
"This is what he's looked like in camp," Kerr said after the game. "Not hesitating, he's getting to the rim, playing with an unbelievable confidence. … He's earned that confidence."
"Coach just gives us the opportunity to do what we practice," Poole said. "And they wanted me to be aggressive. Coach wants me to go out there and if I'm open, shoot it. He kind of let me know that last year. It's just taking the momentum I had last year and expanding my range a little bit."
Poole has a chance to take Klay Thompson's spot in the starting lineup
Thompson has been one of the best shooters in the NBA for the better part of a decade. But as a 31-year-old coming off of two major leg injuries, it's hard to expect him to be the same player he was during Golden State's dynasty.
With Klay on the shelf until further notice, Poole has a window to stake his claim as a starter. The preseason masterpiece against Portland certainly helps his case. But he also showed incredible growth late last season, averaging 17.8 points on 49% shooting in Golden State's final nine regular-season games. If anything, the preseason outburst is a sign of things to come rather than a flash in the pan.
The biggest area Thompson still owns an advantage in is defense. Klay was named Second Team All-Defense in 2018-19, while Poole is still working on becoming a consistent defender.
"I told [Poole] after, what we've got to see next is the defensive effort," Kerr said. "He gave up a couple of back cuts for layups, made a couple of mistakes in rotation. And that's just his next step in becoming a great player."
For now, Thompson is still expected to start whenever he's deemed ready to play. But that could change soon if Poole continues to grow and becomes the great player the Warriors think he can be.
All statistics courtesy of Basketball Reference.
RELATED: Steph Curry Said Draymond Green Is the Smartest Player He's Ever Played With: 'He's a Master'