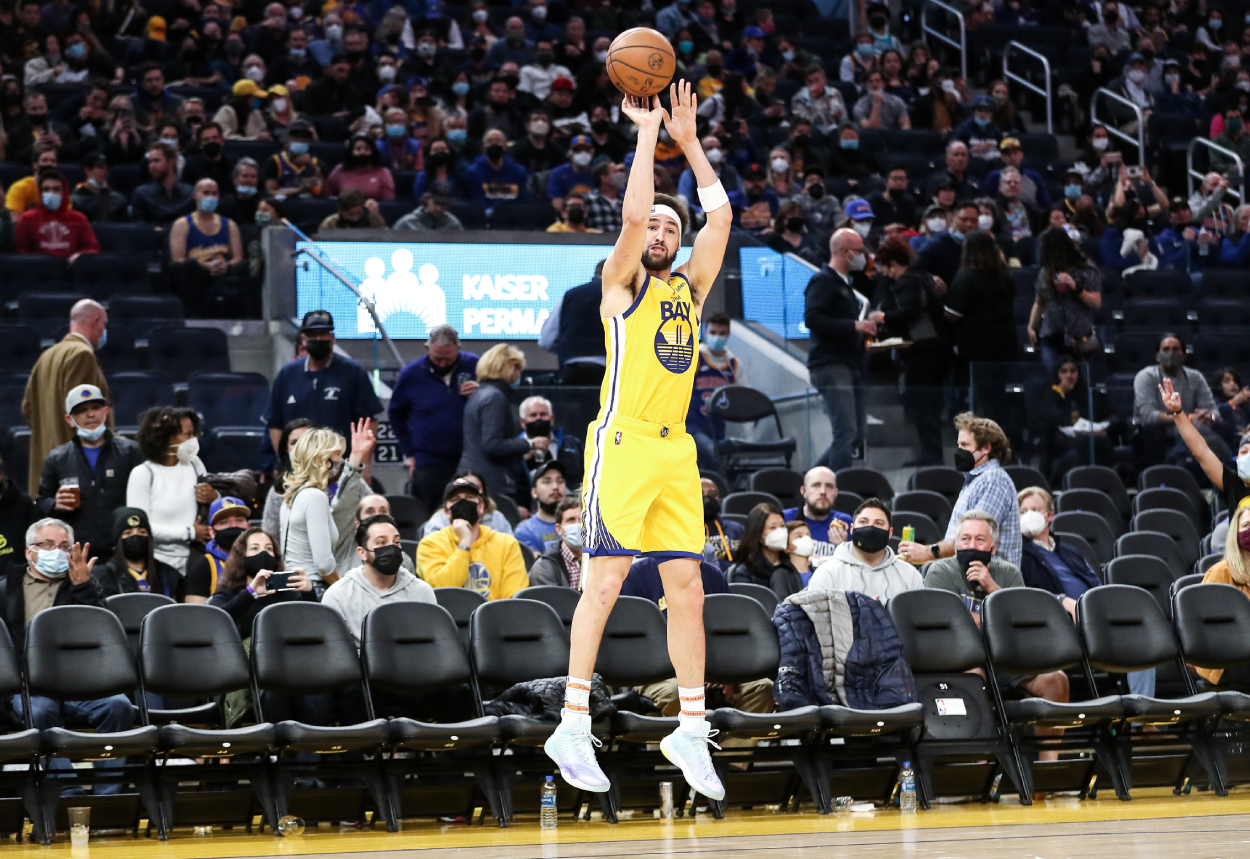 Klay Thompson Doesn't Deserve a Trip to the All-Star Game, No Matter How Impressive His Comeback Seems
Klay Thompson has made his way back from two serious injuries, but he's not quite the All-Star he was — yet.
Klay Thompson is a warrior — on and off the court. He's battled back from a pair of serious injuries, and his presence makes the Golden State Warriors legitimate contenders for the NBA title.
Let's get one thing straight. Thompson is a former NBA All-Star. He may be a future one as well. This year, he should not be making his way to Cleveland.
Klay Thompson bouncing back nicely after lengthy absence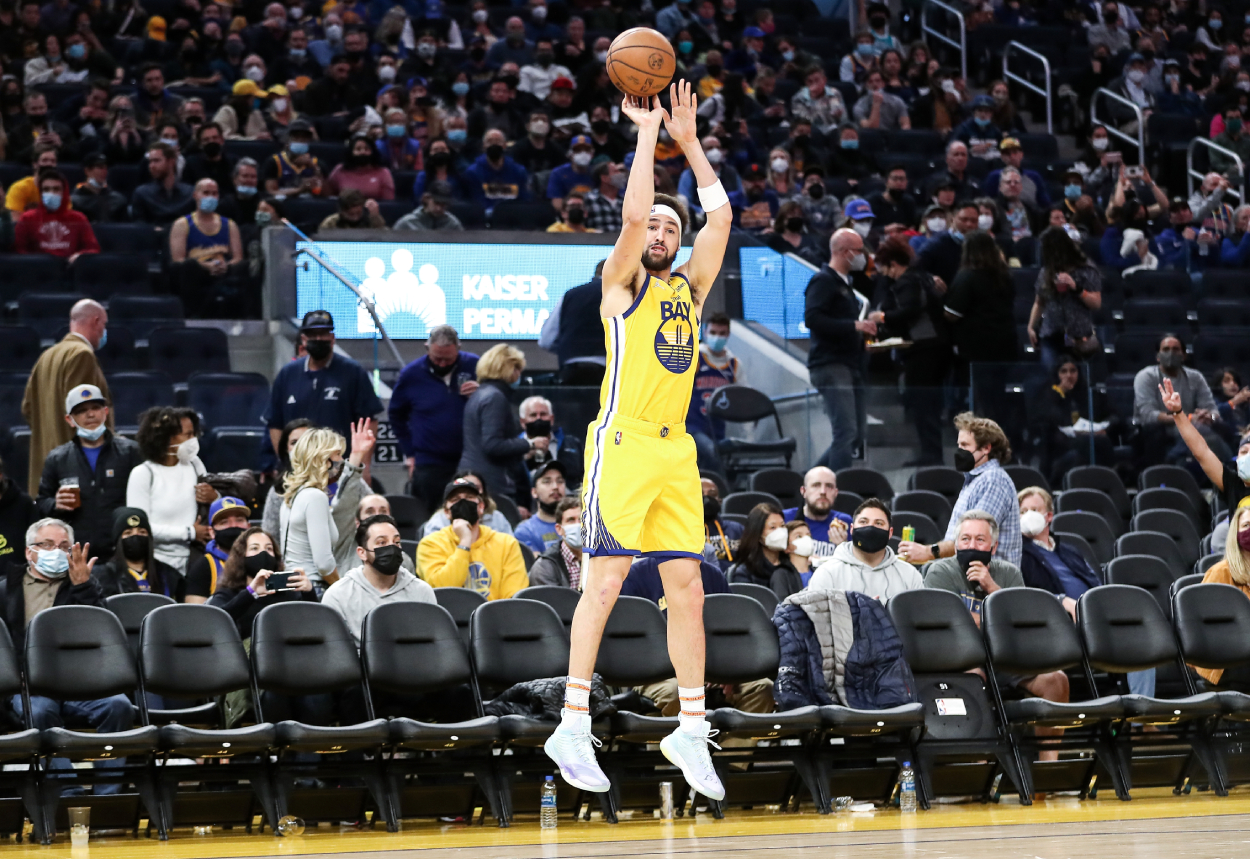 The wait is over. Warriors fans and NBA fans in general eagerly awaited the return of the sharp-shooting Thompson after he missed the last two full seasons. Thompson missed back-to-back seasons when he tore his ACL during Game 6 of the NBA Finals against the Toronto Raptors in 2019. He then sat out the 2020-2021 season after an Achilles injury right before the season.
Thompson and Stephen Curry won three NBA championships together and form arguably the NBA's all-time best shooting duo. With Thompson bask in action after nearly 2.5 years off, the Warriors are expected to be a player deep into the postseason.
Thompson has played eight games this year and is still trying to get his rhythm. He's averaging 15.8 points in 22.6 minutes. He gave fans a glimpse of what the Warriors' backcourt could be like during Thursday night's 124-115 victory over the Minnesota Timberwolves.
Curry and Thompson combined for 52 points and went 11-for-19 from the 3-point line, triggering memories of those Splash Brothers days.
"It's a really good indicator of what our team can look like with Klay back and everybody healthy, for the most part, in terms of our shooters," Warriors coach Steve Kerr said, per Kendra Andrews of ESPN. "With these last couple of games, the spacing that we've had and the ball movement, we've gotten great shots."
Klay Thompson should not be named to the All-Star team
The starters for the NBA All-Star Game have been announced, and it's refreshing to see Thompson isn't one of them. The starters were selected by fans, NBA players, and a panel of media members. Fans accounted for 50% of the voting, while the other two groups each had 25% input.
Had the voting strictly been up to the fans, it may have turned out differently. Thompson finished fourth overall in the voting when just taking in the fan voting, according to NBA Communications. Thompson racked up 1,710,437 fan votes, which was enough for fourth place among Western Conference guards. Only Curry, Ja Morant, and Luka Doncic received more love.
The NBA got it right when it didn't give all the voting power to the fans. Thompson only received nine votes from the players. No media member voted for him.
Thompson is good, but eight games isn't enough to warrant All-Star consideration. Yes, many of these All-Star events are popularity contests, but allowing media and players to vote, gives the process a more realistic look.
Thompson is a five-time All-Star. If he remains healthy, he will pile on some more appearances.
Thompson's best bet is to work on getting stronger and staying healthy
Only the All-Star starters have been announced for the game that will take place on Feb, 20 at Cleveland's Rocket Mortgage FieldHouse. The reserves will be announced on Feb. 3. NBA coaches will vote on the reserves.
For now, Thompson shouldn't even be thinking All-Star, and he likely isn't. He's done a great job getting back into playing shape and is slowly getting back to his old form.
It's going to take time for Curry and Thompson to capture that rhythm they had together a few years ago when Finals appearances were the norm. Thursday's win over the Wolves was a sign of things to come.
Thompson expected immediate results when he returned. He's now realizing it's going to take some time, and his full focus should be getting back to his old self.
"I thought we were going to play like this my first game back. Maybe I was a little naive," Thompson said after Thursday's game. "It's going to get better every night. And when our full squad is back, it's going to be real scary."