Klay Thompson Just Scored a New Endorsement Deal That Proves He's Still a Kid at Heart
Klay Thompson is one of the greatest shooters the NBA has ever seen. His incredible play on the court has helped him and the Golden State Warriors win three NBA championships over the years. However, he doesn't just have success on the court, Thompson has also had quite a bit of success off the court. He just recently showed this with his new endorsement deal too. In fact, his new endorsement deal also proves that he's still a kid at heart.
Klay Thompson has had a great career in the NBA
RELATED: Stephen Curry Knows Exactly What the Warriors Need to Become NBA Champions Again
Thompson went to the Golden State Warriors with the No. 11 pick in the 2011 NBA draft. He has since become one of the best players in the league.
Right off the bat, Thompson proved that he could score with the best of them. He averaged 12.5 points per game and shot 41.4% from 3-point range in his rookie season before averaging 16.6 points per game in his second season.
The 2014-15 season, though, was really Thompson's breakout year. After averaging 18.4 points per game in 2013-14, Thompson became an All-Star in 2014-15 as he scored 21.7 points per game. He has scored 20 points per game or more every year since then and averaged as much as 22.3 in 2016-17.
In addition to all of his regular-season success, Thompson has also come up big in important moments. He helped lead the Warriors to five straight trips to the NBA Finals from 2014-15 through 2018-19, and to three titles during that span.
Overall in his career, Thompson has earned five All-Star selections and has earned All-NBA honors twice, as well as All-Defensive team honors once. He is currently ninth among active players in career 3-pointers made (1,798), and sixth in career 3-point field goal percentage (41.9%).
He scored a new endorsement deal with Nerf
RELATED: Draymond Green Thinks He Can Be the Tony Romo of NBA Broadcasting
Many kids love playing with Nerf guns. Many adults also have great memories of playing with Nerf guns. Well, now Thompson is reliving his childhood.
Thompson recently announced his partnership with Nerf on social media on Oct. 9 as he unboxed a new "Nerf Mega Motostryke." The video then later turned into a cartoon, and other stars joined him. The other stars in the video included NFL wide receiver Julian Edelman, DJ Diplo, chef Guy Fieri, and skateboarder Sky Brown.
In the video, despite Diplo taking over the beach, Thompson ultimately defeated him in a battle — with encouragement from Fieri — so that he himself could spend time on the beach.
The ad is certainly interesting, and it isn't the first time that Thompson has made interesting endorsement choices.
During the 2014-15 season, Thompson switched from Nike to Anta, a Chinese shoemaker brand. He then signed a 10-year extension with the brand in 2017. His deal with them is worth $9 million, according to USA Today.
Thompson has proven that he isn't afraid to partner with different types of companies over the years, just like he isn't afraid of any opponent on the court.
Klay Thompson looks to return to the court with the Golden State Warriors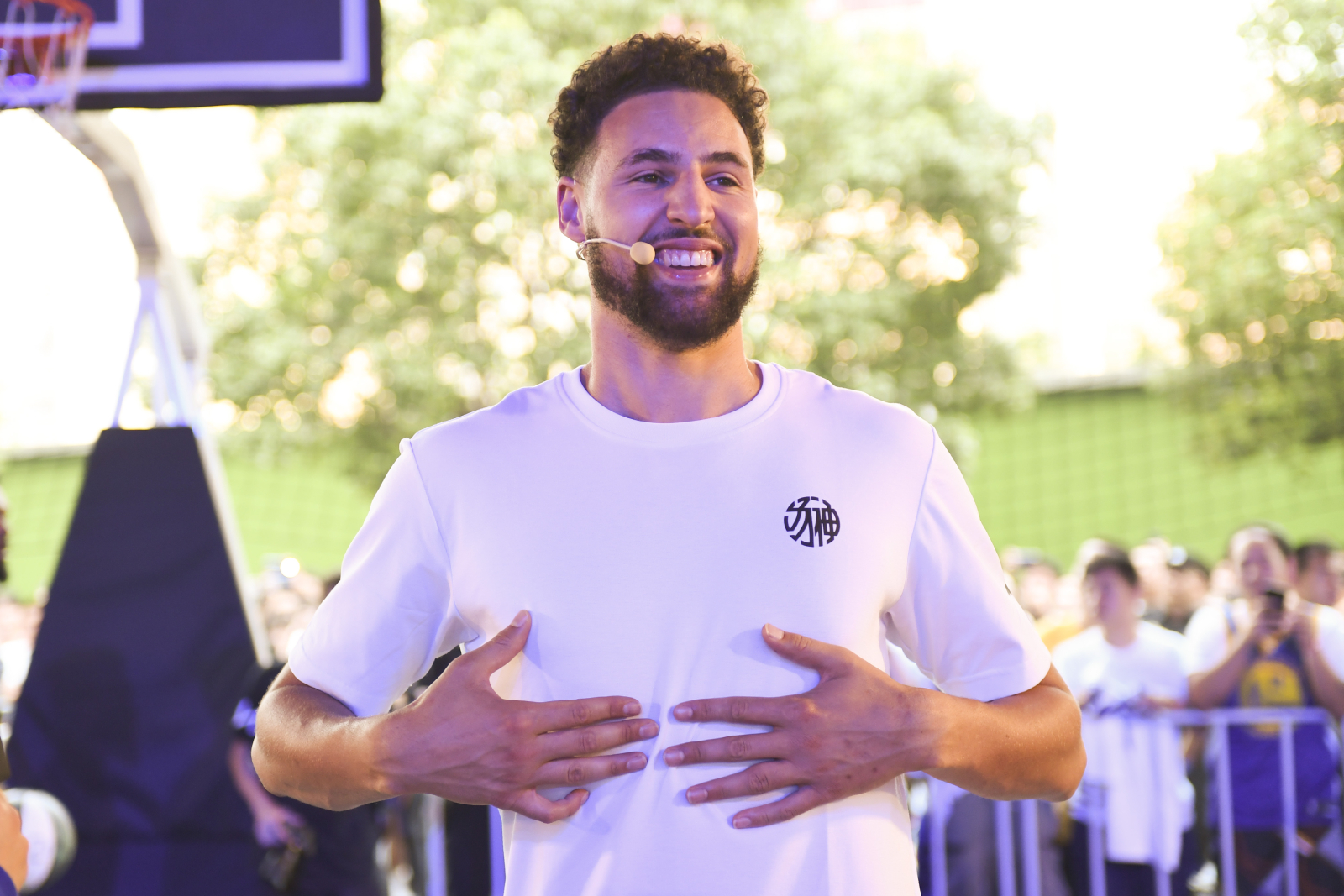 RELATED: Steve Kerr Gave Warriors Fans an Encouraging Update About Klay Thompson's Recovery
During Game 6 of the 2019 NBA Finals, Thompson tore his ACL. He then did not play for the Golden State Warriors at all during the 2019-20 season. The Warriors struggled mightily too, but it wasn't just because of Thompson's injury. The Warriors also saw Kevin Durant go to the Brooklyn Nets, and Stephen Curry only play in five games due to injury.
Without their stars, the Warriors only went 15-50.
However, Thompson, toward the end of September, practiced with the Warriors for the first time since his injury. Head coach Steve Kerr was impressed by how he looked too.
"This was his first practice coming off an ACL injury. I didn't expect him to be in top form and he was not," Kerr said, according to The Athletic's Anthony Slater. "But he moved well and it was a great first step. Klay got a lot of good work in and was able to gauge where he is right now."
Seeing Thompson on the court is probably a welcomed sight for Warriors fans. With Thompson and Curry returning next season, they have a chance to be a great team again. However, Golden State also has the No. 2 pick in the 2020 NBA draft, which they can either use to draft a young star or trade for a veteran one. That could ultimately make them a championship contender yet again.
They might not have been very good in 2019-20, but it appears that Klay Thompson, Stephen Curry, and the Golden State Warriors will be back at the top of the NBA in 2020-21.
Stats courtesy of Basketball Reference