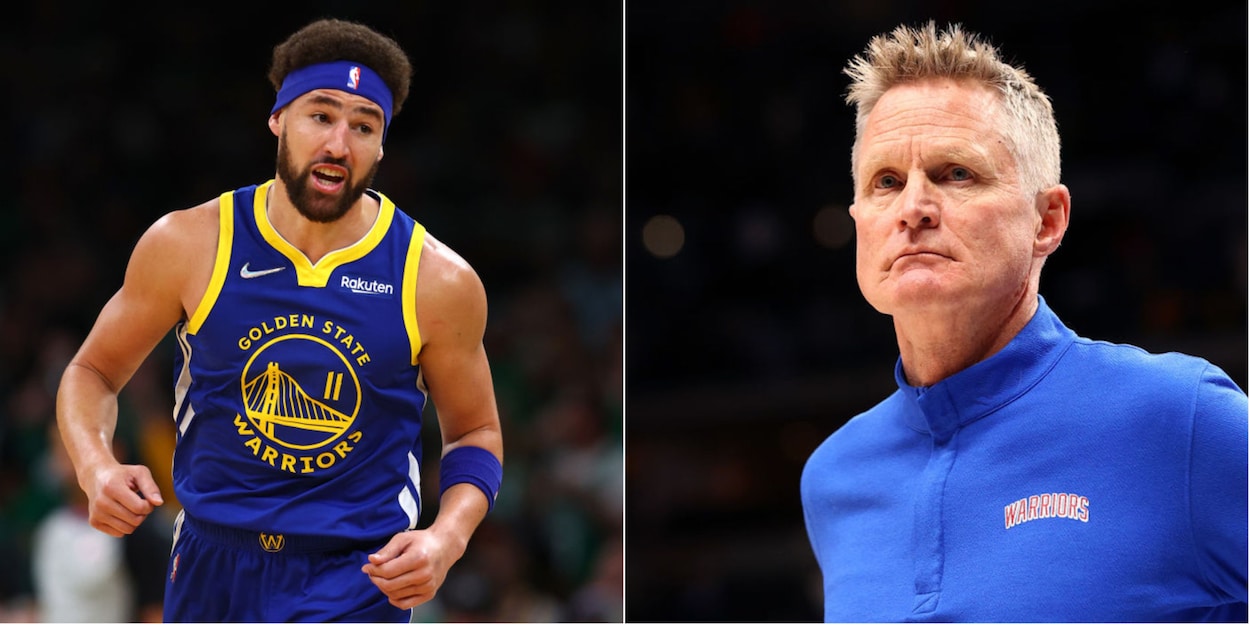 Klay Thompson's Pledge to Go 'Full Michael Jordan' Proves the Importance of a Good Coach
Steph Curry and Klay Thompson may steal most of the headlines, but Steve Kerr is an important part of the Golden State Warriors' success.
When you think of the Golden State Warriors, the likes of Stephen Curry, Klay Thompson, and Draymond Green probably spring to the forefront of your mind. While that reality makes sense — the players on the court are the ones making things happen — there is someone else involved: head coach Steve Kerr.
Although the overall talent on Golden State's roster might make the bench boss' job seem easy, he's played an important role in the squad's success. In fact, a recent Tompson quote perfectly highlight's Kerr's value to the Warriors.
Klay Thompson says he'll go 'full Michael Jordan' and stay with Steve Kerr
After suffering two brutal injuries and missing more than two full NBA seasons, Klay Thompson returned to the hardwood and played an important role in helping the Warriors return to the NBA summit. That experience, it seems, reminded him of the importance of his head coach.
"Man, I did tell Steve Kerr at the NBA TV podium, I told him,'You know, I'm going full Michael Jordan.' I'm aligning myself with Steve, I ain't playing for anybody else but Steve," Thompson said on The Draymond Green Show, according to NBC Sports. "That's the plan and it would be weird to be in another uni, so I'm just grateful to be up here and to be mentioned with the Lakers, Celtics, and the Bulls. Now we're there."
Based on the context clues, the sharpshooter seems to be making reference to a 1997 moment when Jordan told reporters his future was dependent the Bulls retaining Phil Jackson's services. "It means I'd probably retire," MJ said, according to the New York Times. "If Phil's not back, I'm not going anywhere. But I'm not staying."
While Thompson's comments don't quite carry the same weight — they're both under contract, and there's no indication that Kerr won't sign an extension when the time comes — he's thrown down the gauntlet. If the head coach ever leaves town, Klay (theoretically) won't be far behind.
Kerr shows the importance of a good coach in the modern game
In today's star-driven NBA, a coach might seem rather insignificant — when a team has the talent of the Warriors, can't the players more or less win every game on their own? — and, frankly, replaceable. Klay Thompson's comments, however, remind us that isn't the case.
Although Kerr might not have an instantly recognizable system like Phil Jackson's triangle, it would be naive to say that he hasn't played a role in shaping the Warriors' success. His use of a more positionless lineup and willingness to use Steph Curry as somewhat of a chess piece, moving defenses around the floor to manipulate space, has played a key role in developing a modern dynasty. Has he been helped by the overall talent on his roster? Of course, but Kerr has done a good job of maximizing it.
Beyond that, though, Kerr has also shown plenty of smarts, both on a basketball and a personal level.
In a 2020 NBC Sports story, for example, the coach explained that he once ripped Thompson during a time out and left him "rattled." After that, though, Kerr "solicited advice from folks around the eccentric guard" and learned that the sharpshooter required a different approach. While correlation doesn't equal causation, Klay did seem to turn a corner after that change.
More recently, Scott Ostler of the San Francisco Chronicle spoke to Golden State assistant coaches Ron Adams and Bruce Fraser about how the team handles halftime. They painted a picture of Kerr as a man who can get fired up and call out mistakes but does so without crossing a personal line or getting overly emotional. The bench boss is also more than happy to let the likes of Draymond Green or Curry speak up and take control of the situation.
All of that, combined with Kerr's willingness to speak about political topics, highlight a key part of modern coaching. You can't rule with an iron fist, shouting at players and forcing them to run laps. Instead, it's all about being an authentic leader who can strike the right balance between principles and personality.
While there are multiple ways to accomplish that aim — you can't talk about authenticity and expect every coach to handle things in exactly the same way — it's easy to see the benefits of getting things right. While Kerr isn't the sole person behind the Warriors' success, he has certainly played a role both from an X's and O's and a cultural perspective. The fact that Thompson is willing to hitch his wagon to the coach speaks volumes about what Kerr is doing.
When we things of team-building, it's easy to focus on the players. They are the ones, after all, who take the court and go toe-to-toe with the opposition. Kerr, however, shows how much a coach matters. Not only does he place his players in a position to succeed, but he's the one to set the organizational culture and define how things are running behind the scenes. While it's easy to think the players simply have an affinity for winning, notice that Thompson said that he would remain loyal to Kerr, not the Warriors.
At this point, organizations around the Association will be looking at Golden State and seeing how they can emulate their success. While it's easier said than done, finding a top-notch head coach, even if he doesn't have a plethora of prior experience, is certainly worth the effort. Hiring a retread might be the safe move, but it's also giving your team a known quality. Thinking a little bit outside the box does carry some risks, but if you land a Steve Kerr, you've got a foundational piece to build around.
When you see guys like Steph Curry and Klay Thompson draining threes, it's easy to think of Steve Kerr as the guy who unlocks the guy and rolls out the basketballs. A good head coach, however, does so much more. Overlook that role at your own risk.
Like Sportscasting on Facebook. Follow us on Twitter @sportscasting19 and subscribe to our YouTube channel.