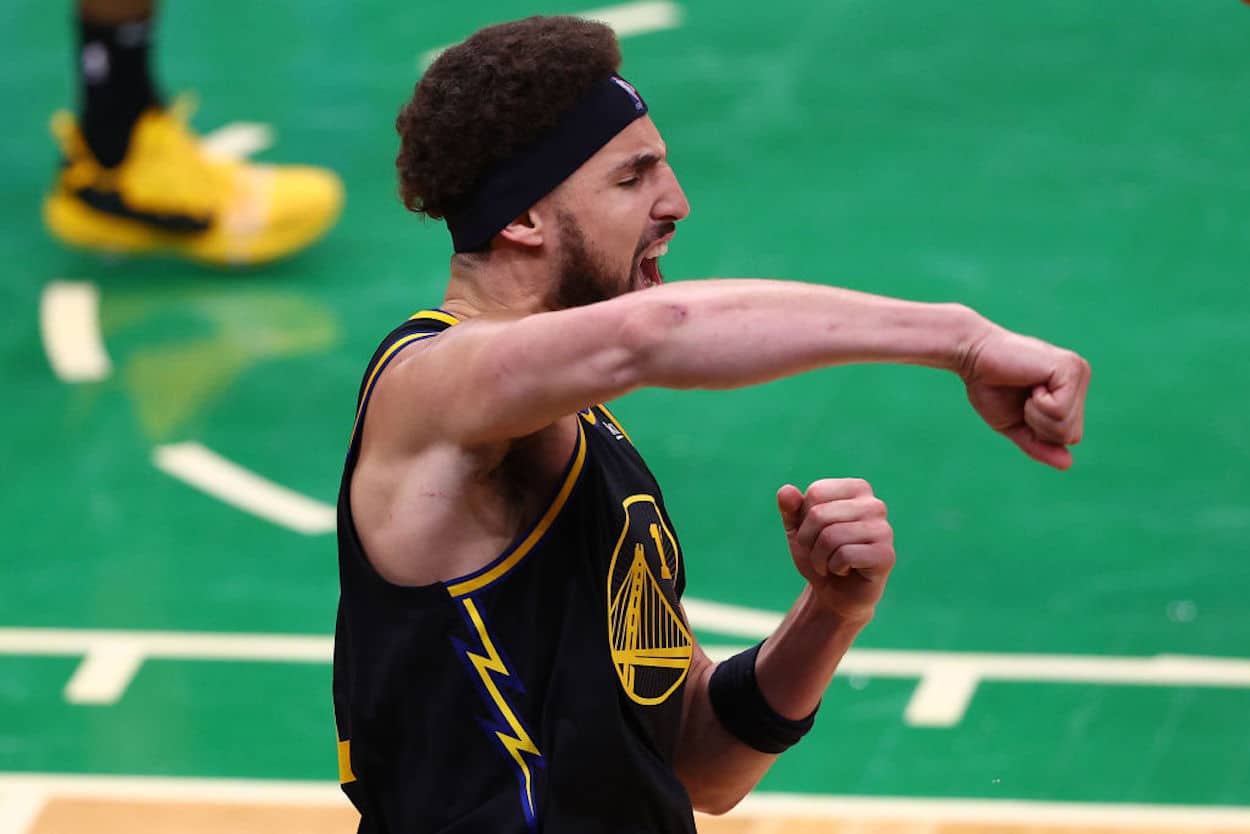 Klay Thompson Shows His Humanity Ahead of Game 5: ' I Just Want to Frigging Win'
Klay Thompson got candid about his desire to win the NBA title which is something that all Golden State Warriors fans can understand.
At this point in the NBA season, everything boils down to one ultimate reality: winning. While everyone on the Golden State Warriors roster has equally bought into that fact, Klay Thompson stepped forward to vocalize them. After working his way back from a torn ACL and a subsequent torn Achilles, the guard is now on the verge of claiming his fourth NBA title.
Although it's easy to write off those comments as simple PR — every player is going to say they want to win a championship — Thompson's statements provide a bit more than that. It's a reminder that, even in the height of NBA competition, pro athletes are real people.
Klay Thompson simply wants to win another NBA championship
If you've ever watched a sports press conference, you've heard all the cliches about remaining in the moment and focusing on the challenges in front of you. Speaking between Games 4 and 5 of the NBA Finals, however, Klay Thompson allowed his mind to wander.
Monday, June 13 was the three-year anniversary of the guard tearing his ACL against the Toronto Raptors. While he didn't realize that connection until a reporter mentioned it, he did take a moment to reflect.
"Wow, what a time. Three years ago," Thompson said, according to ESPN's Kendra Andrews. "That — wow. It just goes by fast." He also added that, when he suffered the injury, he didn't realize how bad it was and, at the time, was only focused on taking the free throws to reach the 30-point mark.
Klay did drain those foul shots, which proved to be his last contributions for quite a while. He'd have missed the entire 2019-20 campaign, then tore his Achilles tendon in November 2020, ruling him out for a second consecutive season.
Between that reality and the changes that have taken place over the past three years — Kevin Durant left town and the Warriors endured some tough seasons at the bottom of the NBA standings — a potential title would be quite a cathartic moment. At this point, though, Thompson only has his eyes on the prize.
"Maybe for a second," Thompson said when asked if the Warriors would collectively reflect on their journey. "But when I step on that court, I want to win by any means necessary. I don't care how ugly or pretty it is. Let's just win and protect our home court. I'm not going to sing 'Kumbaya' or anything. I just want to frigging win."
Thompson didn't exactly pour his heart out, but he did provide a glimpse into the humanity of pro athletes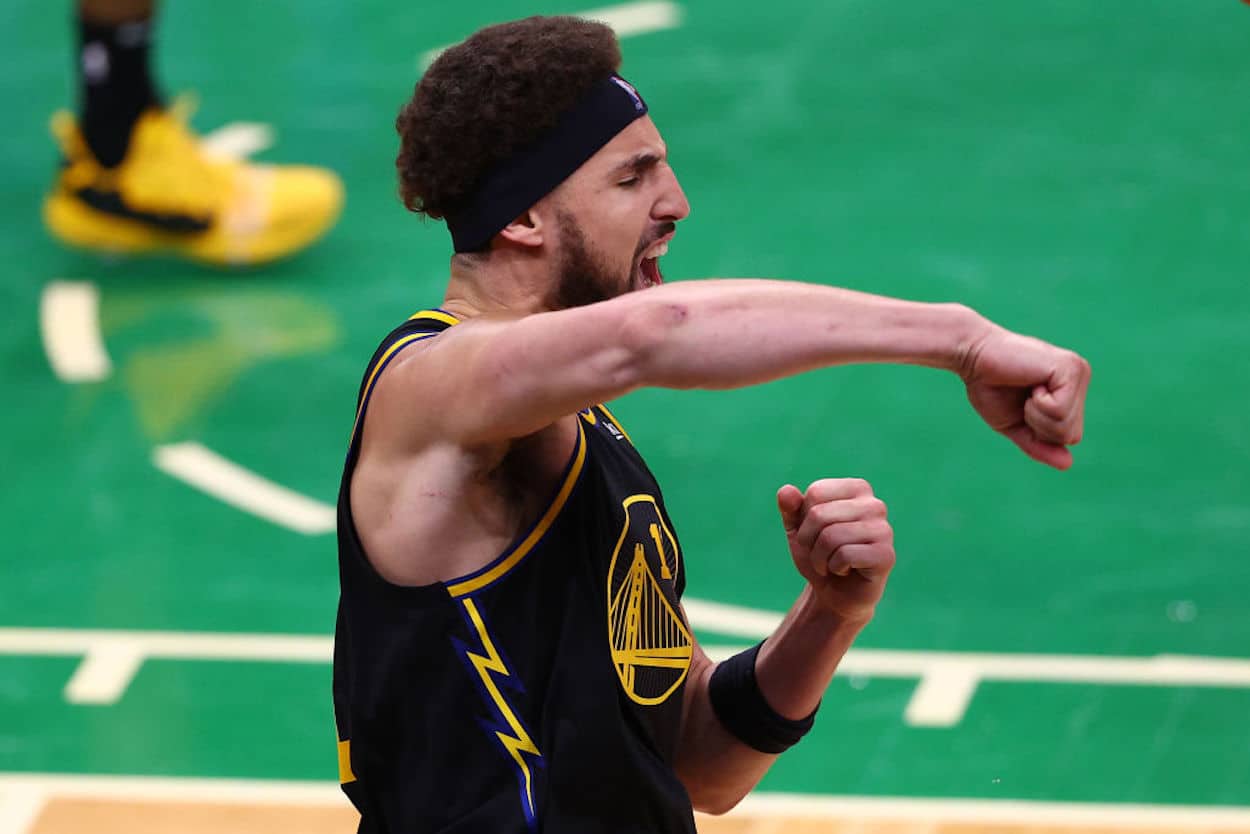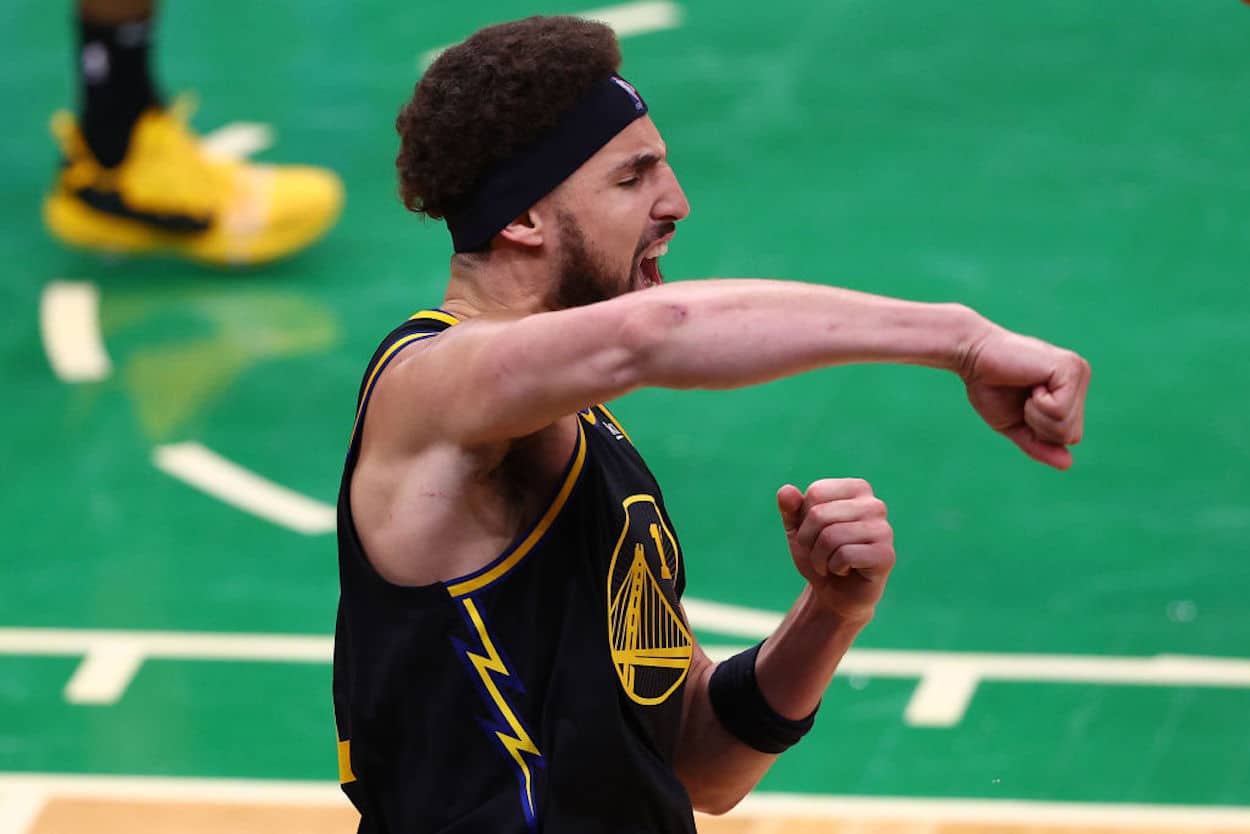 As the quotes above indicate, it's not like Klay Thompson broke down crying at the podium or did anything else that displayed obvious human emotion. His press conference, however, did subtly fuse plenty of classic sports cliches, like looking forward and trying to win, with a bit of humanity and nuance.
From afar, it's easy for us to think that athletes live perfect lives. If you have millions of dollars in the bank, like Thompson does, nothing else matters. It's (in theory) easy to spend two years on the sidelines if you're still getting paid, right?
While that perspective is understandable, it's not automatically the case for professional athletes. At the risk of breaking out cliches of my own, no one makes it to the highest level of competition without giving everything to the cause. That means sports are literally more than a game; they're, for better or worse, life.
Thompson's quotes, even if they're a bit dry, illustrate that. While there is a sentimental component, insofar as coming back from injury, it all boils down to winning. Again, that touches on a cliche — how often have we heard players or coaches speak about the importance of victory? — but provides another wrinkle.
"I just want to friggin win," suggests a raw desire that it's easy to overlook in athletes. For Thompson, there are genuine stakes here. This series isn't something that he can (hypothetically) lose and then go home to count his money. While it's not quite at the level of a torn Achilles or ACL, this one will hurt.
At the end of that day, that's something we can all relate to. Fans live and die with their teams, even though it's impossible to really influence the game from the stands. We go through all sorts of rituals, like wearing lucky jerseys, sitting in specific chairs, and everything else imaginable to avoid causing a defeat. All we want is for the players to show the same level of investment. Thompson, if we're taking him at his word, cares.
Now, it remains to see if he and the Warriors can make it over the hump or will suffer through a summer of regret.
Like Sportscasting on Facebook. Follow us on Twitter @sportscasting19 and subscribe to our YouTube channel.