Klay Thompson Still Owns 1 Item He Bought with His First NBA Paycheck
Klay Thompson started his NBA career in 2011 with the Golden State Warriors. Eight seasons later, and he is on his way to being one of the best shooters of all time. He has won three championships and played in five NBA All-Star games. Thompson was named No. 40 on the 2019 Forbes' World's Highest-Paid Athletes list, with annual earnings of $34.3 million. Despite his riches and lavish lifestyle, he still owns an item he bought with his first NBA paycheck.

Klay Thompson's Golden State Warriors contracts
Klay Thompson signed his original contract with the Warriors in 2011. It was for two years, valued at $4.35 million. In 2014, he executed a $69 million rookie extension for another four years.

Thompson again renegotiated his contract with the Golden State Warriors in July of 2019, signing a five-year guaranteed extension valued at $189.9 million. It was the max contract allowed as a free agent. Thompson will continue playing with the Warriors through the 2024 season.

Unfortunately, Thompson tore an ACL in Game 6 of the 2019 finals. According to head coach Steve Kerr, there is a good chance he will be out for the remainder of the 2019-20 season.

Thompson reveals one item he bought with his first NBA paycheck
Thompson recently sat down with Maverick Carter, host of the podcast Kneading Dough. He recalled getting his first check at the start of his career in the NBA for $35,000. They joked about how excited he was to be able to afford as much as he wanted to eat at Taco Del Mar.

Thompson said it was hard to not overspend on nice things. He admitted to hoarding clothes and playing poker with teammates on road trips. Thompson fondly talked about his first big purchase — a pool table, which he still has to this day. He said he spent his money frivolously in the beginning, but he has since learned to save and invest.

Thompson told Carter that he now values relationships more than money. He said, "If you have relationships and experiences around you, those are priceless. It's better than any car you can get, any big house."

What Klay Thompson spends his money on now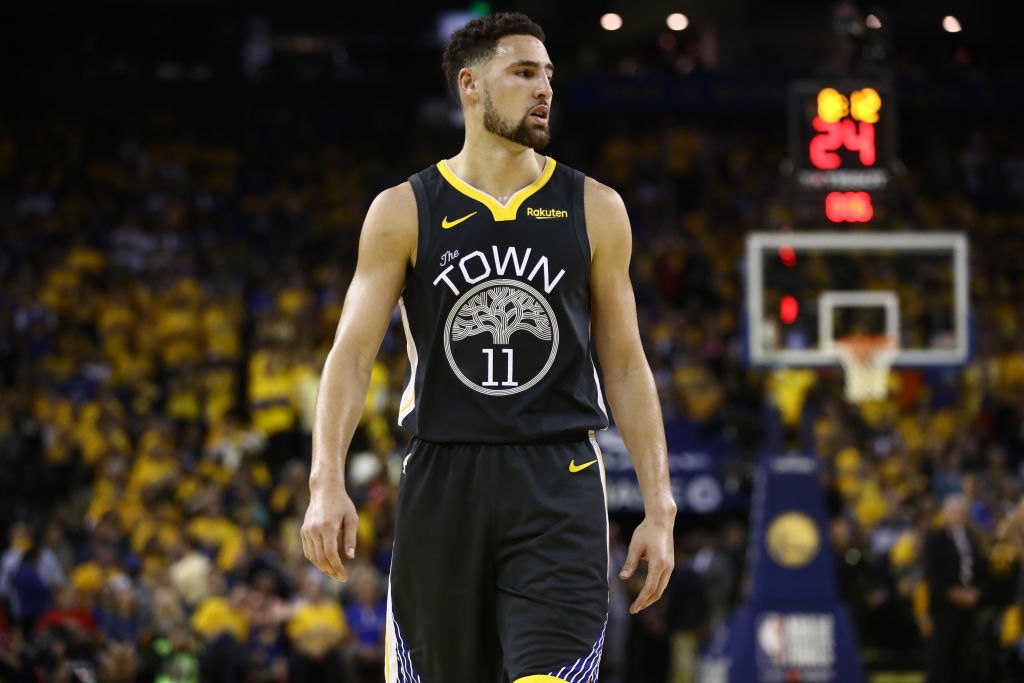 At first, it was clothes, poker, and pool tables, but these days, Klay Thompson claims now he no longer has extravagant taste. He enjoys the mental game of chess and being outdoors. Thompson recently splurged and bought a boat, but says he didn't get anything crazy. He wanted something, where he could be out on the water, which is where he finds the most peace.

Thompson took the lead of LeBron James, who spends a large amount of money investing in his self-care and well being. Thompson believes it's important to take care of his body so that he can play at peak performance. He is anxious to get back out onto the court with the Golden State Warriors, and he hopes to be back in optimum condition for years to come.

The Thompson Family Foundation
Thompson doesn't want to be remembered as just being a good basketball player. He spends some of his money giving back to those in need. Thompson wants to make an impact and give back to the community that supported him as a child. Together with his family, Thompson has created a foundation to inspire future generations. He is passionate about helping the youth of the Bahamas, especially those affected by Hurricane Dorian.
The Thompson Family Foundation recently held a golf tournament, raising $300,000 for hurricane relief. The foundation also holds an annual summer basketball camp. Thompson is very involved and encourages kids to pursue their dreams. He supports the youth in the Bay area as well, giving them opportunities to play ball throughout the region. Thompson wants to be remembered as someone that was able to help others.