Klay Thompson: The NBA's Best Shooting Guard?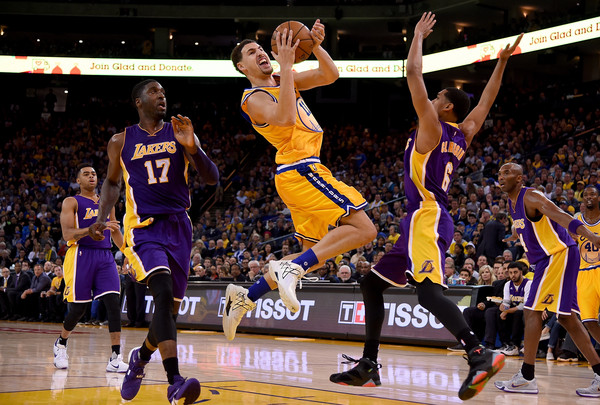 The defending NBA champion Golden State Warriors had a historic start to the 2015-16 season, becoming the first team in league history to win the first 28 games of the regular season, sustaining the torrid postseason performance behind the play of their talented trio, MVP Stephen Curry, guard Klay Thompson, and forward Draymond Green.
Curry leads the league with a career-best 29.8 points per game along with career highs in field goal percentage (50.7), steals (2.2), and rebounds (5.3). Along those same lines, Green has elevated his play in his fourth season, averaging career highs across the board with 14.4 points, 9.6 rebounds, 7.4 assists, 1.3 blocks, and shooting 48.6% from the field. Lastly, Thompson is in the midst of another productive campaign as he averages 21.4 points per game, the second-highest mark of his five-year career.
There is no question that both Curry and Green position themselves in the conversation of best players in the league. Curry puts together a strong argument that he's the game's best player in the last two seasons — over Cleveland Cavaliers forward LeBron James. However, the discussion took an interesting turn last week when Thompson declared that he is the top shooting guard in the NBA,  "I'm going to go with myself," Thompson said at the time. "We're 26-1."
The 25-year-old went on to say that his competitors at the position were the Chicago Bulls' Jimmy Butler and the Houston Rockets' James Harden, but he maintained his claim. Perhaps he received his confidence from his strong week as he posted 43 points against the Phoenix Suns — his first 40-point game of the season. This included hitting a season-high 15 field goals and scoring 27 points in the third quarter of the game. He also notched 27 points in a win over the Milwaukee Bucks earlier in the week.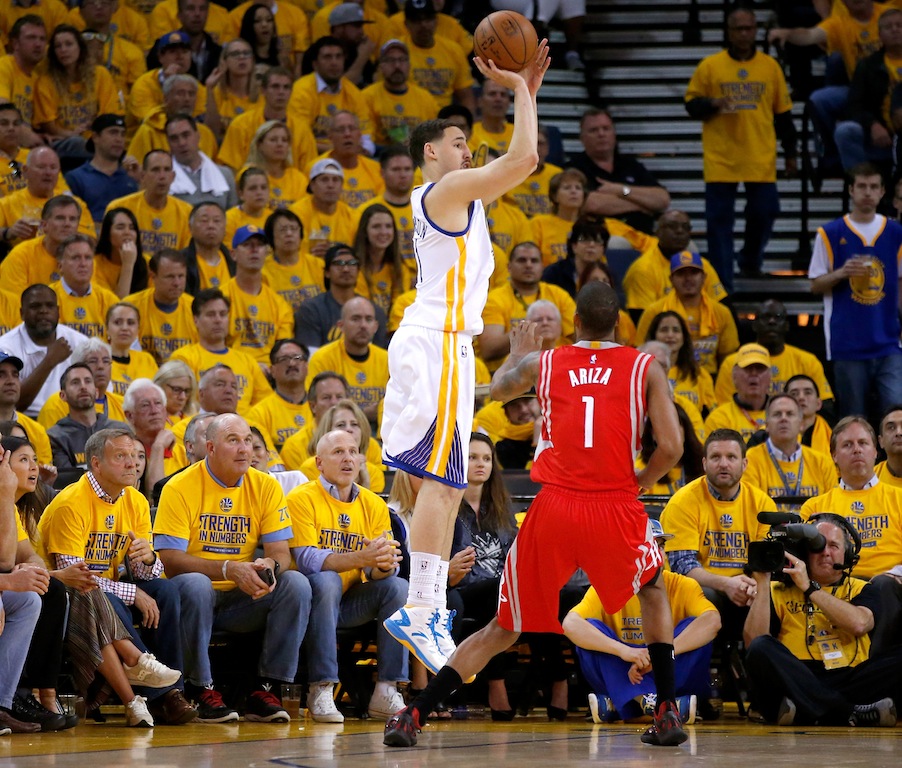 Thompson's bold statement isn't too farfetched as he has demonstrated two consecutive strong seasons and is coming off a career-high 21.7 points per game while shooting a career-best 43.9% from three-point range, which helped him earn his first All-Star game appearance. Since entering the league, Thompson has become a steady offensive force who is quite efficient from beyond the arc (four straight seasons over 40% from three-point range) as well as a strong defender at his position. But does all this elevate him to the top of the shooting guard list?
Not so fast. Unfortunately, he comes up just a bit short of Harden, who took over the position's throne from Kobe Bryant, who fell from elite status after three consecutive season-ending injuries. In truth, Bryant hasn't been the same player since he tore his right Achilles tendon, and he's had an uphill battle with injuries ever since. Harden has relished his opportunity with the Rockets, becoming the face of the franchise and a perennial MVP candidate. This season he's averaging all-around numbers that put him in a similar category to that of James with 27.4 points, 7.0 assists, and a career-high 6.3 rebounds.
If Harden can bump his scoring up half a point or so, he'll be just the eighth player in NBA history to average at least 28.0 points, 6.0 rebounds and 6.0 assists in a single season, joining Larry Bird, Richie Guerin, John Havlicek, LeBron James, Michael Jordan, Oscar Robertson, Jerry West, and Russell Westbrook. The 26-year-old is one of the best scorers in the league; he can score in a variety of ways and is nearly impossible to keep off the free-throw line, making 31 more free throws than any other player has attempted this season.
In short, it's extremely difficult to put Thompson ahead of Harden as the league's top shooting guard, especially as Harden has developed into a more dynamic all-around player over the last two seasons. What also hurts Thompson's case is that he's playing alongside Curry, the face of the league. It's clear that he's benefited from playing with Curry, and the fact that his game is dependent on just his shooting and defense in the Warriors' game plan doesn't help.
Yes, Thompson has developed beyond just a spot-up shooter, but Curry's presence limits his status. Thompson hasn't shown an ability to lead the team like Harden has, but that isn't something to look down on as he's won a championship playing the second banana to Curry. All in all, Thompson has become one of the top players in the NBA, but it's too soon to give him the title of best shooting guard.