Klay Thompson's Return is Great for the Warriors, but it's bad news for Other Title Contenders
The shock waves emanating from California's Bay Area and rolling across the basketball world today had nothing to do with any seismic activity from the San Andreas Fault. Instead, those tremors stemmed from the Golden State Warriors and guard Klay Thompson yelling the same thing.
Their roar sounded something a little like this: "WE'RE BACKKKKKKKKKK!"
While the basketball world undoubtedly took delight in watching Thompson's triumphant return, the news wasn't so rosy for other NBA teams looking to win an NBA title. With Thompson healthy, the Warriors are finally whole, heavy championship favorites again, and potentially poised for another dynastic run. Sure, Kevin Durant has moved on, and there are more miles on Stephen Curry's legs, but make no mistake about it: Thompson's health and presence make the Warriors strong favorites to win it all again.
With Thompson healthy, the Suns, Bucks, and Nets will have a harder time winning a title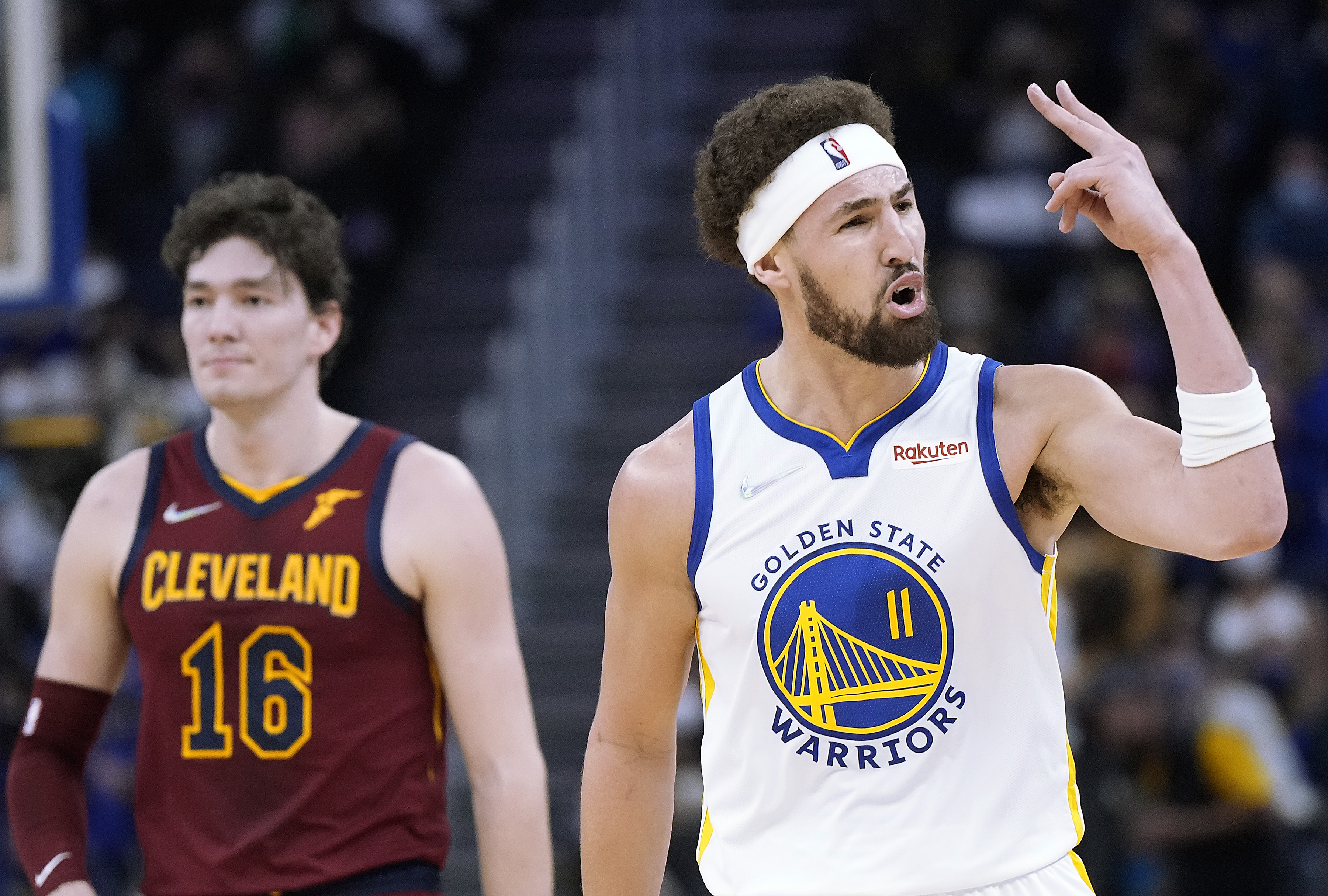 Anyone who loves basketball and the distinct artistry of the sport had to be happy for Klay Thompson's return. Considering all the sweet-shooting forward had been through — the torn ACL, the Achilles' tear, and the 941 days of inactivity — there likely wasn't a dry eye in Chase Center when Thompson converted that first floater.
However, there likely weren't many front-office executives and coaches cheering Thompson's return in the basketball offices of the Phoenix Suns, Utah Jazz, Los Angeles Lakers, or to the East with the Brooklyn Nets, Chicago Bulls, and reigning-champion Milwaukee Bucks. Their jobs in trying to capture a championship just got infinitely more difficult with a healthy Thompson back.
Direct competitors had to be looking at the basketball the Warriors had already played and thought, "As if Golden State really needs Thompson."
Before Thompson's return, Golden State had already steamrolled its way to 29 victories and exhibited tremendous balance. Riding the brilliance of coach Steve Kerr, Green, and Curry, the Warriors posted the league's best defensive rating (102.2 points allowed per 100 possessions) and a top-10 offensive rating (110.9).
Already, the Warriors had started 4-0 and 11-1 and won 18 of their first 20 games. Already, they had ripped off two seven-game winning streaks and three others of at least three games. Already, they had won two of three against the Suns — last year's Western Conference champions. Already, they had swept two games in Los Angeles, and won marquee games in Brooklyn, New York, Boston, and Utah.
And now they're getting back one of the best two-way players in the history of the game? Assuredly, Monday was not a good day for teams that figure to be battling Golden State come playoff time.
Klay Thompson said his return "was worth every single day of being away"
Thompson had been away so long the Warriors are at a different arena now.
San Francisco's Chase Center is a beauty, but it's not as loud, claustrophobic, or intimidating as Oracle Arena was previously. But the joint was hopping on Sunday when Thompson stared straight ahead as his name was screamed in pregame introductions. Then, when Thompson converted that first basket — a picture-perfect runner — the noise ratcheted up several more octaves. Later, the Warriors bench went bonkers when Thompson crossed over Jarrett Allen with a dribble and dunked in traffic.
Afterward, the forward seemed more relieved than joyous.
"Gosh, it was fun, and it was worth every single day of being away and in that squat rack or on that shuttle board and all the conditioning days. It was worth every single moment," said Thompson — who had 17 points and 18 shots in 20 minutes — in his postgame news conference." I am not going to say equivalent to winning a championship, but man, it was pretty freaking close."
Thompson brings Warriors much more offensive firepower and defensive toughness
During a dynastic run between 2014-19 that included three championships, a historic 73-win regular season, and five straight runs to the NBA Finals, Golden State got key contributions along the way from players like Durant, Andre Iguodala, Andrew Bogut, Harrison Barnes, and Leandro Barbosa.
But the common player threads were always Curry, Thompson, and Green — Steph, Klay, and Dray, if you will.
Thompson is returning at the perfect time for the Warriors. Curry became the NBA's all-time 3-point shooter on Dec. 14, and he has played MVP-caliber basketball, but this has hardly been his best season. He's shown signs of wear, and his accuracy numbers from the floor (42.2%) and 3-point range (38.7%) have dipped. Throw in Green's calf injury on Sunday, and the Warriors are actually in need of some relief.
Thompson brings that as one of the game's best all-time perimeter shooters and as a versatile and willing defender. The Warriors will ease him back slowly, but he should be a full-go by playoff time in April.
Again, those shock waves coming out of the Bay Area stemmed from Thompson and the Warriors proclaiming themselves as back. Back whole again. Back with "The Splash Brothers" together again. And back to being serious championship contenders.
While that's great news for the Warriors, it isn't something other championship contenders are especially enjoying right now. Trying to defeat the Warriors — and ultimately trying to win a championship — just got infinitely more difficult with Thompson back stroking 3-pointers again.
Statistics are courtesy of ESPN.com.
RELATED: Klay Thompson Added $85 Million to His Bank Account in the 941 Days Since He Last Played an NBA Game