Kliff Kingsbury Wise to Play Coy With Oklahoma Sooners' Job: 'Not a Topic I Want to Touch Right Now'
Lincoln Riley shocked the college football world when he abruptly left the school that "made" him, Oklahoma, and took the head coaching job at USC.
There's now a significant void at a college football powerhouse, and the Sooners can basically have their say on who they want as the next head coach. One name on Oklahoma's list, according to reports, is current Arizona Cardinals head coach Kliff Kingsbury.
Arizona Cardinals head coach Kliff Kingsbury doesn't want to talk about Oklahoma
Kingsbury is far from the first NFL coach to be linked to a big-time college football job, and he won't be the last. Heck, just this season, Mike Tomlin of the Pittsburgh Steelers got sick of reporters asking him about the now filled USC gig.
It's worth noting that Kingsbury didn't demonstratively deny the college rumors like Tomlin did, but he certainly doesn't want to get into it right now.
On Sunday, Adam Schefter reported that Oklahoma is targeting Kingsbury as a potential replacement for Riley. On Monday, Kingsbury told Darren Urban of the team website that he doesn't want to get into it.
"I don't get into those things. My sole focus the last couple of weeks has been the Chicago Bears," Kingsbury said. "We're in-season; we're 9-and-2, just not a topic I want to touch right now."
Kingsbury does make a ton of sense for the Sooners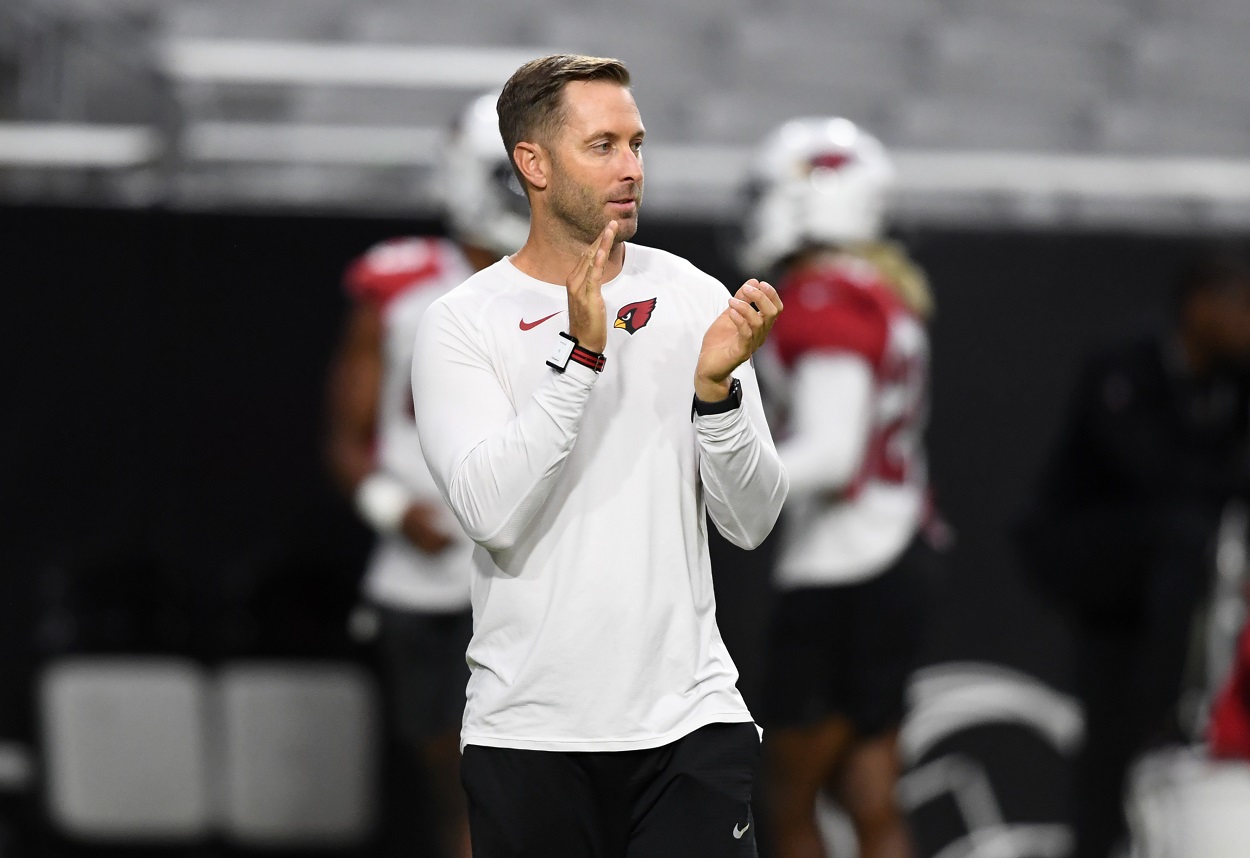 Well known in the Big 12 from the time he spent as head coach of the Texas Tech Red Raiders, Kingsbury has to be an extremely interesting option for the Sooners.
He coached at Texas Tech from 2013-2018, so he knows the Big 12 landscape well and should be able to pick up right where he left off, but with now an even bigger recruiting profile. He's been a success with the Cardinals and has developed one of the most explosive offenses in the NFL led by Kyler Murray. Currently, at 9-2, Arizona has a legitimate shot at the top spot in the NFC playoffs. The Cardinals are a favorite to win it all this season, which would elevate Kingsbury's status as an offensive mastermind even further.
The math seems simple for Oklahoma. Kingsbury has proven that he can win at a high level in the NFL with the right players. He couldn't get those players at Texas Tech, but Oklahoma's sway on the recruiting trail is massive, and the Sooners can basically guarantee him multiple 5-star recruits every cycle.
If the Sooners can trot out Kingsbury as a replacement to Riley, also known for his offensive mind, it's almost as if they just swapped one for the other.
Kingsbury is wise to stay silent on the Oklahoma rumors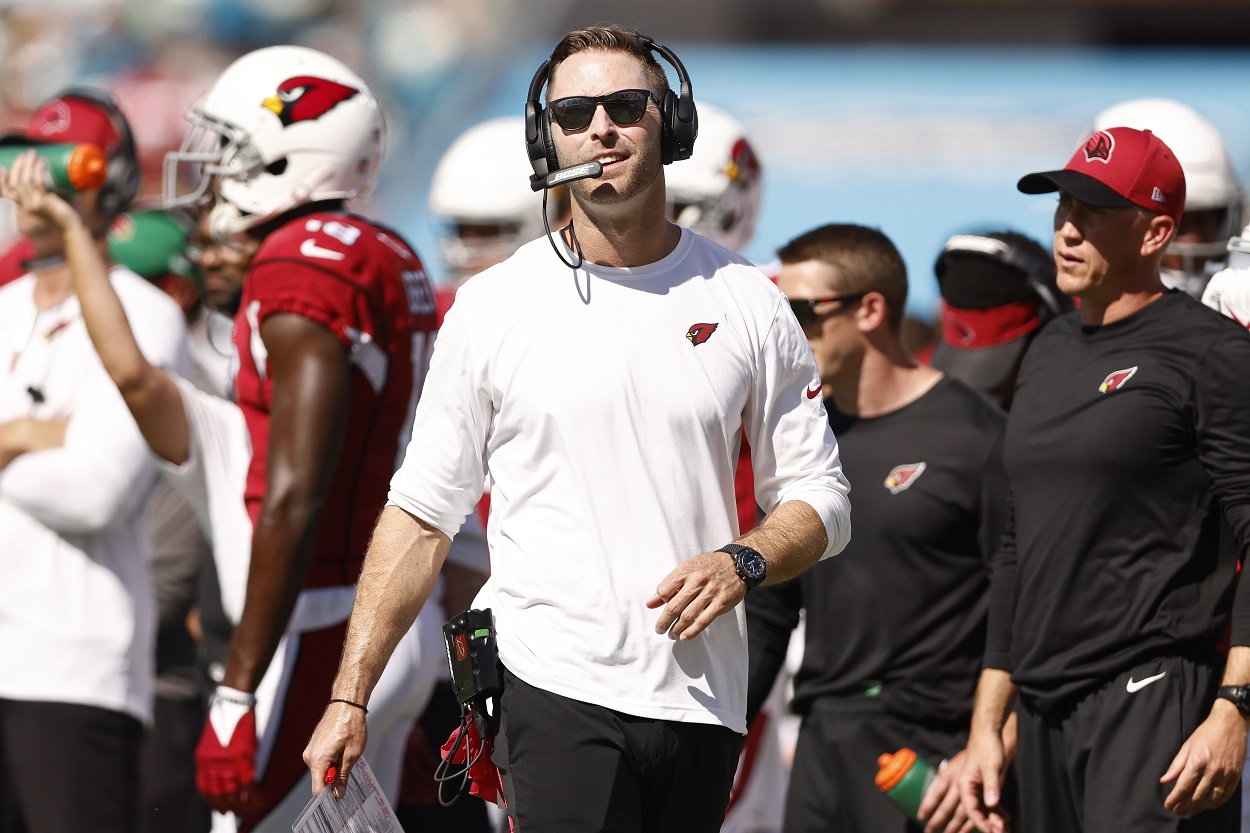 Read between the lines of Kingsbury's statements on Oklahoma, and you'll see that there wasn't a denial. He discussed being "in-season" and the fact that he doesn't want to touch on the topic at the moment. He didn't outright deny interest in the Oklahoma job, though, nor should he.
At this point, Kingsbury has to be on top of the world.
On the one hand, his Cardinals are one of the best teams in football, and he has a great shot at making and winning a Super Bowl. That's, of course, easier said than done, but just having the opportunity is enormous.
On the other hand, he's reportedly receiving interest from one of the five most significant programs in college football. He could go to Oklahoma and almost guarantee himself a job for life. Yes, he'd have to hit the recruiting trail again, but he'd be one of the most high-profile people in the sport, and he'd be able to call all the shots in Norman.
That's a win-win.
In the meantime, staying silent is the best option. The game within the game at this point is that Kingsbury all of a sudden has incredible negotiating power.
With the Cardinals, he can bring up the Oklahoma interest and ask for a contract extension. Job security would be massive in a league that can burn and churn out even good coaches, especially if Kingsbury can continue to grow with Murray.
If Kingsbury does want to go back to college, he has his current status as head man for the Cardinals to use as negotiating power with the Sooners.
"It didn't affect me one bit," he said of the report from Schefter, according to Josh Weinfuss.
Kingsbury has obviously already entered the bluffing stage of negotiations.
At this point, he's playing a choose your own adventure game.
Stats courtesy of ESPN and Pro Football Reference.