The Knicks' Rumored Dismissal of DeMar DeRozan Could Ruin Their Chances of Acquiring Damian Lillard
Coming off a season in which they became the de facto darlings of the NBA, the New York Knicks had a chance to improve the roster and build upon the successes of the 2020-21 campaign. Facing a somewhat lackluster free-agent market, the Knicks divvied out money to multiple players, possibly with an eye on eventually trading for a star such as Damian Lillard.
Dame's future with the Portland Trail Blazers became a topic of discourse throughout the offseason. He pledged allegiance to the organization and, even after the Blazers shook things up at the deadline, threw more weight behind the team's efforts to retool and build around him.
It's still possible that Lillard could want out if Portland cannot add impact players this summer. Heading to New York could offer the chance for Dame to play for a big-market franchise that might give him a better chance of recruiting star teammates. But the Knicks no longer seem to have the allure they otherwise could have maintained had they signed one DeMar DeRozan.
Rumors linked Damian Lillard to the Knicks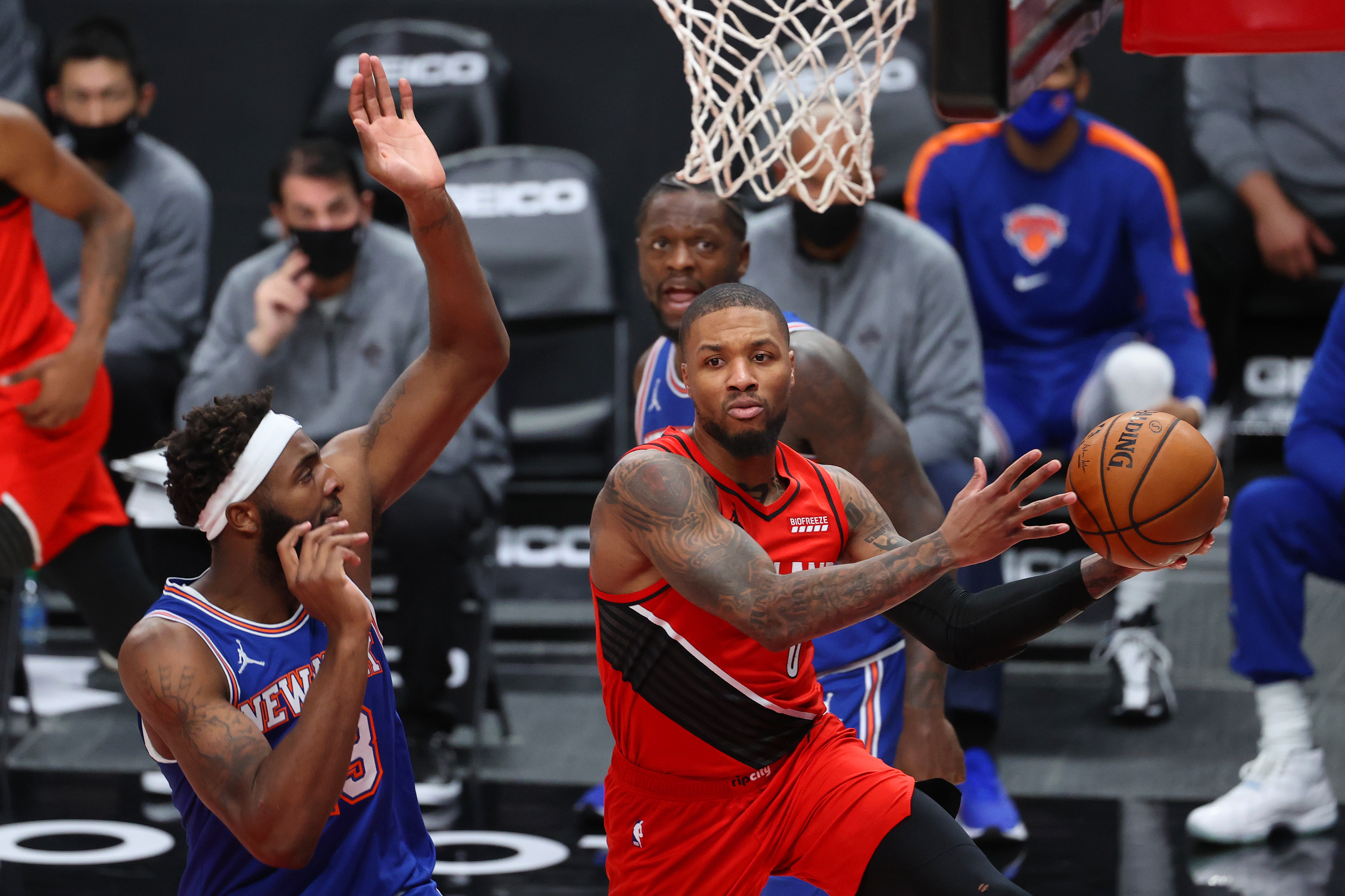 Even as Lillard professed his loyalty to the Blazers, scuttlebutt about his preferences persisted. The Knicks found themselves in the middle of that conversation.
Stephen A. Smith of ESPN reported in August that Dame would welcome a trade to New York if he sought to leave Portland. Smith went so far as to call it a "fact" that Lillard wants to play in the Mecca. He doubled down on that claims in December.
The trade deadline has come and gone, and Dame remains in Rip City. Still, given Smith's insistence, might Lillard ultimately try to steer a deal to the Big Apple?
Well, the Knicks have collapsed this season, and might have ruined any hope of acquiring Dame because they passed on DeMar DeRozan.
New York refused to make a play for DeMar DeRozan, and now Lillard's interest is waning
Signing DeMar DeRozan this offseason might have changed everything for the Knicks. But the front office made a severe miscalculation, and it could cost them the chance to trade for Damian Lillard.
Marc Berman of the New York Post reported that Knicks general manager Scott Perry had an interest in making a push for DeRozan, who has a friendship with Lillard, in a sign-and-trade. However, according to Berman, senior advisor William Wesley felt DeRozan was "closer to being washed up than being an All-Star."
That notion couldn't be further from the truth.
After a sign-and-trade brought DeRozan to the Chicago Bulls, he began showing just how much he had left in the tank. The veteran swingman ranks first in total points scored and third in scoring average (27.7). He's also averaging 5.2 rebounds and 5.1 assists, firmly cementing his place in the MVP conversation.
Contrary to Wesley's belief, DeRozan made the All-Star Game as a starter. His stellar play reflects poorly on New York's front office, and the Knicks' decision to hand out big money to the likes of Evan Fournier instead of DeRozan has ramifications for their chances of landing Lillard.
A source told Berman that the Knicks do not "hold the same appeal" to Dame as they did during the offseason. That makes sense, considering New York is 25-32 and in real danger of missing the playoffs.
Maybe if the Knicks added DeRozan, they'd be more competitive and thus have a better shot at trading for Lillard. Instead, New York remains in disarray.
Where do the Knicks go from here?
The Knicks seemingly needed to shake things up at the Feb. 10 NBA trade deadline to alter the direction of the franchise. They did absolutely nothing.
New York could have tried to trade Alec Burks or Evan Fournier to clear up playing time for Cam Reddish. But the Knicks likely would have had to add draft picks because of their contracts. Moving Julius Randle grew less likely because of his diminishing trade value.
So, basically, the Knicks are stuck. A franchise that once looked like a club on the rise now has nowhere to turn. To make matters worse, poor offseason decision-making appears to have eliminated any chance of trading for Damian Lillard.
Stats courtesy of Basketball Reference.
RELATED: What's Next for Damian Lillard and the Portland Trail Blazers Now That Part 1 of the Roster Overhaul Is Over?