The Knicks and Tom Thibodeau Are Frustratingly Wasting Their Rising Star
The New York Knicks are struggling to build on the success of their 2020-21 season that made them one of the darlings of the NBA. Head coach Tom Thibodeau is also risking the atrophy of a talent who bears critical importance to the Knicks in the coming years.
New York went with the hometown kid in the 2020 NBA Draft, selecting Obi Toppin out of Dayton. The former Flyers star has already made gains in his sophomore campaign, but Thibodeau's allegiance to veteran toughness and defense — something that is lacking for the Knicks — is becoming a detriment to Toppin's progression.
Obi Toppin is showing his upside as a hyperathletic two-way forward
Obi Toppin faced some questions about how his game would translate to the NBA ahead of the 2020 draft, notably on the defensive end of the floor. However, he's answered the bell.
Toppin accumulated a respectable 0.5 defensive box plus-minus in his rookie season, and he's at 0.7 in that category through 17 games this time around. Although he still leaves something to be desired in terms of on-ball defense, Toppin's presence as a help defender is notable. He's averaging 2.0 blocks per 36 minutes.
Additionally, Toppin adds tremendous value to the Knicks' offense. While he's converted on just 22.2% of his 3-pointers thus far, the 23-year-old excels at making plays in transition.
Toppin is also an excellent baseline cutter, a massive benefit for slashing point guards like Derrick Rose, particularly when Rose is shooting the ball so well from beyond the arc. He runs to the rim for lobs and can explode to the basket off a couple dribbles, finishing through contact with explosive dunks.
The former Flyers star makes things easier for his teammates when he's on the floor. But Tom Thibodeau won't give Toppin extended run. That's a big problem for the Knicks.
Tom Thibodeau has buried Toppin on the frontcourt depth chart
Toppin is indeed getting more minutes with the Knicks this season. But an additional 3.9 minutes per contest is hardly something to write home about. In truth, Tom Thibodeau prefers to play other guys, mainly because of his affinity for defensive toughness.
Taj Gibson is averaging 20.2 minutes to Toppin's 14.9. Nerlens Noel –who made headlines this summer by suing Rich Paul — has only played in six games this season, but he's averaging 23.3 minutes. That allotment appears to make sense in accordance with Thibs' coaching preferences.
Gibson can rebound and is averaging 2.8 blocks per 36 minutes. Noel, meanwhile, has quietly been one of the better interior defenders in the NBA for the past few seasons. He's averaging 1.8 blocks and 1.2 steals through his first six games.
The issue, though, is that those guys add little to no value for the Knicks offensively. Gibson has made just 2-of-14 jumpers thus far. Noel is primarily a rim-roller who needs others to create and set him up with lobs or easy looks in pick-and-roll.
By contrast, Toppin can provide spacing and make plays off the dribble. Though he hasn't shot the 3-ball well to start the season, he made a respectable 39% of his triples during his sophomore season at Dayton. The upside is there.
Thibodeau said last month that Toppin infuses the Knicks with energy. So, why isn't he getting more minutes?
Thibodeau must alter his rotations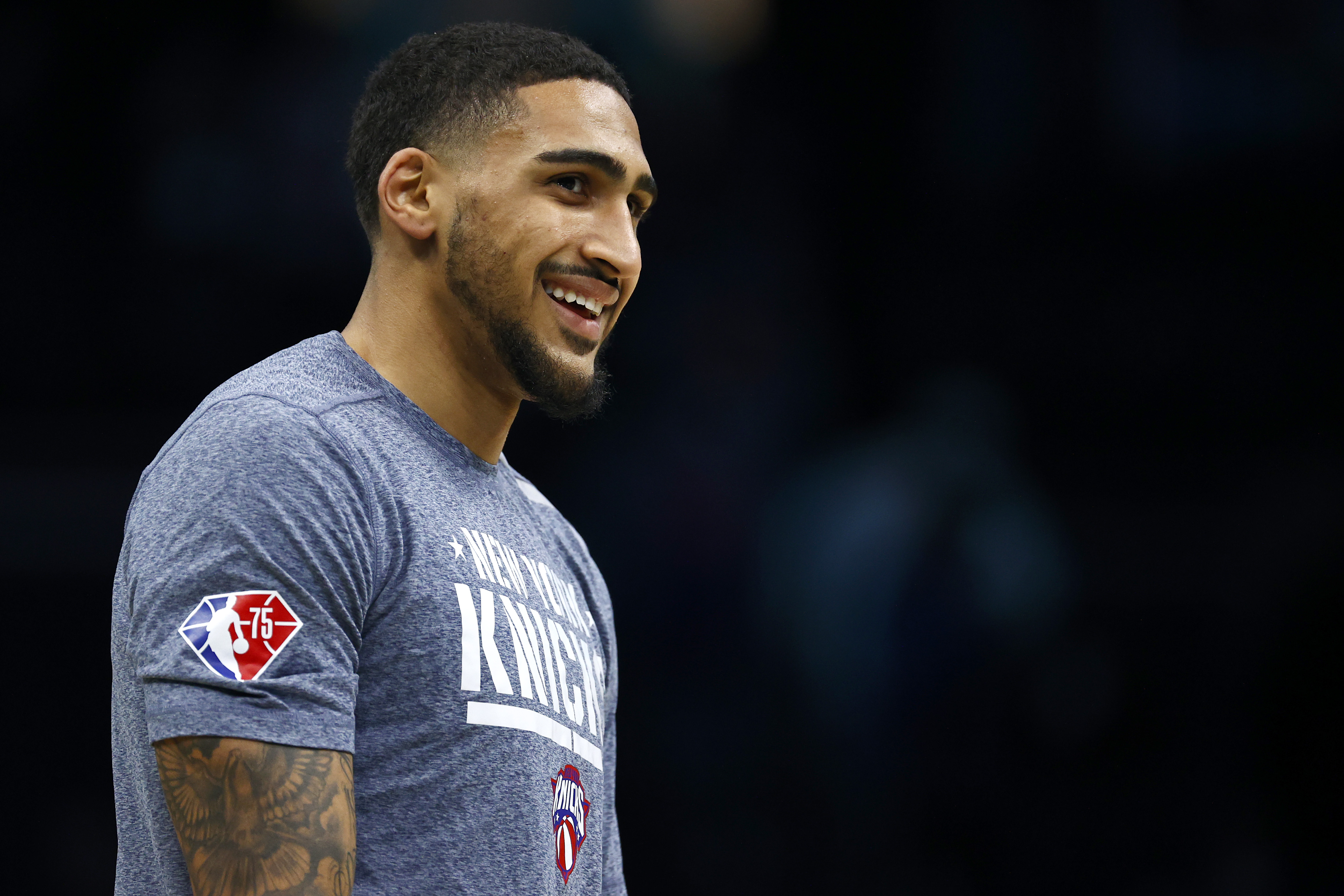 Thibodeau cannot risk stagnating Toppin's growth. Changes are needed, and they must be implemented as soon as possible.
As has already been established, Toppin is holding his own on the defensive end and gives the Knicks more variety on offense. Thibodeau must find more ways to get him into the game.
The simplest solution is giving some of Gibson's minutes to Toppin. It also might be worth it for Thibodeau to defer to Toppin over Alec Burks, though the latter is a crucial floor-spacer for the Knicks. Whatever the case may be, Toppin figures to see more minutes in the near future because of Mitchell Robinson's absence (concussion protocol).
Knicks fans should hope the youngster seizes the opportunity. Otherwise, Thibodeau might revert to his old and outdated methods while ruining the "Bing Bong" hype in the Big Apple.
Stats courtesy of Basketball Reference.