Knowledge of a Shameful Secret Helped Kareem Abdul-Jabbar Secure the Upper Hand in His Rivalry With Bob Lanier
Kareem Abdul-Jabbar is easily the best NBA center to suit up during the 1970s. But the towering Milwaukee Bucks and Los Angeles Lakers star wasn't the only Hall of Fame big man patrolling the paint throughout the decade. One such center was Bob Lanier, who often went head-to-head with Abdul-Jabbar. However, Kareem revealed a secret he knew about the Detroit Pistons star that helped him come out on top more often than not.
Kareem Abdul-Jabbar and Bob Lanier were two dominant centers in the 1970s
In 1969, Milwaukee made UCLA's Abdul-Jabbar (then Lew Alcindor) the number one pick of the NBA Draft. One year later, Detroit took Lanier out of St. Bonaventure with the top pick. Quickly, the centers became two of the top players in basketball.
Beginning in his rookie season, Abdul-Jabbar earned nine of his 19 All-Star nods in the '70s. More impressively, five of his six MVP awards came between 1971 and 1977; three with the Bucks and a pair with the Lakers. He'd also finish first-team All-NBA six times and first-team All-Defense three times before the turn of the decade.
As for Lanier, the 6-foot-11 center earned nearly all of his accolades and achievements before the 1980s. Following an All-Rookie campaign in 1971, "Dobber" made seven All-Star teams in an eight-year span, winning All-Star MVP in 1974. While Kareem's numbers were legendary, the physical Lanier still managed to average a cool 22.9 points throughout the decade.
With Abdul-Jabbar's Bucks sharing a division with Lanier's Pistons, the two skyscrapers faced off on many occasions. Unsurprisingly, Kareem won 34 of the 52 matchups.
Abdul-Jabbar revealed a secret he knew about Lanier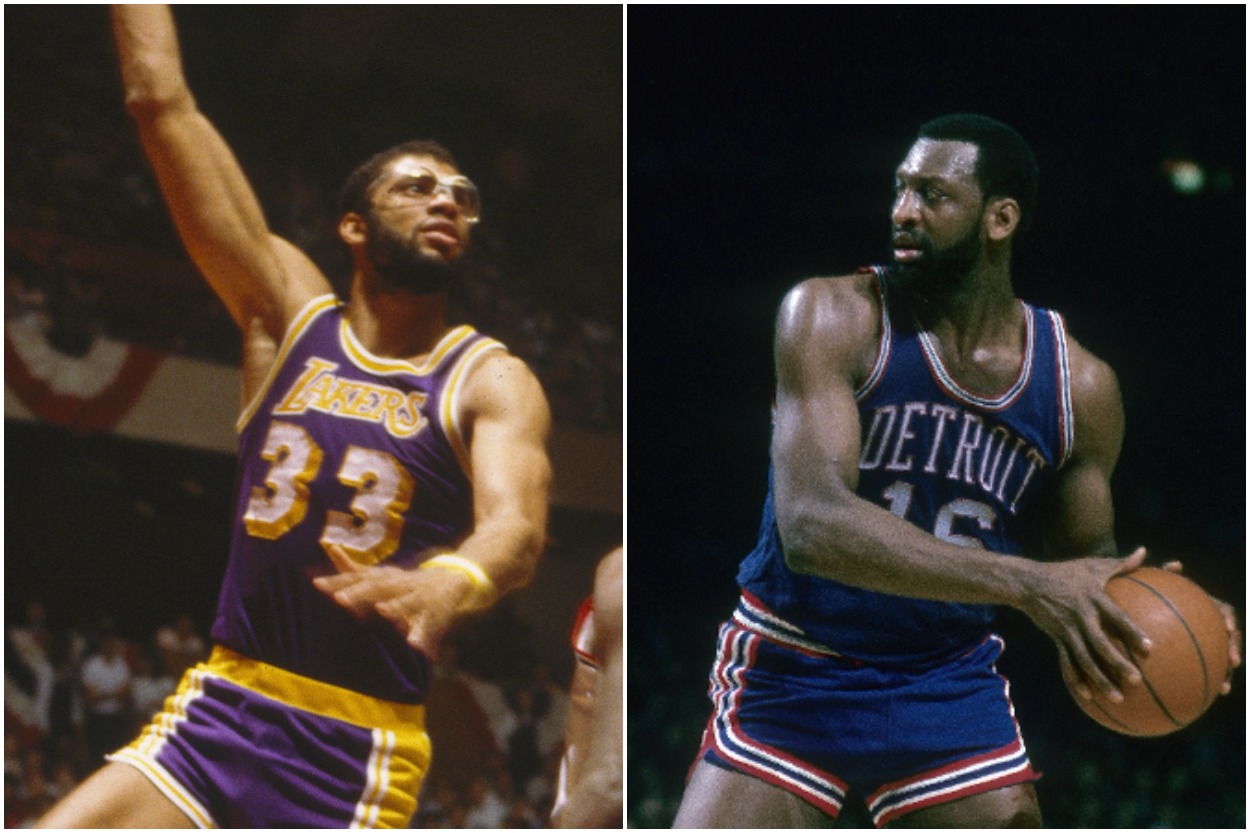 Years later, the six-time champion Abdul-Jabbar offered some insight into his rivalry with Lanier. And how even Bob's teammates knew the former Bonnie was outmatched.
"Bob still resents a few things," Abdul-Jabbar said in an older interview released by The Universe Galaxy. "Because when he was with Detroit or Milwaukee, he was never able to beat the teams that I played on. And I always seemed to thwart him. The guys on his team always called him 'Number Two' and they said, 'Alright Number Two, you're getting ready to go against Number One.' He hated that."
Then, Kareem revealed the "secret information" he had on Lanier that helped him gain the upper hand.
"Bob liked to smoke cigarettes at halftime. So in the second half I made Bob run and he was in pain, I could see it. It really affected his game, and he never knew that I knew that. I've talked to him about that since we've been retired and he was like, 'What?! … Geez, I should've known better.'"

Kareem Abdul-Jabbar
The '70s were a different time in sports, that's for certain.
Kareem had great admiration for Lanier
Even though he spent a great amount of time beating Lanier, Abdul-Jabbar saw the Hall of Famer as a worthy adversary. When asked about the most challenging players to battle against, the 15-time All-NBA selection singled out Lanier and Nate Thurmond, another great center from the '60s and '70s.
Ironically, Abdul-Jabbar and Lanier's greatest link might not come from anything on the court. Kareem played a key role as a pilot in the 1980 film Airplane!. In a scene involving a young kid telling Abdul-Jabbar about his dad's critiques of the superstar, the center lashed back in one of the funnier moments from the celebrated movie.
"Listen kid!" Abdul-Jabbar exclaimed. "I've been hearing that crap ever since I was at UCLA. I'm out there busting my buns every night! Tell your old man to drag Walton and Lanier up and down the court for 48 minutes!"
Even if Kareem knew about his shameful smoking habit, at least Lanier can say he was good enough to earn a reference in the movie.
All statistics courtesy of Basketball Reference.