Kobe Bryant Used 1 Email to Prove His Fiery Competitiveness After Suffering a Brutal Season-Ending Injury: 'I Feel They Are Forgetting How Good I Was'
Kobe Bryant spent his entire NBA career doing whatever he could to win; he often didn't care about the costs. But while the Los Angeles Lakers legend proved his competitiveness in various ways throughout his career, he also let his fiery nature shine in just a single email.
Following his brutal season-ending Achilles injury in 2013, Bryant sent a message to journalist Marc J. Spears. And the words in his message proved just how big of a chip he had on his shoulder during that time in his career.
Kobe Bryant had a remarkable 2012-13 season with the Lakers
The 2012-13 Lakers were supposed to be really good. They acquired superstar big man Dwight Howard in a trade with the Orlando Magic, and he had just averaged 20.6 points and an NBA-leading 14.5 rebounds the season prior. LA also traded for Hall of Famer Steve Nash, who had just earned an All-Star selection in 2011-12 for the Phoenix Suns by recording 12.5 points and 10.7 assists per game.
Those moves then created a talented lineup that included Bryant, Nash, Howard, Pau Gasol, and Metta World Peace.
But they could never get things going.
Nash, who was 38, only played in 50 games that season, while Gasol only played in 49. The team as a whole never clicked, either, as it finished 45-37 and barely made the playoffs, earning the No. 7 seed after tying with the Houston Rockets for the seventh-best record in the Western Conference.
LA, though, only reached the playoffs because of Bryant.
The five-time NBA champ was 34 years old that season, but he had a remarkable year, averaging 27.3 points, 5.6 rebounds, and 6.0 assists. His play proved he still had a lot left in the tank.
That was until the 80th game of the season.
Kobe sent a fiery email after his 2013 Achilles injury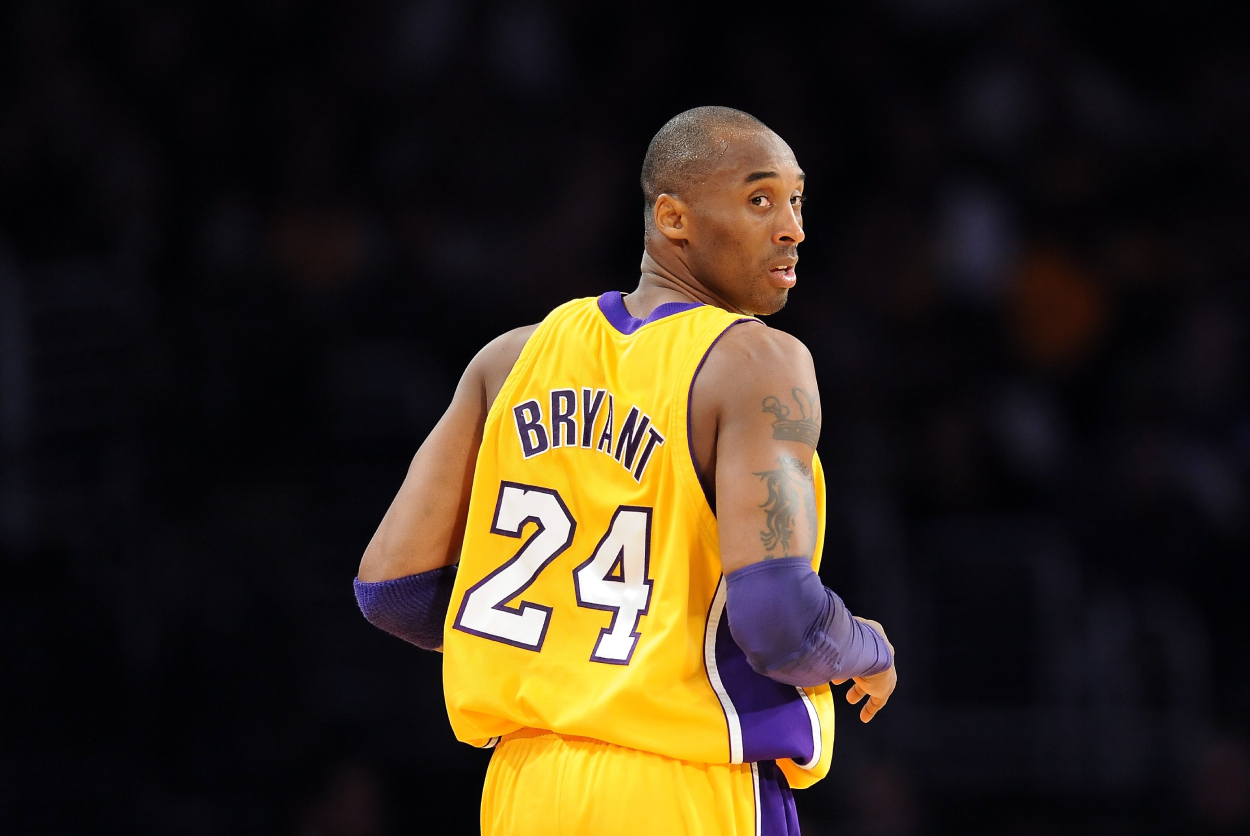 On April 12, 2013, Bryant, who had been averaging 45.5 minutes per game in his last seven contests (including the one that night), tore his Achilles against the Golden State Warriors. After getting back up to shoot two free throws, Bryant left the game and didn't return; his season was over. Although he was the main reason the Lakers made the playoffs that year, he didn't even get to play in the postseason, and the San Antonio Spurs swept them in the first round.
Following his injury, though, Bryant sent a fiery email to ESPN/The Undefeated reporter Marc J. Spears.
"Please do me a favor though and write a piece about what I was doing prior to getting hurt and the numbers I was putting up and bringing the team to the footstep of the postseason," he wrote, according to a piece by Spears in The Undefeated in 2020. "I feel they are forgetting how good I was for ANY age. And that nothing in my career suggests that I won't come back just as good or better next season."
Bryant wanted people to remember just how great of a season he had been having that year. It didn't matter if a 24 or 34-year-old put up those stats; they were still great numbers. He was also already thinking about his comeback, and he proved that by saying, "nothing in my career suggests that I won't come back just as good or better next season."
He was always a man on a mission, but especially after his injury.
Sadly for the two-time Finals MVP, he never returned to form, but Bryant still gave us some unbelievable moments.
Kobe Bryant still gave us great moments despite never returning to form for the Lakers
After his injury, Bryant never played at that same elite level again. He only appeared in six contests in 2013-14 before averaging 22.3 points in 35 games in 2014-15. Bryant also shot an abysmal 37.3% from the field that year. The following season's numbers, though, were even worse, as he averaged 17.6 points in 66 games and only made 35.8% of his shots.
However, every now and then, he still showed glimpses of that dominant competitor he had always been. During his final season, the 18-time All-Star scored 38 points and made seven 3-pointers in a win over the Minnesota Timberwolves. He also had a 27-point, 12-rebound game in a win over the New Orleans Pelicans.
But his most memorable performance came in the final game of his career.
As you likely remember, Bryant, who was 37, dropped 60 points in a win over the Utah Jazz in his last game; he became the oldest player to score 60 in a game.
Kobe Bryant was one of the most fiery players to ever play in the NBA, and while he proved his competitive nature in many different ways throughout his career, he especially did so in that email to Spears and in his 60-point game at 37 years old. To put it simply: Bryant was an all-time great competitor and a legendary player.
Stats courtesy of Basketball Reference
RELATED: Kobe Bryant Welcomed a New Teammate to the Lakers by Immediately Asking Him if He Was Ready to 'Black Out': 'You See Spots'