Kobe Bryant Used a Simple 6-Word Sentence to Savagely Troll Shaquille O'Neal After Winning His 5th NBA Title
If you were an NBA fan during the early 2000s, you probably followed Kobe Bryant and Shaquille O'Neal's feud on the Los Angeles Lakers. Even if you weren't a fan during that era or are too young to remember, you still probably know most of the details; the Kobe-Shaq relationship has been well-documented for years.
While it appears they worked out their differences as the years went on, the two stars still rarely passed up opportunities to diss each other. In fact, Bryant made sure he seized a particular moment after winning his fifth NBA championship.
Kobe Bryant and Shaquille O'Neal dominated on the Los Angeles Lakers together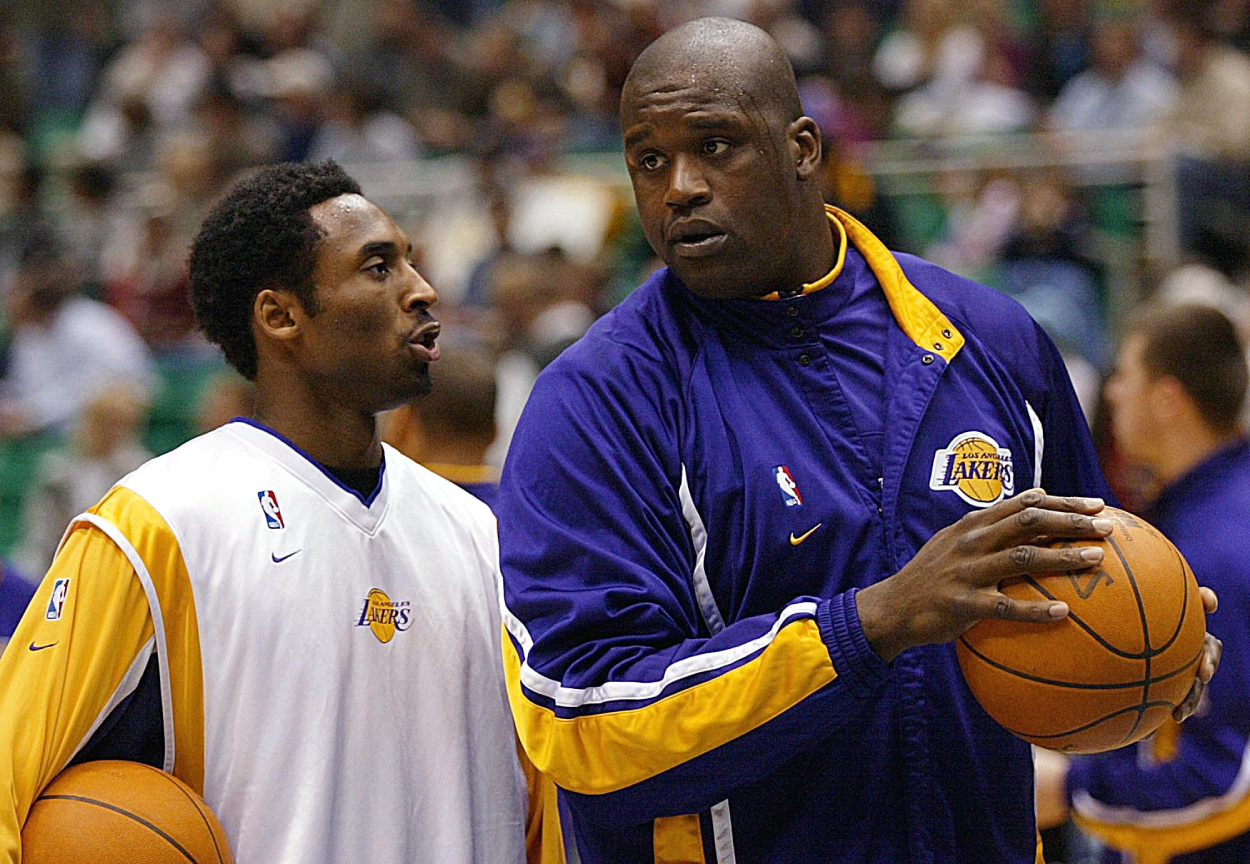 O'Neal was already one of the best big men in the NBA when he signed with the Los Angeles Lakers in 1996. He averaged 26.9 points, 10.6 rebounds, and 1.9 blocks in his first season in LA in 1996-97.
That same year, a young guard named Kobe Bryant entered the league. He only averaged 7.6 points as a rookie but quickly became an All-Star by his second season.
Together, the two of them led LA to the playoffs in each of their first three years on the team. They even played in the Western Conference Finals in 1997-98. But in 1999-2000, the Lakers were one of the best teams in the league, finishing 67-15 and winning the NBA championship. The victory then launched a run of dominance for the Lake Show that included three straight titles and four trips to the finals in five years.
However, during that same time, almost every sports section across the country had its headlines filled with something about Bryant and O'Neal's relationship. Their reported issues could probably fill up an entire novel, so, given the extensive background of their beef, we won't touch on it much in this article.
But, in the end, all that drama eventually preceded the Lakers trading O'Neal to the Miami Heat in 2004, and fans have debated the real reason why O'Neal left LA ever since. Lakers owner Jeanie Buss said earlier this year on All The Smoke, though, that it "was purely a money situation."
No matter the reasoning, Bryant and O'Neal were on their own and had to try and win titles with other teammates.
Kobe Bryant savagely trolled Shaquille O'Neal after winning his fifth NBA title
O'Neal found success almost immediately with the Heat. He teamed up with a young Dwyane Wade, and in his second season with the team, they won an NBA championship, giving him his fourth title — one more than Bryant.
Bryant then took the Lakers back to the finals in 2008 but lost to the Boston Celtics, which led to O'Neal taking shots at him while rapping at a club.
"You know how I be," he said, per ESPN. "Last week Kobe couldn't do without me."
However, Bryant got the last laugh.
He tied O'Neal in titles after winning the 2009 NBA Finals, and in 2010, he passed him by claiming his fifth and final championship.
After winning that fifth ring by beating the Celtics in seven games, Bryant used a simple six-word sentence to troll O'Neal: "Just got one more than Shaq."
Those six words were all he needed to mock his former teammate, who finished his career with only four titles. But he also added, "So, you can take that to the bank. … You know how I am; you guys know how I am. I don't forget anything," per Bleacher Report.
No matter the number of championships they won, O'Neal and Bryant both ended their respective careers as NBA legends. And with time, came a repaired relationship.
Shaq and Kobe had mutual respect
Kobe and Shaq seemingly got over their differences as time went on. They took shots at each other when they could, but it appeared to be all in good fun.
After a tiny quarrel where Bryant said he would have won "12 rings" had O'Neal worked as hard as he did, Mamba tweeted, "There is no beef with [Shaq]. I know most media want to see it but it ain't gonna happen. Ain't nothin but love there and we too old to beef anyway #3peat," per Sports Illustrated.
O'Neal also said this on All The Smoke following Bryant's 2020 death.
"You know how it is as basketball players; we don't always get along. But if the respect is there, you can never be beaten," he said in April 2021. "You all know him: He was an alpha. You all know me: I was an alpha. We didn't always agree on things, but when it come time to compete on the court, I think the fact that we always competed with each other made us even more unstoppable."
The Shaq-Kobe duo was maybe the most entertaining in NBA history. Their rivalry, though, was just as box office.
Stats courtesy of Basketball Reference