Kobe Bryant's Hall of Fame Career Got off to a Painfully Embarrassing Start When He Arrived at Training Camp to a Befuddled Jerry West: 'Wait. Wait, Wait. Wait. What?'
Eventually, Kobe Bryant became one of the greatest players in NBA history. After he was acquired by then-Los Angeles Lakers general manager Jerry West in the 1996 NBA Draft, though, Bryant struggled through a frustrating rookie season. After that, all he did was go on to win five NBA Championships and earn a spot in the Naismith Memorial Basketball Hall of Fame — with about a dozen more accolades sprinkled in.
But that legendary career got off to a very inauspicious start.
Unbeknownst to West, Bryant showed up for his first official NBA training camp with a yellow and gold jersey and a cast on his left wrist.
Kobe Bryant arrived in the NBA with a considerable amount of hype
Bryant declared for the NBA draft straight out of high school at 17 years old. He was the first non-big man ever to skip college and make that jump.
The NBA world was well aware of Kobe Bean, though.
The son of former NBA player and Italian star Joe "Jellybean" Bryant, Kobe led Lower Merion High School to the Pennsylvania Class AAAA State Championship after averaging 30.8 points, 12.0 rebounds, 6.5 assists, 4.0 steals, and 3.8 blocks as a senior.
Already looking to clear cap space to sign 1996's most prized free agent, West sent center Vlade Divac to the Charlotte Hornets in exchange for Bryant, that year's 13th overall pick.
The rest became history. Eventually. But not before a broken wrist and a busted start.
Bryant missed his first NBA training camp after breaking his wrist in a Venice Beach pickup game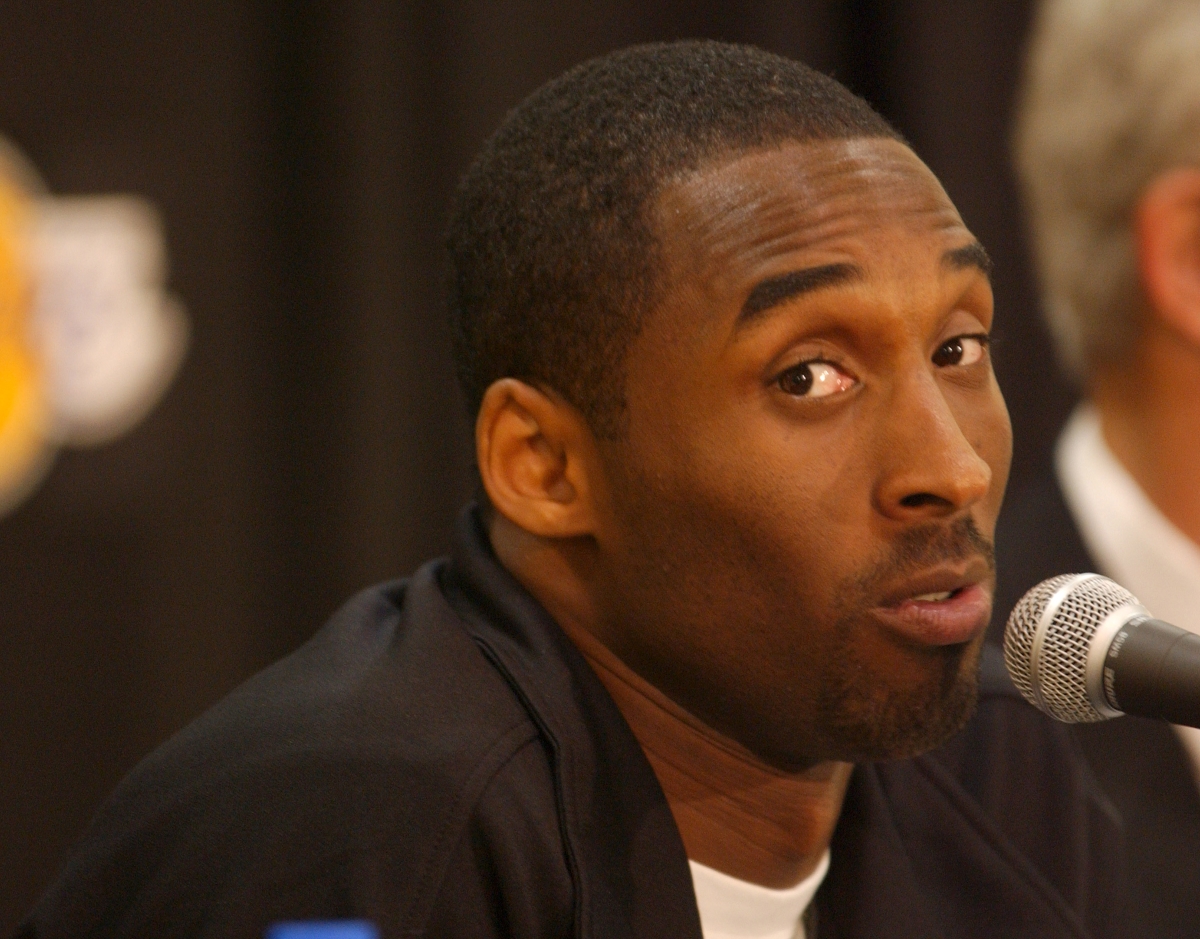 An 18-year-old Bryant wasn't quite as wise as the 38- or even 28-year-old version.
But he sure was just as competitive.
As detailed by Jeff Pearlman in the book Three Ring Circus (h/t The Orange County Register), Kobe just couldn't turn down the chance to grab a ball and rule a court.
"Because Bryant was young and dumb and a 24/7 hoops junkie, on the afternoon of Sept. 2 he visited the famed pickup courts of Venice Beach to get in a few runs. After leaping at the hoop to tip-dunk the ball, he fell toward the pavement and tried to catch himself with his left wrist. His 200-pound body landed atop his arms, and moments later he saw three knots bulging below his hand.

"The wrist was broken – and Jerry West was dumbfounded. The Lakers general manager greeted the news of the malady with stunned silence, responding to Gary Vitti, the team's trainer, with a blank stare.

"'He was doing what?' West asked.

"'Playing basketball at Venice,' Vitti explained.

"'Wait,' West said. 'Wait, wait. Wait. What?'

"It would be one of the last times the Lakers didn't include a no-pickup basketball clause in the contract of a rookie signee."

The story of Kobe Bryant breaking his wrist and missing his first NBA training camp, via Jeff Pearlman's Three Ring Circus
The future MVP simply could never turn it off
Even before he officially adopted the "Black Mamba" nickname, Kobe owned The Mamba Mentality. His drive to win was just as powerful on Venice Beach at 18 as it was in the NBA Finals at Staples Center at 31.
Bryant's work ethic became the stuff of legends. He patterned everything after Michael Jordan, all the way down to MJ's core need to win at everything.
Unfortunately, the same traits that made him an all-time great also made the 18-time All-Star miss the first month and a half of his NBA journey.
I think it's fair to say, though, that everything worked out in the end.
Like Sportscasting on Facebook. Follow us on Twitter @sportscasting19.