Kobe Bryant Once Gave Carmelo Anthony a Short Profane Message That Was Actually the Ultimate Sign of Respect: 'I Knew It Took a Lot out of Him'
Kobe Bryant was never afraid to challenge opposing players throughout his NBA career, which sometimes led to him forming close friendships with them.
That was certainly the case with Bryant and Carmelo Anthony.
Bryant and Anthony became extremely tight through the years and had a tremendous amount of mutual respect for each other; they went from being opponents to friends. In fact, Bryant's short profane message to Anthony while at the 2008 Olympics was actually a major compliment. It proved just how much admiration he had for him.
Kobe Bryant and Carmelo Anthony had a close bond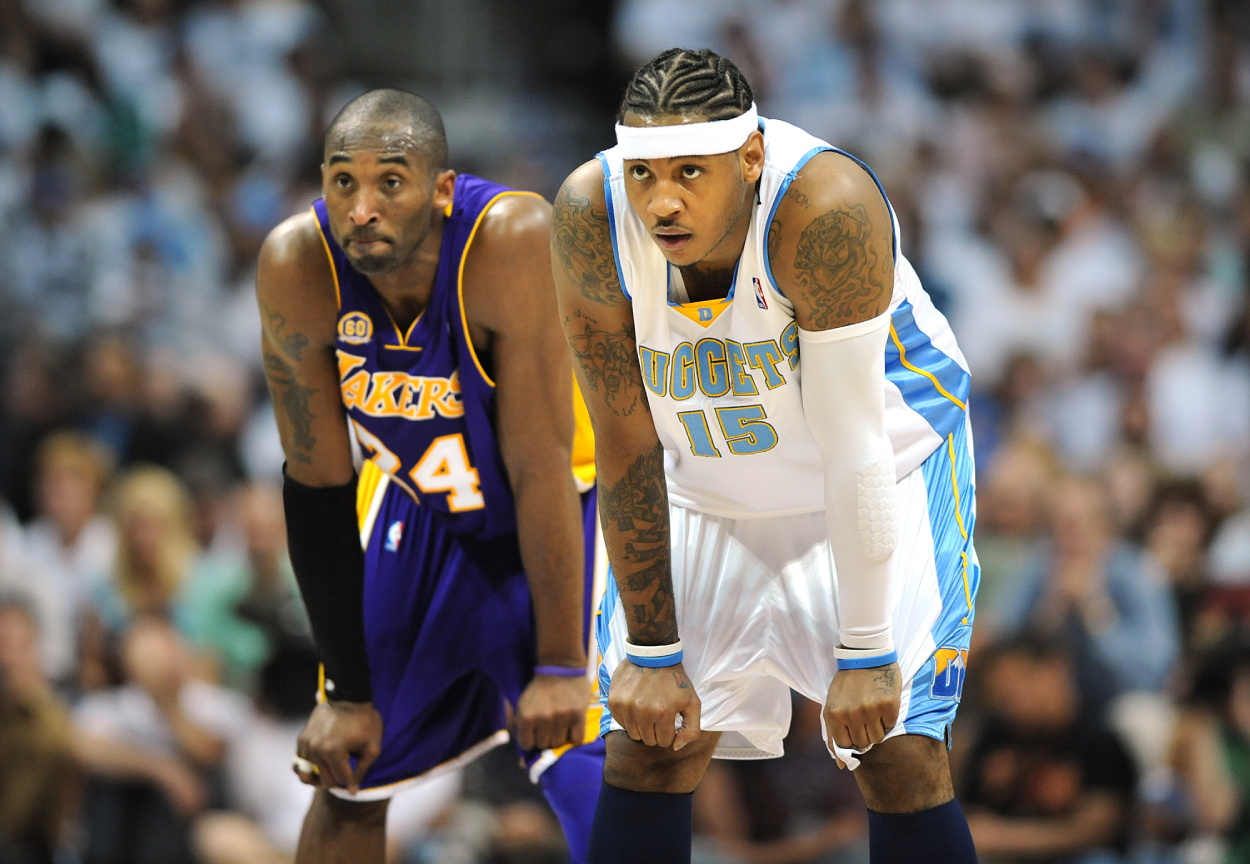 Bryant and Anthony may be on the list of the greatest NBA players to ever play, but their relationship went well beyond the basketball court.
"Our friendship and relationship was deeper than basketball," Anthony said after Bryant's 2020 death, per USA Today. "It was family. It was friendship. Basketball was the last piece of connective tissue between us two."
Their bond began forming not long after Anthony entered the NBA in 2003. The former Denver Nuggets and New York Knicks star said that Bryant began "checking" his "temperature" to see the kind of person he was back then.
"At that point, '04, '05, '06, I was still in the streets those days," Anthony said on the Aug. 19 episode of All The Smoke. "… He was checking me; he wanted to see if I really was that. And he wanted to see if I was gonna fold or if I was gonna stand tall, and the minute that I stood tall: He hit me, I'm crackin' him back. Hit me again; I'm crackin' him back. He fall, I'm stepping over him. 'Get up.' So, when he catch that, he like, 'Oh, you a bully.' That's what he started calling me, a bully, at that point in time."
Anthony said Bryant respected him and his toughness. But he had a weird way of showing it — until the Olympics. 
Kobe Bryant's profane message to Carmelo Anthony was the ultimate sign of respect
While Kobe Bryant had "a weird way of just being like, 'Yo, you nice,'" according to Anthony, he finally revealed just how much admiration he had for the young star while at the 2008 Olympics.
"He pulled me to the side in the Olympics and said, 'You a bad motherf—er,'" Anthony recalled on All The Smoke. "He knew what it was already, and it took him forever to get [to that point]. So, for me, as a young player, [five] years in the league at that time, you want nothing more than somebody like that to come to you and be like, 'Yo you a bad motherf—er.' That was respect. So, when he did that, I knew it took a lot out of him to tell me some s— like that, so I took that, and I built on that."
It's hard to imagine Anthony not feeling a deep sense of pride when Bryant uttered those words. And the Lakers legend was right; Melo proved that during those Olympics and throughout the next NBA season.
Kobe Bryant and Carmelo Anthony won gold at the Olympics and then met in the NBA playoffs
Kobe Bryant and Carmelo Anthony were a part of the Redeem Team during those 2008 Olympics, and they ultimately won gold, going 8-0 that summer. Bryant and Anthony were also two of the top four scorers on the team that year, averaging 15.0 and 11.5 points, respectively.
However, Anthony really proved Bryant right during that next NBA season.
After facing each other in the playoffs the year before (the Lakers swept Anthony's Denver Nuggets in the 2007-08 first round), Denver went 54-28 in 2008-09, their best record since the 1975-76 season. The Nuggets then met the Lakers in the Western Conference Finals that year, and the two stars put on a show.
Bryant averaged 34.0 points, 5.8 assists, and 5.8 rebounds that series, while Anthony recorded 27.5 points and 4.8 rebounds per game. The Lakers won over Denver in six games and then won in the NBA Finals over the Orlando Magic, 4-1.
It may have taken a lot for Bryant to praise Anthony, but he was right. Melo is now considered one of the greatest players to ever play in the NBA. One day, he will eventually be in the Hall of Fame with his late friend.
Stats courtesy of Basketball Reference