Kobe Bryant Once Celebrated a Lakers Playoff Win by Offering a Reporter 1 of His '17 or 18′ Beers He Didn't Even Buy
We all saw Kobe Bryant's success on the Los Angeles Lakers earn him all sorts of accolades in the NBA. He was a five-time NBA champion and an 18-time All-Star. However, his play also led to him forming tight bonds with many of his fans. People felt like they personally knew the two-time Finals MVP just because they watched him go from being an 18-year-old kid in LA to one of the best players in league history; he also gave his all on the court for them every single night.
But Bryant didn't just give fans memories they'll cherish forever; they gave him gifts from time to time, as well.
Kobe Bryant cared about his fans
Everyone watched Kobe Bryant give it his all every night for the Lakers throughout his entire NBA career. It didn't matter if it was a random game in January or the Finals in June; Bryant would play his hardest.
His wife, Vanessa Bryant, shared why that was the case when she spoke at his Hall of Fame induction earlier in 2021.
"One of the reasons my husband played through injuries and pain was because he said he remembered being a little kid, sitting in the nose-bleeds with his dad to watch his favorite player play," she said, per the NBA's Twitter. "… Kobe didn't want to disappoint his fans, especially the ones in the 300 sections that saved up to watch him play, the kids with the same excitement he once had. I remember asking him why he couldn't just sit a game out because he was hurting. He said, 'What about the fans that saved up to watch me play just once?' He never forgot about his fans."
And while Bryant never forgot about his die-hard supporters, they never forgot about him either. Some even wanted to just say they shared any sort of moment with him, especially after a playoff victory.
Kobe had '17 or 18′ full beers from fans after a Lakers playoff win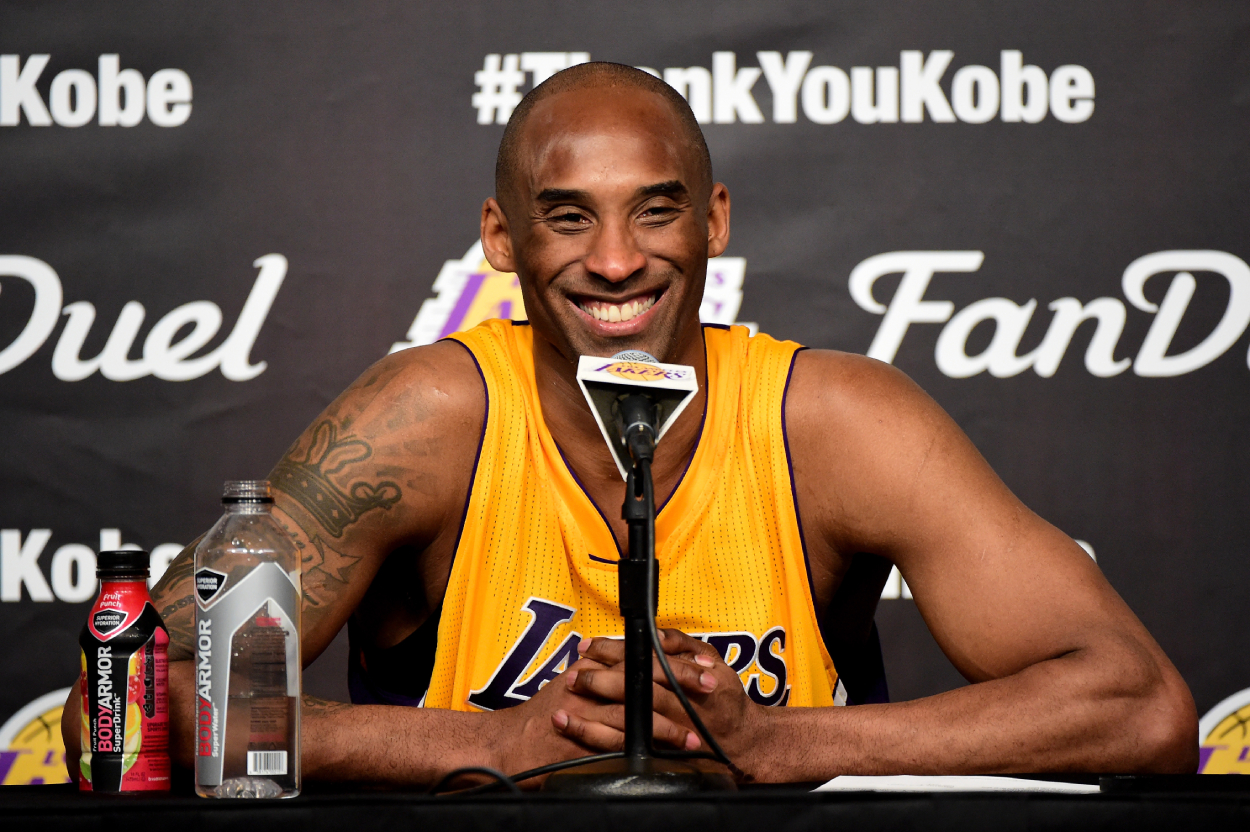 John Ireland has been a longtime Lakers announcer and reporter, so he had a plethora of moments with Kobe Bryant. However, one of his favorite memories was when Bryant offered him a beer after a playoff series win over the Houston Rockets.
"By the time I got back to the hotel, it was a couple hours after the team," he said to Complex Magazine in 2016. "So, our whole travel party is in the bar and Kobe is in the corner and motions over to me and goes, 'Hey John, you want a beer?' And I go, 'Hey Kobe you don't have to buy me a beer.' And Kobe has this smirk on his face and points down. And, I look down and there are probably 17 or 18 opened, but totally full beers."
As you can likely guess, all those beers were from fans. They had been going up to the NBA legend saying, "I've always wanted to buy you a beer," according to Ireland.
"And so, he just says 'thank you very much' (to the fans) and he takes it and puts it down on the floor," Ireland added, per Complex. "I went back after the first one and go, 'Can I take another?' And he goes trust me, 'There's no way we're going to drink all of these.'"
It's unclear when this playoff series win was. Complex reported that Ireland started covering the Lakers as a sideline reporter in 2002, so it may have been in the first round in 2004 when LA won in five games over Houston. Or, it could have been in the 2009 Western Conference semifinals when the Lakers won in seven games before they eventually went on to win the NBA Finals over the Orlando Magic about a month later.
No matter when it was, though, that one of many playoff wins for Bryant led to him getting quite a few beers that night.
Kobe Bryant had significant success in the playoffs with the Lakers
It probably didn't happen after every playoff win, but given the amount of success Bryant had in the postseason throughout his career, he likely received a ton of free drinks over the years.
Bryant and the Lakers won three straight championships from 1999-2000 through 2001-02 and went to the Finals again in 2003-04. They went to three more consecutive finals from 2007-08 through 2009-10 and won back-to-back titles in the latter two years of that stretch. Bryant also recorded 25.6 points, 5.1 rebounds, and 4.7 assists per game throughout his career in the playoffs.
The Hall of Famer gave Lakers fans a ton to cheer for, which, in turn, likely earned him quite a few free drinks (and maybe even meals) — probably even after his career ended.
Bryant may have had a $600 million net worth due to all of his on- and off-court success, but the love he showed his fans likely led to him drinking and even eating for free quite often. You can't blame those people, either. They will always be able to say they bought a beer for the one and only Kobe Bryant.
Stats courtesy of Basketball Reference; Net Worth courtesy of Celebrity Net Worth