Kobe Bryant Celebrated a Lakers Three-Peat by Showing Out in Front of Iconic Figures at the Esteemed Rucker Park: 'All the Greats Came Through That Park'
Kobe Bryant and the Los Angeles Lakers were on top of the NBA world and earned a well-deserved break after completing a three-peat in 2002. But Bryant was never one to rest on his laurels, not when there's a basketball court to be found. Rather than go on vacation, Kobe decided to take his talents to the legendary Rucker Park in New York City.
Rucker Park has always maintained an aura as a streetball haven. For Bryant, though, playing at Rucker meant so much more than that. It was a legitimate rite of passage in his basketball career.
Kobe Bryant and the Lakers three-peated in 2002
The Lakers were the most dominant team in the NBA entering the 2001-02 season, but they'd soon cemented their spot as one of the best dynasties in league history.
The season was all the more important to Bryant in his rise to NBA superstardom.
Bryant was named All-NBA First Team for the first time during the 2001-02 campaign. He played a career-high 80 games, averaging 25.2 points, 5.5 assists, and 5.5 rebounds. He also set new personal bests in win shares (12.7) and value over replacement player (5.2).
Kobe was every bit as good in the playoffs. He averaged 27.1 points in addition to 1.4 steals, and 1.1 steals in a tightly-contested series with the Sacramento Kings in the Western Conference finals. He proceeded to dissect the then-New Jersey Nets in the NBA Finals, averaging 26.8 points and shooting 51.4% from the field while helping the Lakers wrap their three-peat.
The third title seemed to vault Bryant into a new category, as he set new career-high marks in points (30.0), rebounds (6.9), assists (5.9), and steals (2.2) the following season. Before staking his claim as the best player in basketball, however, Bryant took his talents to Rucker Park.
Bryant turned Rucker Park into his own personal showcase
The members of the Entertainer's Basketball Classic had been waiting for Bryant to grace the hallowed stage at Rucker Park for years. So it was a massive occasion when Kobe came to Harlem on July 18, 2002.
Fittingly, the first phrase out of Bryant's mouth was "Straight to the court."
Ericka Goodman-Hughey and Anthony Olivieri of ESPN wrote an oral history about the day the stars came out to watch Bryant strut his stuff and put on a show. The moment resulted in Bean becoming "The Lord of the Rings."
Bryant displayed the kind of 1-on-1 brilliance he exhibited throughout the course of his NBA career. He also expressed even more flair and attitude than Lakers fans had become accustomed to watching him grow up in the Purple and Gold.
But this was hardly just a fun outing for Bryant. Rather, he felt like he had something to prove to those in attendance. He wanted to bring the elegance of his own game and streetball style together and blend the two in a way few others could.
The man who would eventually become known as The Black Mamba hoped to ensure his name would ring out in Rucker every bit as much as other greats who preceded him. Not even a threatening amount of rain could stop him from finishing the game.
"All the greats came through that [park]," Bryant told New York Times reporter Vincent Mallozzi years later, via ESPN. "Wilt Chamberlain went through the Rucker. [Walt] Frazier, Earl Monroe.
Mallozzi also said that Kobe called playing at Rucker one of his favorite moments in his basketball career. It was a chance for Bryant to embrace the love and spirit for the game, and he embraced it.
Plenty of other stars graced the Rucker court, but none like Kobe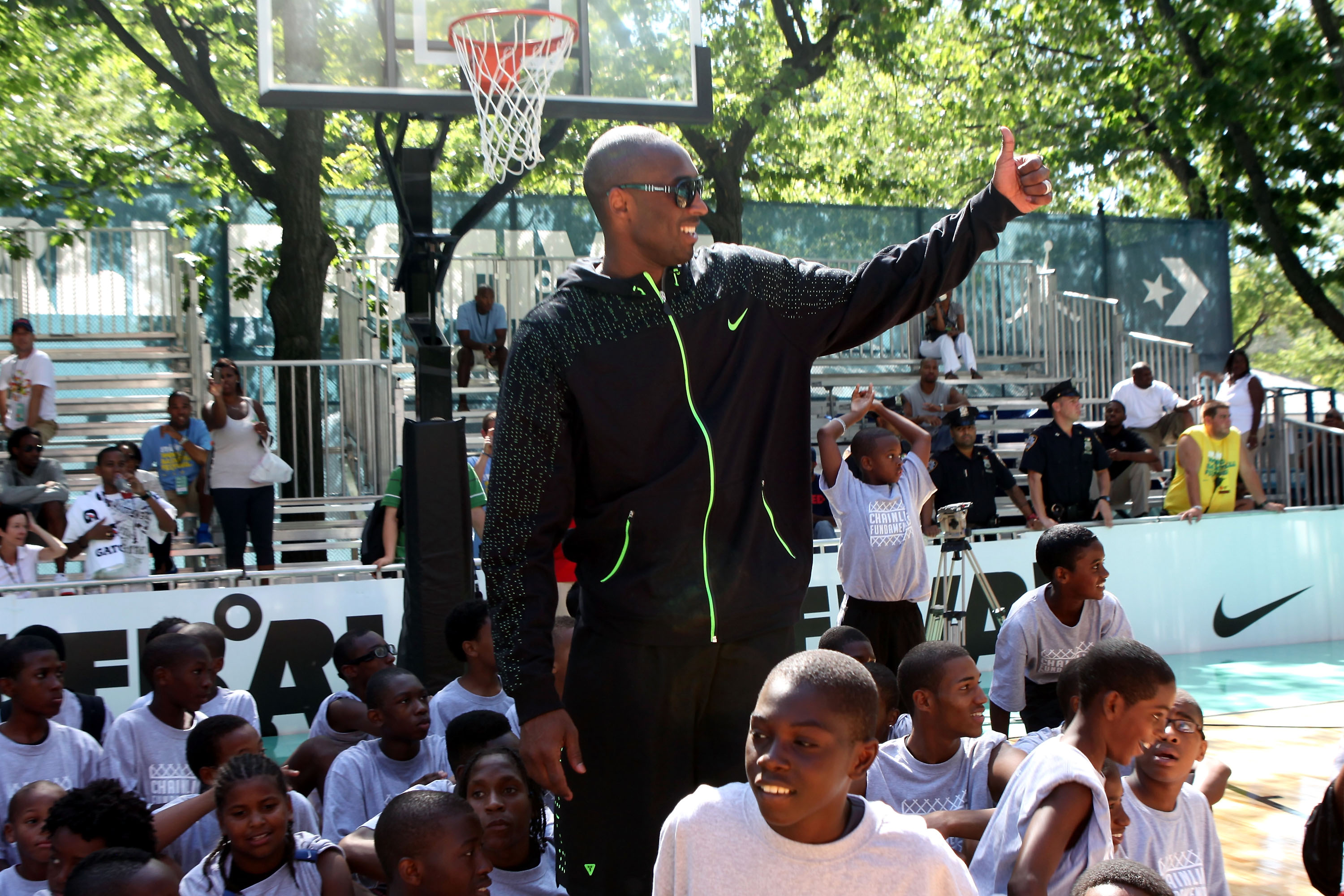 Numerous legends came to Rucker Park before Kobe Bryant. The likes of LeBron James and Kevin Durant laced up their sneakers at Rucker after him. Still, the before and after effect makes Kobe's Rucker Park moment stand alone.
Bean was a budding star during the Lakers three-peat. He added to his basketball legend at Rucker, then became one of the greatest players in NBA history.
The performance and determination were impressive, but the respect and admiration Bryant had for the occasion is what really made Bryant "The Lord of the Rings."
Stats courtesy of Basketball Reference.