Kobe Bryant Once Cursed Out Charles Barkley Over Text After Chuck Accused Him of Dogging a Game 7: 'He's Calling Me Every MF and Every SOB in the World'
Charles Barkley felt Los Angeles Lakers star Kobe Bryant intentionally dogged Game 7 of a 2006 playoff series against the Phoenix Suns in order to prove a point to the front office and his lackluster teammates. Bryant disagreed. No, he vehemently disagreed.
Barkley said he felt Bryant purposefully refused to engage on the offensive end of the ball in the second half as the Suns blew the Lakers out. The Black Mamba hissed at the notion, immediately texting Barkley and hurling expletives in his direction.
Kobe Bryant took just three shots against the Suns during the second half of Game 7 in 2006
The Lakers initially seemed to have the edge in their first-round playoff series against the Suns in 2006, thanks mainly to Kobe Bryant's heroics.
After dropping Game 1, the Lakers rallied to win each of the next three. Kobe had 29 points, 10 rebounds, and five assists to set the tone in Game 2. He played a starring role in Game 4, scoring on a tough floater to send the game into overtime before making one of the more memorable playoff buzzer-beaters that Staples Center has ever seen. The game-winner gave the Lakers a 3-1 series lead, with Shaquille O'Neal later saying the team should use that shot for any future Kobe Bryant statue.
The Lakers appeared to have things wrapped up. However, LA could not close the show. The Suns destroyed the Lakers in Game 5, then won an overtime thriller in Game 6 despite 50 points from Kobe. Phoenix all but closed the show in the first quarter of Game 7, racing out to a 32-15 lead.
But Game 7 became known for a different reason. In the second half, Bryant shockingly took just three shots, with the Suns ultimately winning by 31 points. The lack of aggressiveness seemed very much out of character, and Charles Barkley felt Bryant had a specific reason for apparently refusing to give 100% in a do-or-die game.
Barkley voiced his opinion after the contest, resulting in a verbal onslaught from Kobe.
Barkley's alleged that Bryant took himself out of the game to show he needed more help, leading to a profanity-laced tirade from Bean
Charles Barkley thought he understood Kobe's rationale for resting on his laurels in the second half, and Chuck didn't like it.
Barkley, on live television, called Bryant selfish immediately after the game. The Round Mound of Rebound claimed Bryant tried to make a point to the front office that he didn't have the supporting cast he needed to win a championship. Perhaps the claim wasn't unfounded, considering Kobe requested a trade just a year later.
In any case, Bean did not appreciate Barkley's criticisms. During a 2020 interview with 247Sports (12:30 mark), Chuck said that Bryant called him all sorts of names for the next three hours.
"[Kobe] shot one time in the second half – he was trying to prove a point [that] he didn't have any help, and I was livid [about] what he tried to do, and I called him out, and when I got off the air … Kobe started texting me for the next three hours, and we're going back and forth and he's calling me every MF and every SOB in the world, and I'm laughing as I get these and I'm like, 'Yo man, pick up the phone and call me.'"

Charles Barkley, via 247Sports
Chuck misremembers the number of shots Bryant took in the second half. But his recollection of the exchange with Bryant is likely quite vivid.
Basketball fans might not be all that surprised to learn how Kobe responded in this case, given his intense competitiveness. However, he and Barkley got on the set of NBA on TNT to hash things out and explain the situation to the masses.
Bryant and Barkley made amends on live TV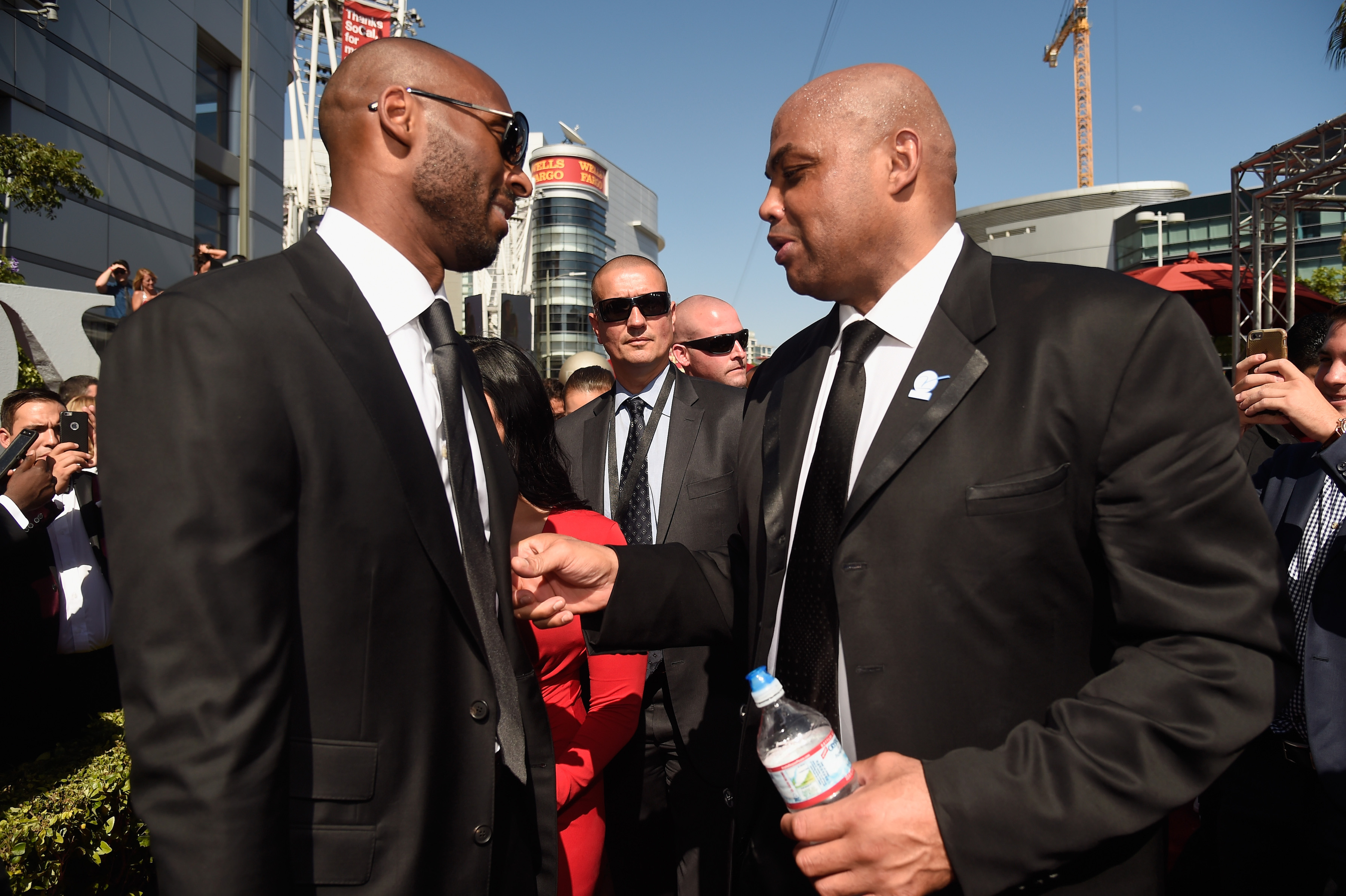 The folks at TNT welcomed Kobe Bryant to join the desk alongside Ernie Johnson, Kenny Smith, and Charles Barkley later in the playoffs. Bean obliged.
Kobe said (full segment via YouTube) he did not appreciate Barkley insinuating he wasn't trying to win and that he felt Chuck went too far in making assertions about his characters. He also said not having the ball in his hands and keeping everyone involved played a role in LA's strategy, as the Lakers wanted guys to feel energized in order to get stops on defense.
Bryant went on. The 18-time All-Star pointed to Game 4, when the Lakers faced a deficit but still clawed back into the game despite Kobe not scoring until he made that floater to send the game into overtime.
Sir Charles said he regretted going public with his comments, and the two essentially made nice from there. Whether Barkley ever believed Bryant's comments about prioritizing involvement and defense over scoring remains to be seen. Still, he nonetheless had the dialogue with Kobe.
There was always a great deal of respect between Barkley and Bryant, with the Round Mound of Rebound including Kobe on his all-time team in 2020. Still, all the praise in the world couldn't save Chuck from the wrath of one of the game's most fiery competitors in 2006.
Stats courtesy of Basketball Reference.