Kobe Bryant Dominated the Mavericks Immediately After Mark Cuban Said the Lakers Should Cut Him: 'Amnesty THAT'
Dallas Mavericks governor Mark Cuban poked his nose into the Los Angeles Lakers' business and managed to insult and motivate Kobe Bryant all in one fell swoop. Bad move, Mark.
Cuban stoked Bryant's fires by stating the Lakers might have to consider moving on from the franchise icon following the 2012-13 season, given the state of LA's payroll. The timing of Cuban's comments was curious, considering his Mavs were about to take on Kobe's Lakers.
The Black Mamba responded as only he could, eviscerating the Mavs and offering a stern retort to Cuban after the game.
Mark Cuban wondered if the Lakers could use the amnesty provision to waive Kobe Bryant after the 2012-13 NBA season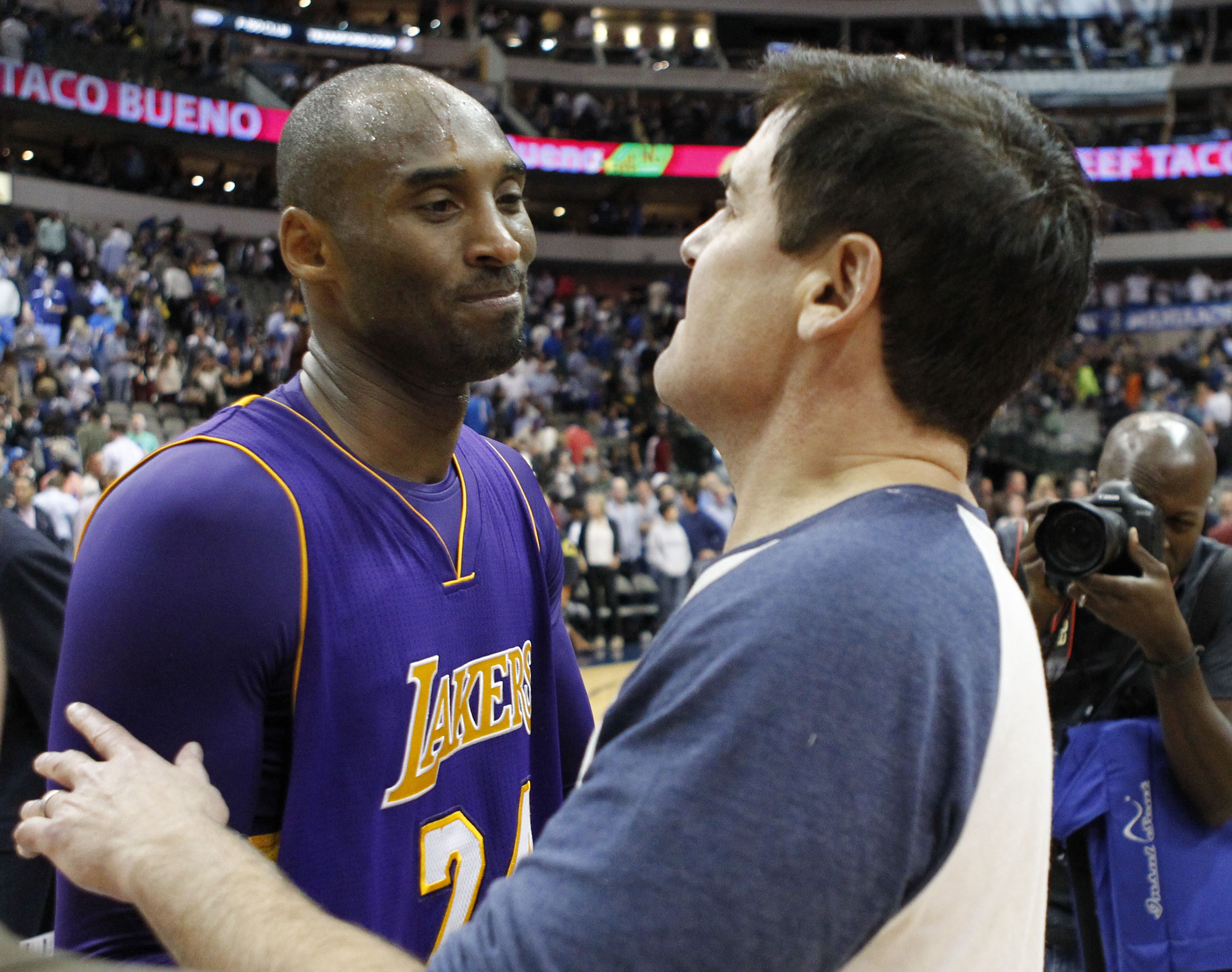 Mark Cuban used the Lakers and Kobe Bryant as an example when discussing the NBA's collective bargaining agreement in February 2013, making a totally asinine statement about Bryant's future with the Purple and Gold.
When assessing LA's impending luxury tax bill, Cuban wondered (h/t ESPN) whether the Lakers should exercise their one-time amnesty provision to waive Bryant and reduce payroll.
Bryant was set to earn an NBA-high $30.45 million for the 2013-14 campaign. As Cuban noted, the Lakers also had a decision to make on Dwight Howard, an unrestricted free agent in the summer of 2013.
Now, Cuban went on to clarify that he did not expect LA to waive Bryant. He stated he wouldn't dare waive Dirk Nowitzki if the Mavericks faced steep luxury tax penalties.
Still, the mere mention of such an absurd hypothetical set Kobe off. Bean torched Dallas just a couple of days after Cuban's remarks and took to Twitter to remind the Mavs governor that he was irreplaceable.
Bryant dominated the Mavericks and issued his own response to Cuban after the game
Kobe Bryant and Michael Jordan shared similarities in terms of their skills and evolution on the court. They also possessed similar mindsets.
Bryant, like MJ, used perceived slights as motivation. Mark Cuban might not have meant to insult Kobe with his "amnesty" remarks, but intentions went out the window. He said it, thereby giving Bean added fuel.
Kobe promptly eviscerated the Mavericks in one of his finest games of the season. He scored 38 points on 13-of-21 shooting, including 4-of-5 from beyond the arc. Bryant also dished out seven assists and grabbed 12 rebounds, leading the Lakers to a 103-99 win.
Having sent his message off the floor, Bryant got at Cuban on Twitter with a simple yet resounding message.
Why Cuban felt the urge to provoke Kobe is anyone's guess. The Mavs governor never hesitates to speak his mind, but he should have known better than to get within striking distance of a venomous Mamba.
Moreover, it's not as though the 2012-13 version of Bryant showed signs of slowing down. Even in his age-34 season, Kobe proved he was one of the best players in the game.
Bryant had his last brilliant season in 2012-13
If Kobe Bryant had shown any signs of fatigue or age, then maybe Mark Cuban's "amnesty" scenario would have seemed at least somewhat realistic for the Lakers. But Bryant was in the midst of one of his best individual seasons ever. It would also be his last great season.
Bryant carried LA in 2012-13, averaging 27.3 points, 6.0 assists, and 5.6 rebounds. His 57% true shooting mark was the third-best of his career. While the Lakers' "Big Three" of Bryant, Howard, and Steve Nash struggled to find synergy, Kobe took over in the second half of the campaign and powered LA to the playoffs.
Unfortunately for the Lakers, they'd be without Bryant for those playoffs.
Bean suffered a devastating Achilles injury against the Golden State Warriors in the 78th game of the season. He was never the same, playing a combined 41 games in the next two seasons before embracing his farewell tour in 2015-16.
Still, it's worth remembering who Bryant was even right before the injury. He still held court (no pun intended) as one of the game's best, and certainly wasn't a guy the Lakers would ever consider cutting.
Stats courtesy of Basketball Reference.
RELATED: Mark Cuban Claimed Shaquille O'Neal Used to Call Him 'All the Time' About Forming the Best Frontcourt in NBA History: 'Come and Get Me'