Kobe Bryant Earned $328 Million in the NBA but Honored His Philadelphia Roots Every Game
Kobe Bryant spent his entire 20-year career for the Los Angeles Lakers, but he always had Philadelphia in his blood.
Long before becoming a five-time champion and NBA legend, Bryant was among the country's top high school basketball players. Bryant, who entered the NBA straight out of Lower Merion High School in Philadelphia, found a way to make sure he always honored his alma mater.
Kobe Bryant wore his high school shorts in the NBA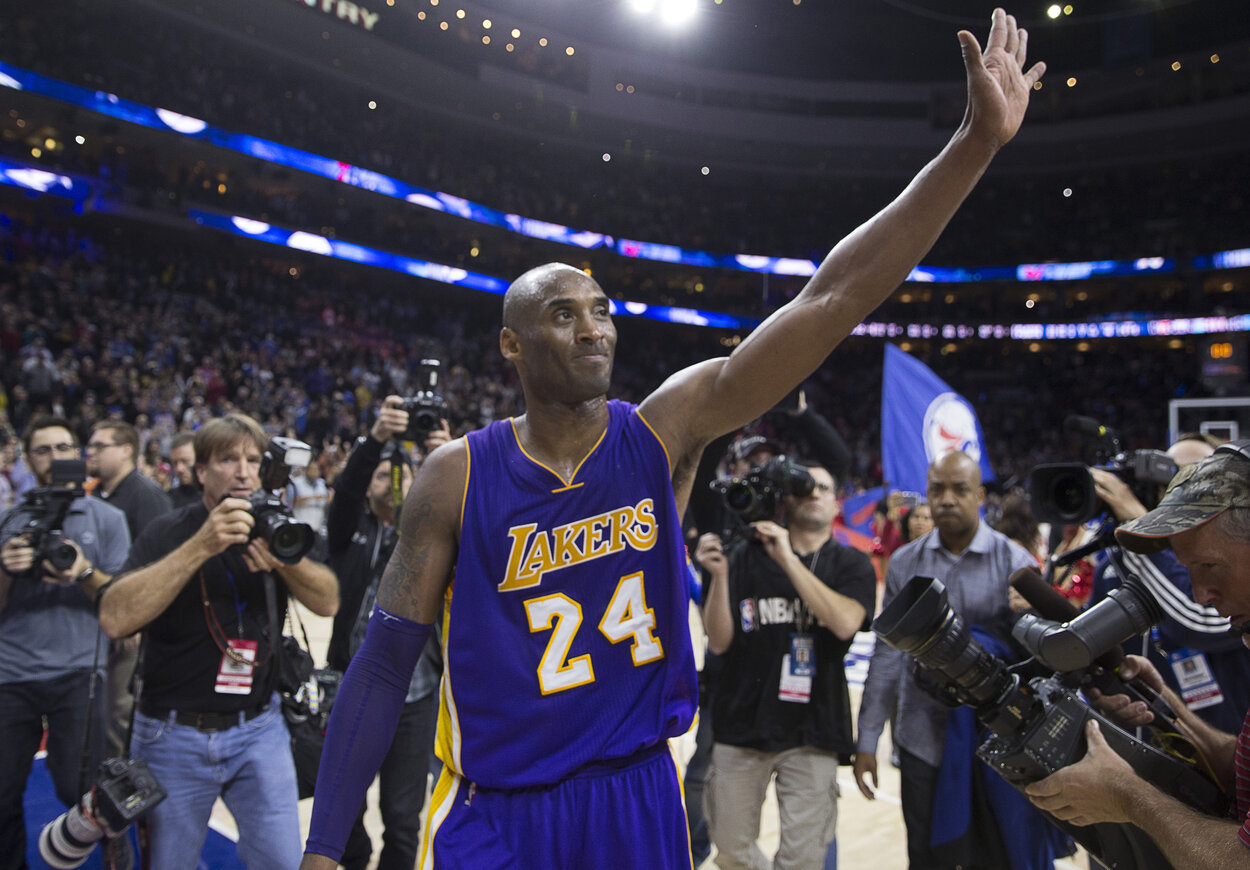 RELATED: Kobe Bryant Vowed to Be the Next Michael Jordan Before Going Pro
Kobe Bryant found a way to honor both Michael Jordan and Lower Merion High School at the same time.
Jordan, who played college basketball at North Carolina, wore his Tar Heels shorts in the NBA. But because they were beneath his Bulls or Wizards shorts, most basketball fans never had a clue.
Bryant did something similar, except with his high school. Whenever Bryant took the court in Lakers shorts, he had his Lower Merion shorts beneath them.
It was a heartwarming gesture by both Bryant and Jordan. Both are among the greatest players to ever reach the NBA, and they always remembered who and what got them there.
Bryant always retained a close relationship with Lower Merion
RELATED: Kobe Bryant's High School Coach Revealed What He Was Like as a High School Superstar
Kobe Bryant truly started his basketball journey in Philadelphia, and he remained forever grateful to the City of Brotherly Love.
According to Basketball-Reference, Bryant earned over $328 million in the NBA. Bryant won five championships, earned All-Star honors 18 times, and will posthumously enter the Naismith Memorial Basketball Hall of Fame later this year.
But, no matter what he did or where his road took him, Bryant's heart remained loyal to his roots. According to ESPN, Bryant donated $411,000 to Lower Merion High in October 2010.
Bryant took the podium in December of that year and explained why, even at that point in his NBA career, his alma mater remained so important to him.
"I'm just very thankful to be back here and very happy that you guys like the facilities. This is where I came from. This is where I grew up. I didn't go to college, so this is my university. This is where all my memories lie."
Lower Merion renamed its gym after Bryant, a five-time NBA champion.
Lower Merion honored Kobe Bryant after his death in 2020
RELATED: What Kobe Bryant Wrote Made a Yearbook Worth $30,000
Kobe Bryant loved Lower Merion High School, and the school loved him back.
Bryant and his daughter, Gianna, were among the nine victims who tragically died in a January 2020 helicopter crash. ABC 6 in Philadelphia reported that fans spent January 26, the day Bryant died, paying their respects at Lower Merion High.
The news station shared a statement from school district spokeswoman Amy Buckman, who mourned Bryant's passing and celebrated his impact on Philadelphia.
"Mr. Bryant's connection to Lower Merion, where he played basketball before joining the NBA, has raised the profile of our high school and district throughout the world."
Gregg Downer, who coached Bryant in high school, fondly remembered his former guard when he issued a statement.
"Aces Nation has lost its heartbeat," Downer said.
All stats courtesy of Basketball-Reference.