Kobe Bryant Once Completely Embarrassed a Famous Comedian When They Were Just Teens at a Basketball Camp: 'The Head Coach Made Us All Feel Stupid'
Kobe Bryant is most commonly known for his iconic NBA career with the Los Angeles Lakers. But before Kobe even played a second of professional basketball, he was one of the best high school players in the country at Lower Merion. His success there even led to him skipping college and going straight to the NBA.
However, during those teenage years, Bryant crossed paths with another future superstar, comedian Kevin Hart, and he completely embarrassed him at a basketball camp.
Kobe Bryant was a high school superstar at Lower Merion
Kobe Bryant was a starter at his high school from the get-go, but, despite having a future Hall of Famer on its roster, the team went 4-20 in his freshman season.
After that, though, it was one of the best squads in Pennsylvania, going 77-13 the next three seasons.
According to Penn Live, Bryant averaged 31.1 points, 10.4 boards, and 5.2 assists as a junior and won the Pennsylvania Player of the Year award. He then followed that up with 30.8 points, 12 boards, 6.5 assists, 3.8 blocks, and 4.0 steals per game his senior year, and he led his school to a state title.
Bryant won both the Naismith High School and Gatorade Men's National Basketball Player of the Year awards during that final season, and he finished his prep career with 2,883 career points, which was a state record.
However, during that time, he also crossed paths with the one and only Kevin Hart.
Kobe embarrassed Kevin Hart at a basketball camp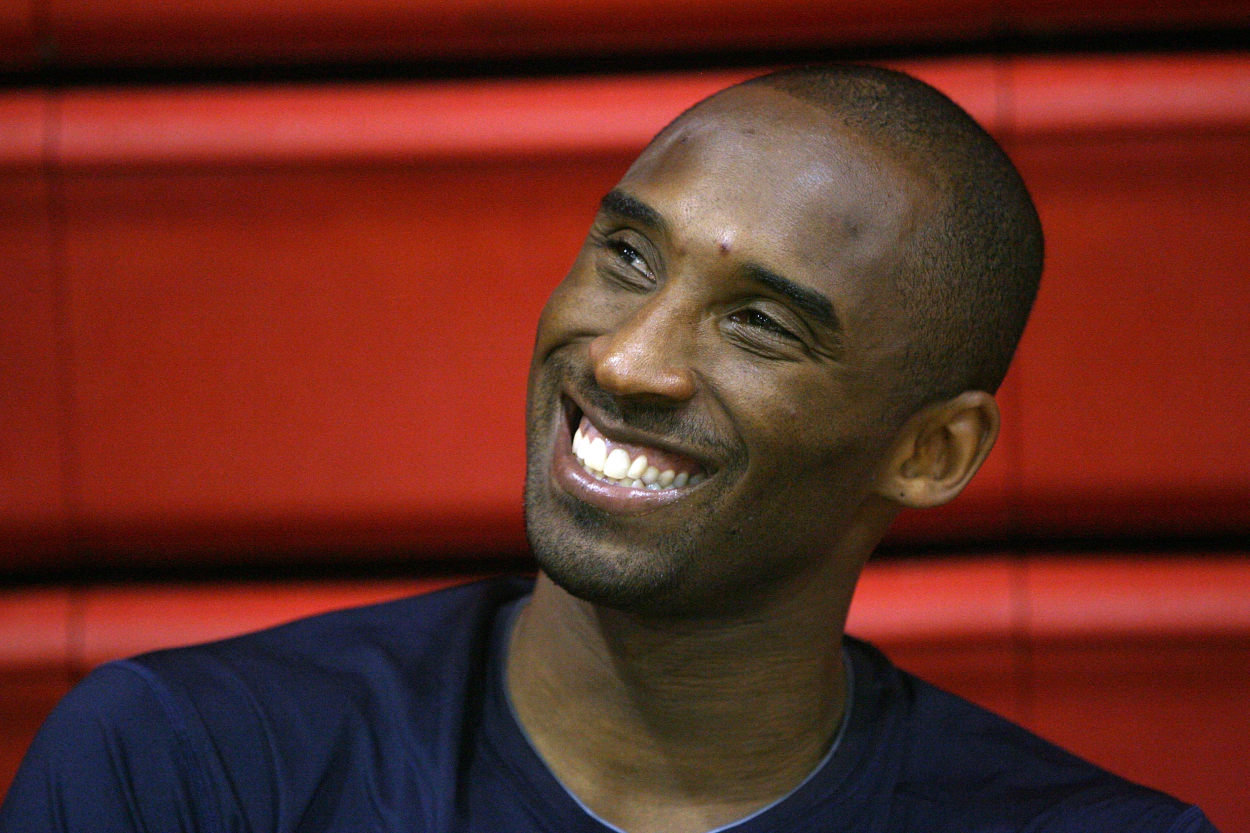 Like Kobe Bryant, Kevin Hart is also from the Philadelphia area, so the two once attended the same basketball camp.
Despite Hart standing shorter than 5 feet, 5 inches (his exact height has been debated), he still had major hoops aspirations.
"I'm at the same basketball camp as the number one basketball player in the nation," Hart said on his Instagram in 2020, per USA Today's For the Win. "Well that means I must be number two. I've got to be number two."
But a few days later, Hart quickly learned that basketball probably wasn't in his future.
"'Look at Kobe Bryant,'" Hart recalled the head coach of the camp saying, per For The Win. "'He shows up here every day and he works. Kobe Bryant hasn't put the basketball in his right hand since he's been in camp. He's here to only work on his left hand.'"
So, was Bryant just using the camp to get stronger with his off-hand? It appears so.
"The opportunity that I thought was going to be the biggest of my life turned out to be a goddamned practice pad for Kobe Bryant," Hart said, per For The Win. "We didn't even know that he was practicing on us until the head coach made us all feel stupid for not working as hard as he was."
Hart also recently recalled the story on Black News Channel with another fellow camper, Marc Lamont Hill, who is a famous scholar and TV personality (H/T Essentially Sports).
"Kobe Bryant was that good; he chose to work on his left hand while other kids were coming to see if they had what it takes; we were actually trying to get our future together," Hart said on the Nov. 30 episode of Black News Tonight.
Luckily for Hart, they both still became very successful.
Kobe Bryant became an NBA legend while Kevin Hart became a star comedian
As you likely know, Kobe Bryant went on to win five NBA championships and two Finals MVPs with the Lakers. He also won a league MVP award and retired in the top five all-time in total points scored.
Hart, on the other hand, didn't stick to basketball, but he's now one of the most famous actors and comedians around. He has even racked up an estimated $200 million net worth and has won several different awards.
Hart, though, has played in the NBA All-Star Celebrity Game multiple times and won the MVP award in four consecutive years.
Kobe Bryant may have embarrassed Kevin Hart back when they were teenagers, but it all still worked out in the end for the comedian.
Net worth courtesy of Celebrity Net Worth