Kobe Bryant's Former Teammate Asked Him to Bail Him out of a 'Steep' Gambling Debt in 1 of Their Final Conversations Before Bryant's Death
Kobe Bryant helped many of his teammates on the LA Lakers become great. It's hard not to evolve and become a better player when competing for and winning championships. However, before Bryant's tragic death, one of his former teammates asked for his help with something that had nothing to do with basketball. That former teammate was Lamar Odom.
Kobe Bryant and Lamar Odom had significant success on the Lakers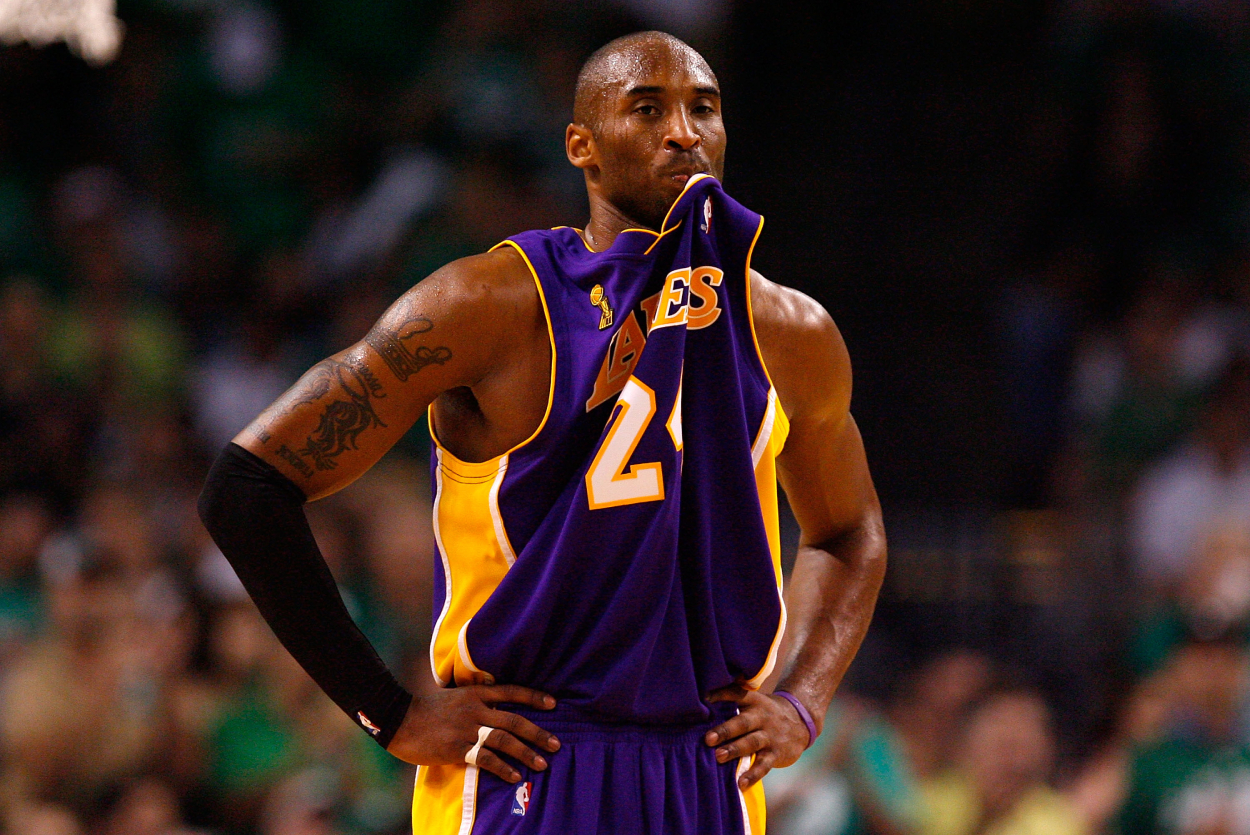 RELATED: Kobe Bryant Nearly Fought a Famous Rapper Until an NBA Veteran-Turned-Reality Star Intervened
Lamar Odom went over to the Lakers in 2004-05 after spending four seasons with the LA Clippers and one season with the Miami Heat. He ultimately joined the great Kobe Bryant there, who had already won three championships with Shaquille O'Neal and was arguably the best player in the NBA.
Bryant and Odom then ended up playing together on the Lake Show for seven seasons, and they had a lot of success together. Kobe won league MVP during the 2007-08 season, and Odom won the Sixth Man of the Year award in 2010-11. The two of them then also played in three straight NBA Finals and won back-to-back championships in 2008-09 and 2009-10.
However, in 2011, the Lakers traded Lamar Odom to the Dallas Mavericks, and he then only played in the NBA for two more seasons.
Lamar asked Kobe to bail him out of a gambling debt
RELATED: Kobe Bryant's Relationship With Michael Jordan Was Summed up in 1 Question He'd Frequently Ask an ESPN Reporter
Kobe Bryant tragically died in January 2020, and in one of his final conversations with Lamar Odom, his former Lakers teammate asked him to help bail him out of a significant gambling debt.
"I had been gambling," Odom said on the April 15 episode of All The Smoke. "And, I had [a debt] that had got a little too steep for where I was at at that time. It was getting tight. And, if you're in a bad situation, especially about some money, he ain't the one that you're gonna want to call — maybe if you have a way to work off the money." 
He continued: "I gathered up the strength; I put my pride to the side and gave him a call."
Odom then said that Kobe wasn't happy about the debt but ultimately said that he would help him.
"He was just like, 'Have your people call my people, and then we'll figure it out.' That was one before the last time I spoke to him," Odom recalled.
Lamar ultimately said that his final conversation with Bryant was about "being great." However, it's still sad to know that the phone call discussed above was one of the final times they spoke.
Lamar Odom said leaving Kobe Bryant and the Lakers ended his career
RELATED: Ohio State Guard Duane Washington Jr. Had a Deep Connection With Kobe Bryant Thanks to His 5-Time NBA Champion Uncle
Lamar Odom had a decent amount of success before going to the Lakers in 2004-05. Winning championships with Kobe Bryant in LA, though, was probably the highlight of his career. He averaged 13.7 points and 9.5 rebounds in those seasons, but scored as many as 15.9 points in 2006-07.
However, Odom later said in 2017, that his career essentially ended once the Lakers traded him to Dallas in 2011.
"That trade from the Lakers basically ended my career and purpose," Odom said to Shams Charania, according to Bleacher Report. "I was never really myself ever again. Being in LA, the structure, the people I knew, it hurt leaving. I had great memories with the Lakers, with Kobe and Pau. That was a special time in my life."
He continued: "I got traded the season after we lost to Dallas in the playoffs, and I had won Sixth Man of the Year for the team. To trade me after winning Sixth Man of the Year … what else do I got to do? Why? I think about it all the time, about how much I had left in the tank."
Anyone who has followed Lamar Odom's life knows that he has had some ups and downs. But we all know that Odom, Kobe Bryant, and the Lakers were a dominant force during those runs to the NBA Finals, and that they were one of the best shows on TV.
How to get help: In the U.S., contact the National Council on Problem Gambling helpline at 1-800-522-4700.
Stats courtesy of Basketball Reference