Kobe Bryant Helps Josh Allen During His Heroic Performances for the Buffalo Bills
Josh Allen has led the Buffalo Bills to a very, very hot start as they are 4-0 through the first four weeks of the 2020 NFL season. Allen has not only proven that he is a pretty talented quarterback so far this year, but he has also proven his toughness as he played through an injury in Week 4. Recently, Allen revealed what helps him during situations like that.
Allen ultimately channels the great NBA legend Kobe Bryant to help him come out on top during difficult situations.
Josh Allen helped the Bills win despite getting hurt
The Buffalo Bills took on the Las Vegas Raiders in Week 4 of the 2020 NFL season. According to ESPN, Josh Allen went to the locker room in the first half with a shoulder injury. He ended up saying that he fell "funky" on his non-throwing arm. However, he was then back on the bench shortly after that and then knelt on the last play of the half.
After helping the Bills take a 17-13 lead at halftime, Allen came back and led them to a 30-23 win in the game.
Overall, Allen completed 24-of-his-34 passes for 288 yards and two touchdowns. He also ran for a touchdown.
"Our guys have been busting their tails in practice and my job is to just give them an opportunity to make a play," Allen said, according to ESPN.
Allen really proved his toughness during the game. NBA legend Kobe Bryant potentially helped him do it too.
Kobe Bryant helps him overcome adversity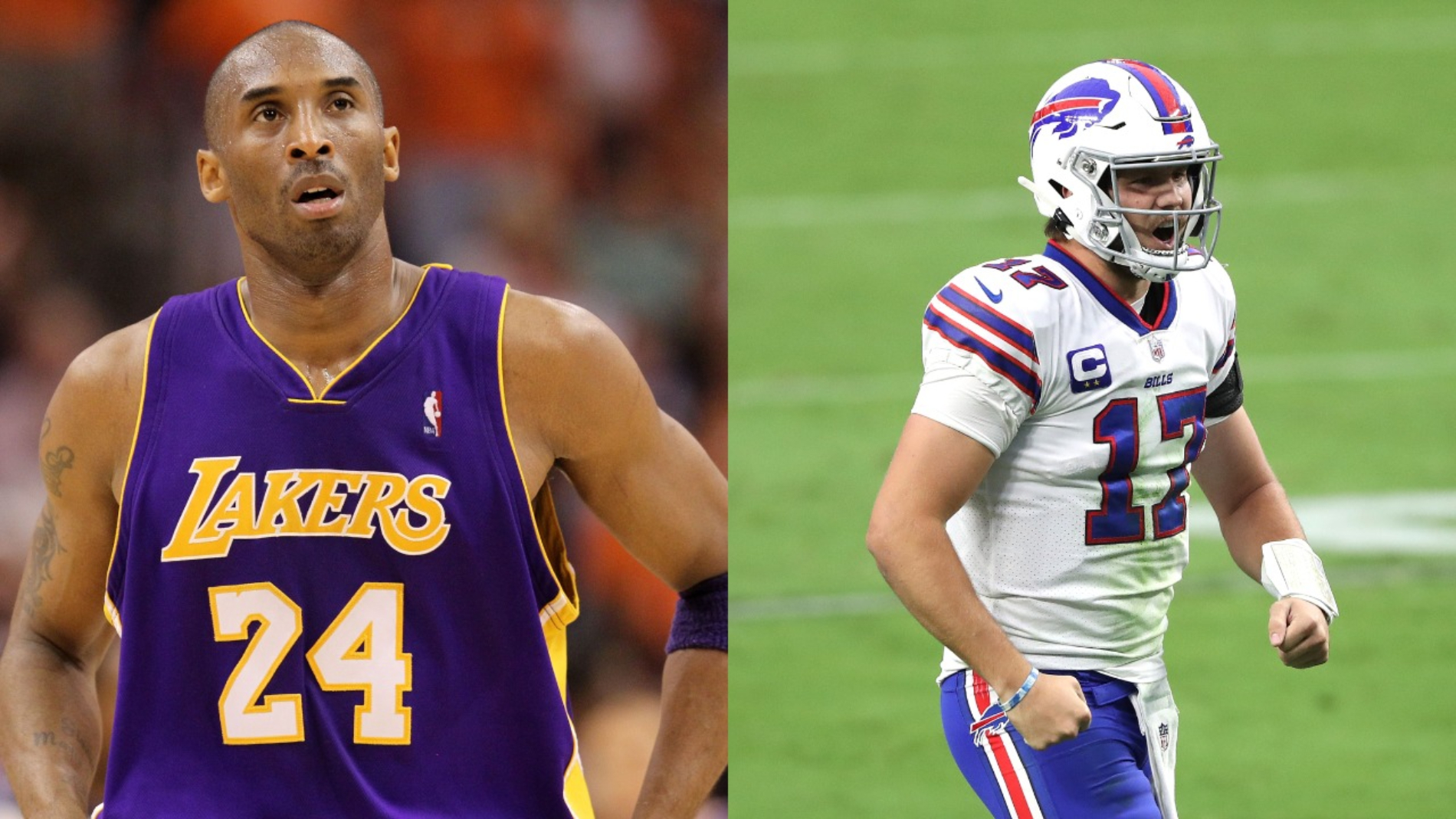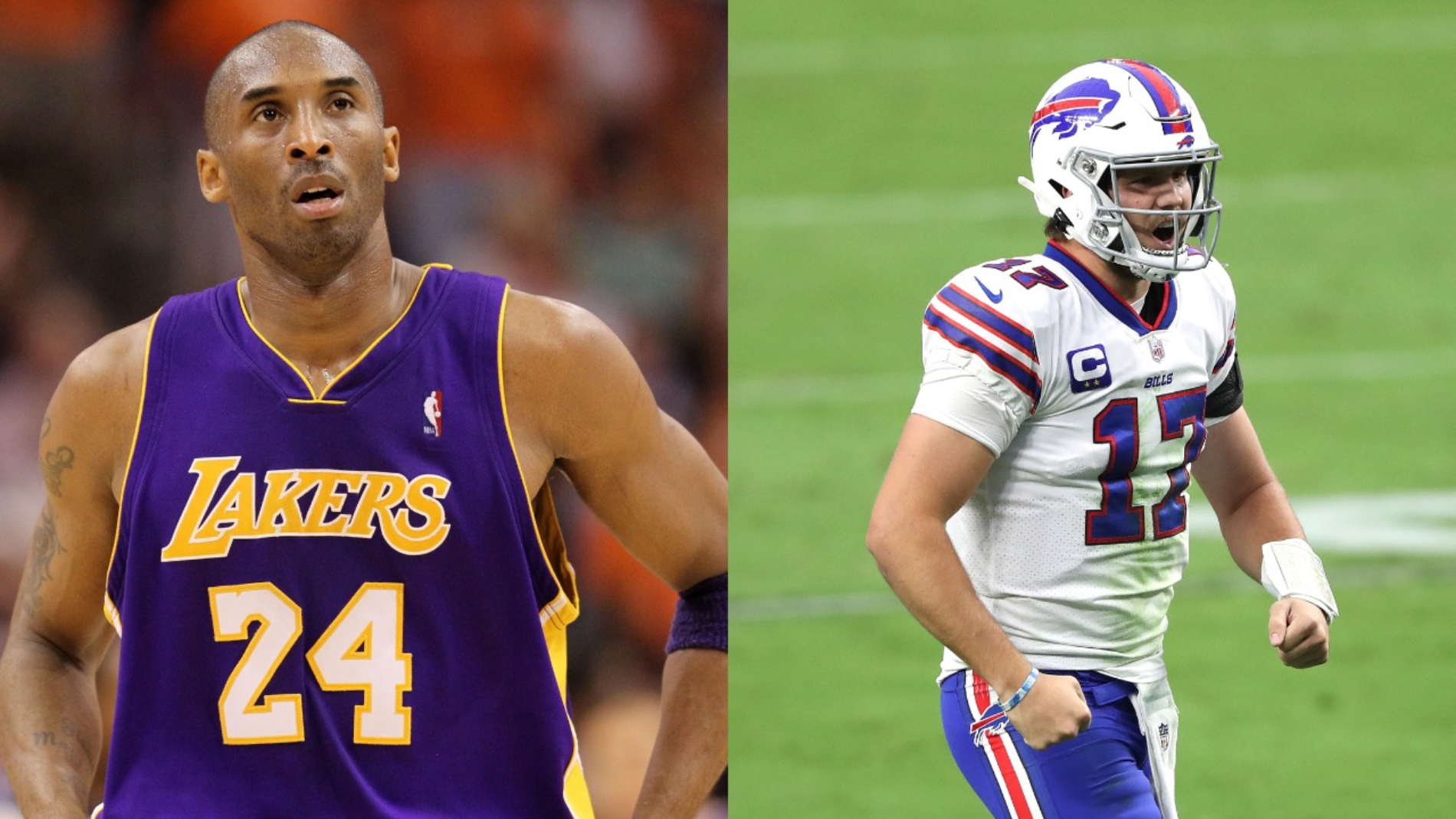 While talking to Boomer Esiason for The NFL Today prior to the Bills' Week 4 game, Allen recently revealed that he channels Kobe Bryant when trying to overcome any adversity with his team.
"On my away trips I watch the Muse documentary that he did," Allen said, according to CBS Sports. "Just the constant aggression that he had. In the fourth quarter when he got that look and the under-bite going, you knew that he was locked in and he was going to do everything he could to win a game. That mindset … I feel I have, I'm willing to sacrifice my body for the betterment of our team. That will never change about me."
Throughout his NBA career, Bryant — who sadly passed away in a helicopter crash in January — was known for doing whatever it took to lead the LA Lakers to a win, which ultimately became known as the Mamba Mentality. His mentality led to him winning five NBA championships for the Lakers and earning a spot in the Hall of Fame.
Bryant's Mamba Mentality might have helped Allen during the Bills' victory over the Raiders in Week 4, and it appears that it has potentially helped him in other various situations throughout his NFL career so far.
Josh Allen and the Buffalo Bills are 4-0 so far in 2020
Prior to drafting Allen with the No. 7 overall pick in the 2018 NFL draft, the Bills had only made the playoffs one time since 2000. In 2019, though, Allen led the Bills to a 10-6 record and to the playoffs, as he threw for 3,089 yards, 20 touchdowns, and nine interceptions.
This year, Allen and the Bills are playing excellent so far as his 1,326 passing yards, 12 touchdowns, and one interception through four games have helped lead the Bills to a 4-0 record. 
In addition to Allen, the Bills also have running back Devin Singletary, who has 326 yards from scrimmage so far, and receiver Stefon Diggs, who has caught 26 passes for 403 yards and two touchdowns. Buffalo also has some nice pieces on defense in Tremaine Edmunds and Tre'Davious White.
With the talent that the Bills have following behind Josh Allen and his toughness, Buffalo has a chance to be a very dangerous team this year. Maybe we will see Allen get a few more opportunities to channel his Mamba Mentality this year too.
Stats courtesy of Pro Football Reference