Kobe Bryant Used His Dog's Name to Prove His Love for a Specific Film and Then Later Had Fans Try to Guess It for a Free Pair of Shoes: 'They Threw out Like 15 Names'
Los Angeles Lakers legend Kobe Bryant was known for his elite basketball skills. But despite the stories of him tirelessly working on his craft, the 18-time All-Star enjoyed other forms of entertainment as well: films and books.
Bryant enjoyed several movies and novels, but the Harry Potter series appeared to be his favorite of each. In fact, the two-time NBA Finals MVP used his dog's name to prove his love for the Hogwarts universe.
Lakers icon Kobe Bryant loved 'Harry Potter'
During his years on the Lakers, and even in retirement, Kobe Bryant didn't shy away from showing his love for Harry Potter. In fact, in 2015, GQ put together a list of all the times he had referenced the series while speaking to the media. He even once appeared on Jimmy Kimmel Live and said he just tried to sound like the characters from the film whenever he attempted an English accent.
Bryant didn't just love the movies, though. He revealed to Ellen Degeneres in 2018 that he had a Harry Potter and the Philosopher's Stone book signed by author J.K. Rowling, whose work he admired.
"Huge Harry Potter nerd," he said on a September 2018 episode of The Ellen DeGeneres Show. "(He loved) the story; it's a brilliant story. I have a possession in my house that is the most valuable possession to me. I have three things, and one of them is a Harry Potter and the Philosopher's Stone first edition signed by J.K. Rowling. If the house is burning, I'm grabbing that; straight up, I'm grabbing that."
DeGeneres then also gave him a Harry Potter-inspired Wizard robe with his Lakers name and number on the back.
However, the 2007-08 NBA MVP's obsession with the series didn't stop there.
Kobe named his dog after one of the Unforgivable Curses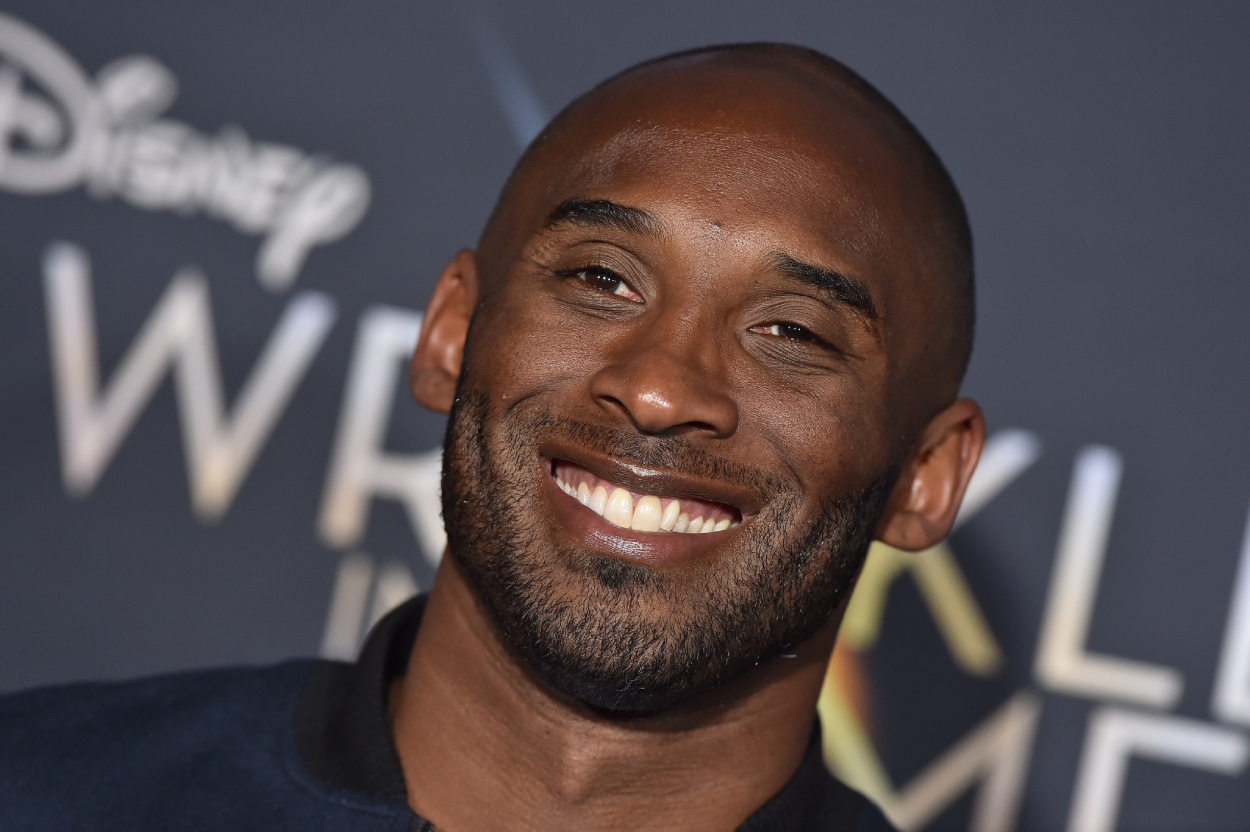 During a Lakers game against the Denver Nuggets in 2016, Kobe Bryant, who was in his final NBA season, had an interaction with some young fans in the crowd while sitting on the bench due to a sore shoulder. He then made a deal with them: If they could guess his dog's name, he would give them his shoes from that night.
"They wanted to know what the name of my pet dog was so I gave them a clue," Bryant said to The Denver Post, per Time Magazine. "I said, 'It's in a [Harry] Potter film.' So every time, they threw out like 15 names. The deal was if they got it, I'd give them my shoes. And they got it."
So, what was his dog's name? Crucio, named after the Torture Curse, which is one of the three Unforgivable Curses.
Despite having a somewhat evil origin to his name, though, Crucio appeared to be a good boy, as Bryant posted a photo of him swimming in his pool in 2013.
Kobe Bryant's love for 'Harry Potter' inspired his own book series
Kobe Bryant — who, in case you're wondering, was sorted into Slytherin through an online sorting hat, per a tweet from ESPN — continued to show his love for wizards after his Lakers career by writing books himself.
The five-time NBA champ wrote The Wizenard Series, which combined his love for magic and basketball. The first book came out in 2019, and the second didn't become available until after his 2020 death.
"It's strange to say, 'OK, Kobe is now writing fantasy novels and creating fantasy novels," he said on a 2019 episode of Good Morning America. "…If you can wrap it around something that [young people] are passionate about, be it basketball or volleyball or soccer, and you teach life lessons through the sport, then you have something that's more powerful. And that's what I tried to do with The Wizenard Series."
Similar to when he was a basketball star, Bryant also had success as an author; his first Wizenard Series book was a New York Times bestseller.
Whether it involved basketball or wizards, Bryant went all-in when he was passionate about something. He consistently proved his love for the former by working hard on his game during his NBA career, but he used his dog's name and his post-hoops endeavors to show his admiration for the latter.
All in all, Mamba was more than a basketball player; he was an elite storyteller and a huge Harry Potter fanatic. Everything he did seemed to carry that magic with it, too.
RELATED: Kobe Bryant Welcomed a New Teammate to the Lakers by Immediately Asking Him if He Was Ready to 'Black Out': 'You See Spots'