Kobe Bryant Had Intense Battles With a Fellow Hoops Star but Used 1 Shot to Leave the Player Completely Bewildered: 'Don't Do That Again'
Like Michael Jordan before him and LeBron James after, Kobe Bryant frequently had players go at him during his legendary career on the Los Angeles Lakers. He had a plethora of intense battles during those years, and his fellow stars almost always tried to give him their very best.
One player in particular, former New Jersey Nets and Denver Nuggets star Kenyon Martin, described their battles as chess matches. He even recently recalled a time Bryant left him completely bewildered.
Kobe Bryant and the Lakers had intense battles with Kenyon Martin
Kenyon Martin started his career in the Eastern Conference, as he went to the New Jersey Nets with the No. 1 overall pick in the 2000 NBA Draft. So, since the Lakers are in the West, he didn't play Kobe Bryant much, but the two actually faced off in the 2002 NBA Finals.
LA won the series easily, sweeping New Jersey 4-0 to win its third consecutive title, but Martin and Bryant both dominated for their respective teams. The latter averaged 26.8 points, 5.8 rebounds, and 5.3 assists for the Lakers, while Martin led the Nets in scoring with 22.0 points per game to go with 6.5 rebounds and 2.5 assists.
A few seasons later, after earning an All-Star selection with the Nets in 2003-04, Martin joined Bryant in the Western Conference in 2004-05 when New Jersey traded him to the Denver Nuggets. The two stars then saw each other much more frequently.
In fact, in 2008-09, the Nuggets and Lakers met in the Western Conference Finals. It was a competitive matchup, but LA won in six games. Bryant averaged 34.0 points, 5.8 rebounds, and 5.8 assists in the series, while Martin recorded 12.5 points and 7.2 rebounds per game.
The Cincinnati product continued to cross paths with Bryant until his final season in 2014-15 (Kobe's career came to an end the next year in 2015-16). But Martin recently discussed just how intense their battles were.
"It was a chess match with me and him," he said on the Sept. 20 episode of the No Chill With Gilbert Arenas podcast. "And that's why over the years, I'm like [Kobe] is good, like really good. Because most guys, I can stop your A (move), your B. He gonna go to C, D."
During one matchup, though, Bryant left Martin absolutely bewildered.
Kobe's shot left his fellow star bewildered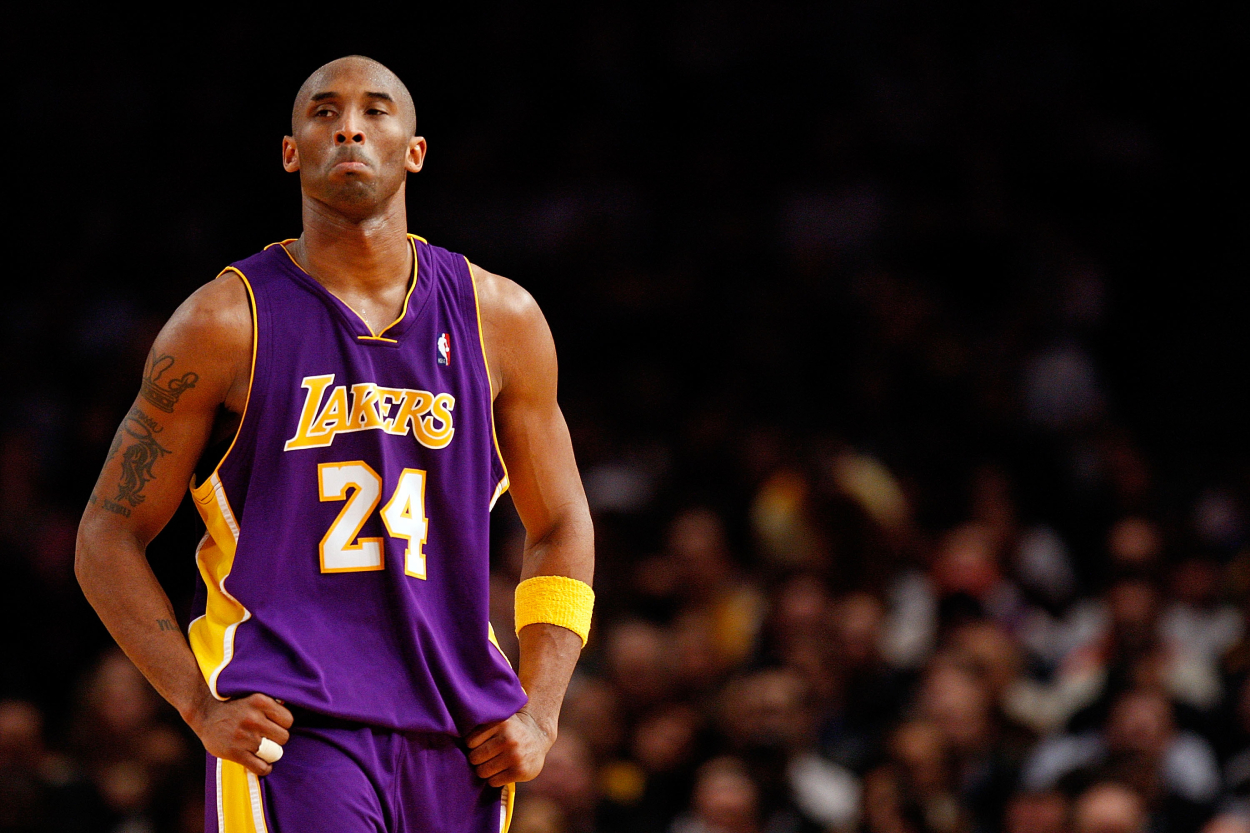 While discussing just how dangerous Kobe Bryant was, Martin recalled the time Mamba left him in complete shock with an incredible shot.
"One time they come up (the court), they used to run a little pitch-back play," Martin said. "…They run pistol, he threw it back to him (Kobe); we used to switch it, of course, with me. We switch it, come off; I body him, boom, boom. He come off; he getting ready to shoot it. I'm on top of it. He shoot that thing off the glass with his left hand."
As expected, the shot went in, which came as a complete surprise to Martin.
"I was like, 'Hey man, don't do that no more, man,'" Martin said. "While we're running back down, 'Hey man, don't do that again, dog.' He laughed."
It sounds like the shot was incredible, but Bryant made a ton of those in his career. In fact, he even once admitted that he would sometimes just throw the ball up and get as surprised as everyone else when it went in.
Martin's comments, though, reflect just how much admiration he had for Bryant and his game.
Kenyon Martin had immense respect for Kobe Bryant
How can someone not have respect for Kobe Bryant and what he accomplished on the Lakers? He earned 18 All-Star selections, won five NBA championships and two Finals MVPs, and he was the league MVP in 2007-08. Bryant also ranks fourth in NBA history in total points with 33,643.
Like many other former players and fans, Martin's admiration for Bryant seems to be through the roof. He said Kobe's love for his game was there as well, especially since the former Nets star ranked in the top 20 in defensive rating three times in his career, including two top-five finishes in 2002-03 and 2003-04.
"It (their battles) was like very competitive, but it was fun at the same time, and it was a mutual respect for one another — at his offensive ability and my ability to guard people," Martin said.
Kobe Bryant gave many opponents bad days on the court throughout his career, but it appears for hoops stars like Martin, those battles were also pretty fun.
They were just two talented players going at it, and they went at it pretty hard.
Stats courtesy of Basketball Reference
RELATED: Kobe Bryant Once Said Phil Jackson Would Take Conversations They Had 'in Confidence' and Use Them to 'Manipulate the Media Against' Him: 'I'm Done With This Guy'