Kobe Bryant Once Lost to a Lakers Reporter in an 'Intense' Game of Ping-Pong but Still Ultimately Showed Them Why He Was a Legend: 'He Was Taking the Ping-Pong Game so Seriously'
Kobe Bryant's relentless drive led to him becoming a legend on the basketball court for the Los Angeles Lakers. However, his competitiveness wasn't just exclusive to the sport that made him so famous; Bryant wanted to be the best at everything.
Back in 2013, Lakers reporter Mike Trudell learned this pretty quickly, as he went against Bryant in some friendly games of ping-pong.
OK, maybe, they weren't actually friendly. The games quickly turned into some "intense" contests that led to Bryant talking some significant trash and proving why he's a sports GOAT.
Kobe Bryant spent a Thanksgiving with Lakers players and reporters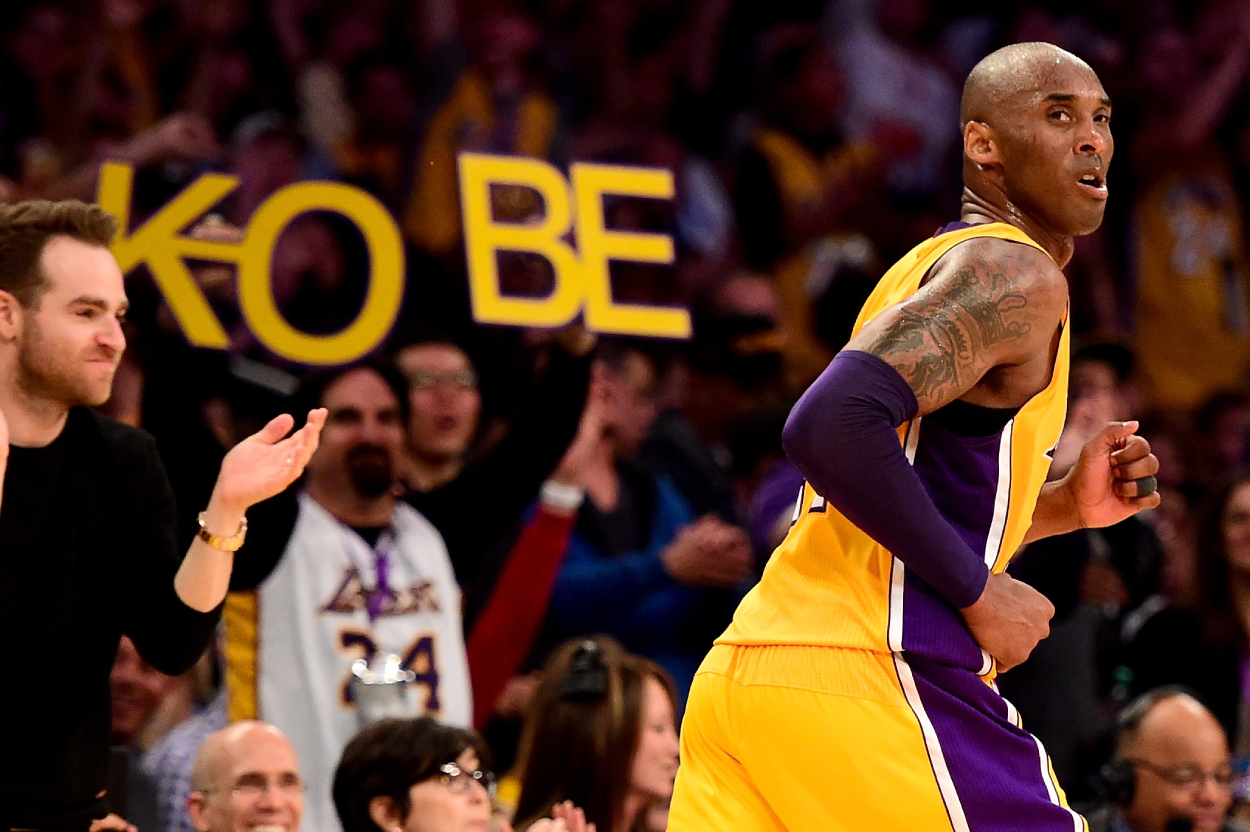 Kobe Bryant's legendary NBA career was just about over during his 2013-14 campaign. He was coming off an Achilles injury he suffered in April the following season but would eventually return to the court in December 2013 before only playing in six games and suffering a knee injury. He ultimately missed the rest of the season.
However, prior to that return in December, Bryant traveled with the Lakers on a road trip. They played the Washington Wizards in D.C. on Nov. 26 and lost, but they then beat the Brooklyn Nets the next night before traveling to Detroit to face the Pistons on Nov. 29. They then won that game as well.
But Thanksgiving Day fell between the games against the Nets and Pistons on Nov. 28, so the Lakers were in Michigan for the holiday.
Mike Trudell, who covers the Lakers for Spectrum SportsNet, said to Complex Magazine in 2016 that many of the people covering the team assumed they would spend Thanksgiving alone. But Bryant catered an entire dinner and made sure there was a ballroom free for everyone to spend time together.
His gesture was incredibly awesome, but it didn't keep his competitive side from coming out that day.
He and a Lakers reporter played in some 'intense' games of ping-pong
Trudell told Complex that the ballroom had a ping-pong table in it, and he grew up with one, so he's, naturally, "pretty good" at the sport. It appears Bryant noticed that, too.
"At some point, Kobe makes a comment about one of the players I had just beaten. So I said, 'Kobe if you want to, I'm happy to give some to you next,'" Trudell said to Complex.
When did Bryant ever turn down a challenge?
"So, we play the first game and you can tell he can play, but he's not a super experienced ping-pong player, so I sense a couple weaknesses and beat him rather handedly the first game," Trudell said, per Complex. "He is talking a bit of s—, mostly just calling me a MF-er."
Despite the L, though, Bryant wouldn't lose "rather handedly" a second time. Trudell said that Bryant watched every point and learned as the first game progressed, which led to a more competitive second contest.
"So, we get done with the game, and he wants to go again," the reporter added, per Complex. "Now, I beat him again the second time, but he got much closer. Within five minutes, he was taking the ping-pong game so seriously, and I thought, 'This is why he's so great at basketball.'"
Trudell continued: "I've never competed against anybody in anything, and I played a D-I sport, that felt as intense as that ping-pong game."
So, Bryant may not have mastered ping-pong that day, but he proved why he was one of the greatest basketball players ever. That same competitive drive led to him becoming an NBA GOAT.
Kobe Bryant's competitiveness led to him becoming an NBA GOAT with the Lakers
Countless stories have come out over the years about Bryant and just how competitive he was on the basketball court.
His former teammate Jon Barry said to Dan Patrick earlier this year that he treated every practice like a Game 7 when they played together in 1997-98. Former Lakers player and coach Byron Scott also told Business Insider in 2017 that Bryant would show up about two hours early for practice as a rookie.
All of that hard work led to him becoming an 18-time All-Star, a league MVP, a five-time NBA champion, and a two-time Finals MVP. Bryant also finished his career with 33,643 career points, which is fourth in NBA history.
It's safe to say that Bryant's basketball career turned out much better than his ping-pong endeavors. He was an absolute legend.
Stats courtesy of Basketball Reference