Kobe Bryant Made Headlines for All the Wrong Reasons When He Jumped Straight From High School to the NBA: 'I'd Been Around Michael Jordan, I'd Been Around Charles Barkley, but I'd Never Seen Anything so Show-Offish'
Kobe Bryant became one of the greatest — and most well-recognized — basketball players of all time. His on-court killer instinct led him to five championships, an MVP, 15 all-NBA selections, and two scoring championships.
Bryant always had a certain charisma, standoffish or not, that people noticed. Whether he was your hero or a villain, everyone recognized Kobe.
But before all the accolades, before the Los Angeles Lakers, before Shaquille O'Neal, and before the Michael Jordan comparisons, the future Hall of Famer was a celebrity high school athlete. He went to prom with Brandy in the mid-90s — if that's not a celebrity move, who knows that is.
But not everything Bryant did in the celebrity spotlight went over well. Even as a teenager at a small high school in Philadelphia, Bryant knew how to whip up a controversial event.
Kobe Bryant was one of the most famous high school athletes of all time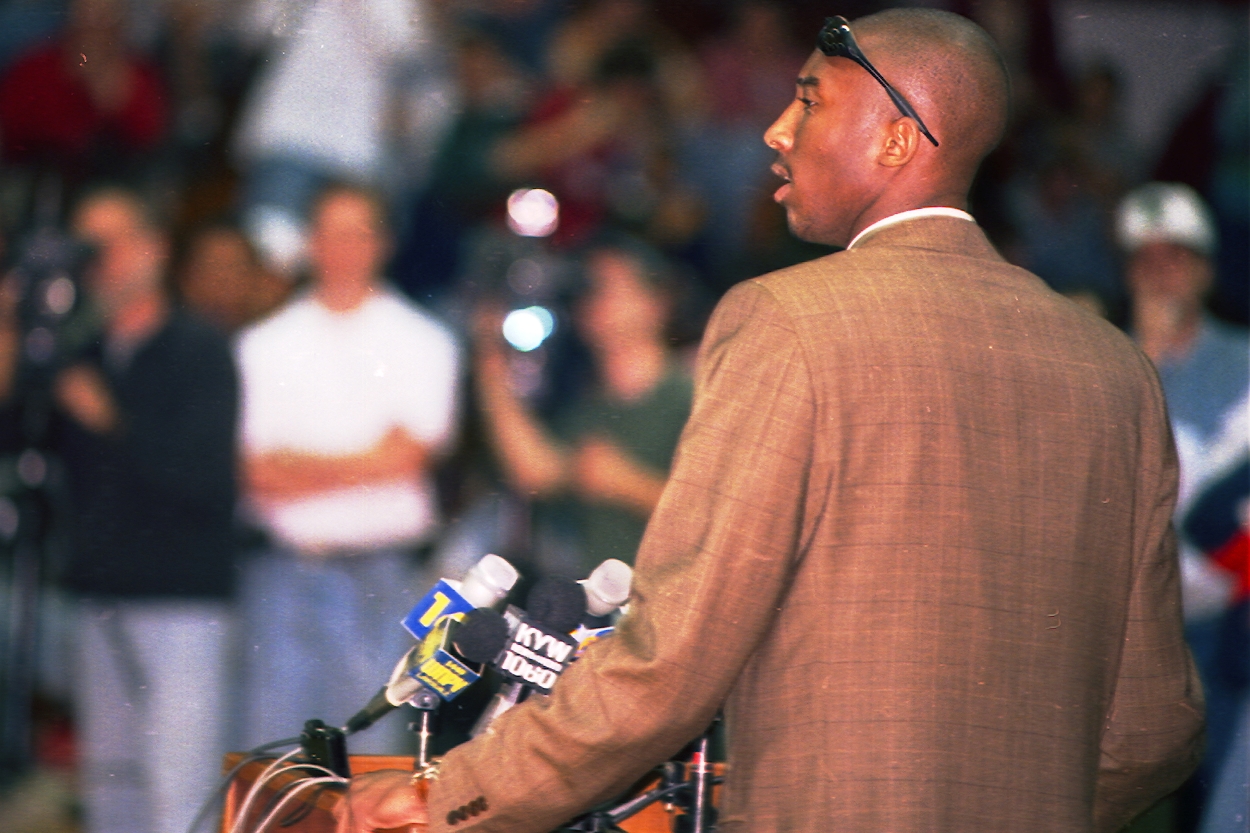 Bryant blazed trails for many different paths during his lifetime, but one of the first was when he chose to enter the NBA draft straight from high school. The eventual 2007-08 MVP was just the sixth player in basketball history to make that decision and the first non-forward or center.
During his senior season at Lower Merion High School in Philadelphia, Bryant averaged 30.8 points, 12.0 rebounds, 6.5 assists, 4.0 steals, and 3.8 blocks and led the school to the Class AAAA State Championship, according to the book Three Ring Circus by author Jeff Pearlman.
His father was a professional basketball player who had a stint in the NBA and made a name for himself in Italy. Bryant had the stats, the pedigree, the size, and the game to be recruited by all the college basketball bluebloods.
But his decision to enter the draft at age 17 was considered "insane" by some. And in true Kobe fashion, he made the announcement with style.
Kobe's draft announcement made headlines, but it wasn't entirely for the right reasons
High school newspaper reporters were in attendance. And so were members of the Washington Post and Sports Illustrated. So were Boyz II Men.
Bryant's fellow students went crazy when he arrived. The professional media members on the other hand? Not so much.
When a Bryant who couldn't vote yet strode confidently into a small high school gym in a suit with sunglasses perched atop his head, he got a lot of side-eye, "what is he doing?" sort of looks.
Pearlman interviewed a few national writers who were there for the announcement, and they weren't fans of the spectacle.
"God, it was so arrogant. Just the look alone. Seriously, it was one of the worst things I'd ever seen."

John Smallwood of the Philadelphia Daily News on Bryant's press conference in Pearlman's Three Ring Circus
Well-known ESPN reporter Jeremy Schaap took it a step further:
"What the heck was going on? He wore sunglasses. Sunglasses! And they may well have been drugstore shades, but they looked Armani on him. It was hard to accept the total lack of humility and the sort of Hollywood quality to it. I'd been around Michael Jordan, I'd been around Charles Barkley, but I'd never seen anything so show-offish."

ESPN's Jeremy Schaap on the infamous Lower Merion press conference
It may not have started well, but Kobe's career turned out just fine
The press conference was a disaster to most. These kinds of events are commonplace now, but no high schooler had ever attempted anything like it before.
Bryant was drafted 13th overall in 1996 by the Charlotte Hornets and immediately dealt to the Lakers. He went on to dominate the NBA for nearly two decades, all the while continuing to put on a show, for better or worse.
All statistics courtesy of Basketball Reference.
RELATED: Allen Iverson Knew Kobe Bryant Was 'Going to Be a Legend' the First Time He Watched the 18-Year-Old Go Straight at Michael Jordan