Kobe Bryant Once Made the 'Luckiest' Game-Winner Over an NBA Legend, but They Weren't Even Mad: 'Anybody Else, I Would've Tore That Locker Room Up'
Kobe Bryant left plenty of legendary NBA players searching for answers during his iconic career with the Los Angeles Lakers. He was ice cold in crunch time and had a killer mentality that helped him win more times than not.
However, Bryant once hit a game-winning shot over future Hall of Famer Dwyane Wade in 2009, and Wade said he just simply couldn't even be mad about it.
It was Kobe.
Kobe Bryant hit a game-winning shot for the Lakers in a 2009 matchup with the Heat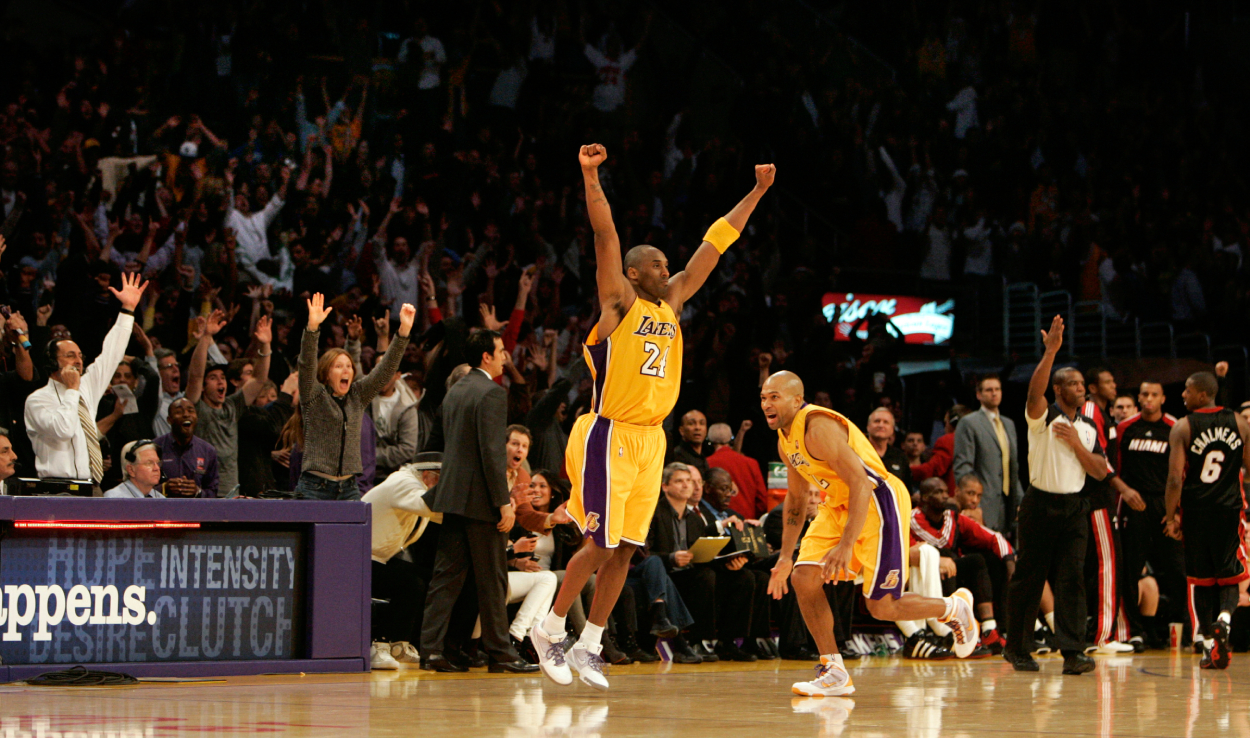 Over 12 years ago, on Dec. 4, 2009, the Lakers were one of the best teams in the NBA while the Miami Heat were just a decent playoff team. LA was 14-3 heading into a matchup with 10-8 Miami.
However, the two teams then went down to the wire, as Dwyane Wade's squad led by two points with 3.2 seconds left. But on the game's final play, Kobe Bryant's foot slipped as he received an inbound pass. That (and Miami's defense) forced him to throw up a prayer from beyond the 3-point line in Wade's face, and the ball ended up banking into the basket as the buzzer sounded. The Lakers won 108-107.
Yes, Kobe banked in a game-winning 3-pointer.
"It was the luckiest shot I've ever taken, by far," Bryant said at the time, per ESPN. "It felt good, [but] I just couldn't believe this ball might go in on this shot."
Wade also gave credit where credit was due after the loss.
"If you told me before the game that it would be decided by Kobe shooting a one-legged backboard 3, I'd have taken that," Wade stated, per ESPN. "The basketball gods were with him on that one, but we did a great job and did what we're supposed to do on the road — give ourselves a chance to win. But a great player hit an unbelievable shot. There are a couple of guys around the league that make big shots, but there ain't many, and he's one of them."
And now, over a decade later, Wade shared what was going through his mind during that unbelievable moment.
Dwyane Wade called Kobe's shot the 'luckiest shot ever'
The NBA's YouTube channel recently did a video where past and current players reacted to some of the biggest moments in league history.
In the video, Dwyane Wade gave his thoughts on Kobe Bryant's game-winner with the Lakers.
"Luckiest shot ever, Kobe Bryant hitting the game-winner on me," Wade said. "One-legged, fading away, on the top of the key. It was such a Kobe moment. I actually couldn't be that mad because I looked down and said, 'That's Kobe.'"
The video then flashed back to a behind-the-scenes clip of Wade and Bryant talking in the hallway at Staples Center after Kobe's shot.
In the clip, Wade jokingly said, "I'm not talking to you right now. It's either laugh or cry; I don't know which one to do. I'm gonna laugh."
He then later added: "'I'm like, 'Look, anybody else, I would've tore that locker room up.'"
Kobe was so good that players couldn't be mad; they just had to respect it.
Kobe Bryant had several more game-winners with the Lakers
Obviously, that shot over Wade was not the only game-winner Kobe Bryant hit for the Lakers.
According to The Ringer, he hit an NBA record (as of February 2020) seven regular-season buzzer-beaters in his career. Bryant also made one playoff buzzer-beater in a first-round series against the Phoenix Suns in 2006.
Wade, however, also made his mark, sinking five regular-season buzzer-beaters, which is tied for fourth all-time (as of February 2020).
Kobe Bryant may have sent Dwyane Wade home sad that one particular night in 2009, but Wade also did that to the plenty of players himself during his legendary career.
They were both two of the greatest players of all time.
Stats courtesy of ESPN