Kobe Bryant Was Nearly a New Jersey Net Until Head Coach John Calipari Got Cold Feet: 'We're Not Winning With a High School Kid'
Kobe Bryant has a strong case as the greatest Los Angeles Laker of all time. Bryant is the franchise leader in games, points, field goals, steals, and win shares. Not to mention, his five championships are tied for the most by an individual player in a Lakers uniform.
By now, NBA fans are familiar with the story of how Bryant, a 1996 draft pick of the Charlotte Hornets, was flipped to Los Angeles for Vlade Divac. But before the Hornets took the 18-year-old from Lower Merion High School, the New Jersey Nets were dangerously close to making Kobe their franchise centerpiece.
The New Jersey Nets hired a young John Calipari to turn their fortunes around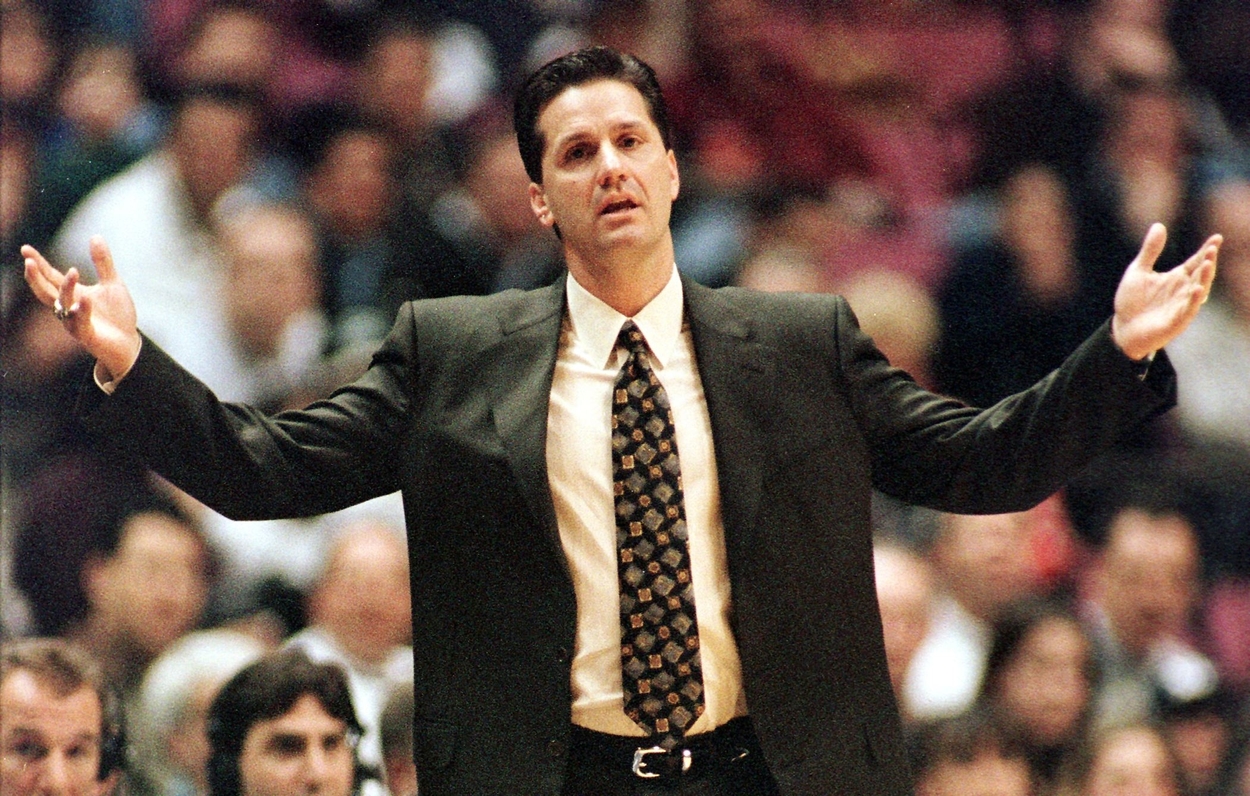 The Nets franchise needed some juice. Back-to-back 30-52 season under head coach Butch Beard just weren't cutting it. Additionally, players like Kenny Anderson and Armen Gilliam weren't exactly bringing fans to the Meadowlands.
After Rick Pitino rejected the Nets' five-year, $25 million offer, New Jersey hired a 37-year-old John Calipari as its next head coach. Calipari, who coached UMass from 1988 to 1996, was given a five-year deal worth $15 million despite no pro coaching experience. He joined newly-hired general manager John Nash in rebuilding a Nets franchise that hadn't won a playoff series since 1984.
One of the first steps in the rebuild was the draft. New Jersey owned the eighth overall pick in 1996, and had lots of interest in using that pick on Bryant. The Nets had brought Kobe in for three separate workouts, and soon word spread across the league they were Bryant's likely destination.
However, Kobe's camp was going to put a wrench in their plans.
Kobe Bryant's agent wanted his client in Los Angeles, so he scared Calipari and the Nets
Ahead of the draft, Bryant hired Arn Tellem as his agent. Tellem, who was based in Los Angeles, was a close friend of two very important people: Lakers general manager Jerry West and business executive Sonny Vaccaro. Vaccaro, a former exec with Nike, was the man who signed Michael Jordan to his first sneaker deal. However, he now worked for Adidas and viewed Kobe as the future face of the brand.
Knowing the Lakers wanted Kobe and Adidas wanted Kobe in a big market, Tellem started keeping certain teams away from Bryant. "Basically, I kept teams from picking Kobe by not giving their coaches access to him," Tellem said later to Sports Illustrated. "I knew teams would be reluctant to take a chance on a high schooler without first talking to him and working him out." However, that didn't stop the Nets. Both Nash and Calipari wanted Bryant, going as far to tell his parents Joe and Pam they would be selecting him with the eighth pick if he was there.
When draft day arrived, so did the drama. First, Kobe called Calipari to tell him New Jersey was too close to his home in Philadelphia and that he wanted to be further away from his parents. Nash heard the same from Tellem, who referred to it as, "a cockamamie story". Although that alone didn't scare Coach Cal, Tellem was about to seal the deal.
Kendall Gill, a forward on the Nets and a client of Tellem, was sitting in his agent's office when he heard the threat made toward his new coach:
"Cal told Arn Tellem the Nets were taking Kobe. And Arn said to him — and this is exactly what he said — 'John, I swear to God, if you take him we'll hold out. I have a deal already worked out between the Hornets and Lakers, and you better not mess it up. You'll pay.'"

Kendall Gill
"So John runs into my office and tells me this," Nash later recalled. "I said, 'John, come on. You don't believe this b***s***, do you? It's all bluster The family. The agents. It's total b***s***. Trust me.'" Calipari, who was making a league-high $3 million a year and had final say on all basketball decisions, responded by saying, "You know we're not winning with a high school kid. You know that, right?"
The scare from Tellem was enough to change Calipari's mind. On draft night, Cal stood up to announce to the ownership group, "If Kerry Kittles is on the board, we're drafting him. And if he's not there, we're taking Kobe Bryant." And that's exactly what happened. Kittles, an All-American out of Villanova, was picked by the Nets eighth overall.
"Jersey would've been fine with me," Kobe later admitted to the New York Daily News in 1998. "Close to home, family and friends coming to the game. No problem."
Kobe became a Laker legend, while Calipari's run in New Jersey was short-lived
With the Nets selecting Kittles, there was no one realistically standing in the way of Kobe coming to Los Angeles. Once Bryant was available with the 13th pick, Charlotte took him and flipped him to LA for Divac. The rest, of course, is history.
While Bryant won five titles and became a Laker legend, Calipari didn't make it halfway through his contract. Coach Cal went 72-112 with zero playoff wins, before getting canned after a 3-17 start in his third season.
Calipari's legacy in New Jersey won't be remembered as much for the losses. Rather, people will remember the day he got played by a shifty agent and an 18-year-old kid.
"I still can't believe Cal let a high school kid bully him," Nets forward Jayson Williams later said. "I mean, Cal was a bit of a bully himself. So to give up one of the five best players in NBA history because he threatened you? That's pretty weak, man. That's pretty damn weak."
Had Calipari stuck to his guns and called the bluff, Kobe would have been a Net. As for how that would change the history of the NBA, feel free to let your imaginations run wild.
Note: All quotes courtesy of Jeff Pearlman's Three Ring Circus: Kobe, Shaq, Phil, and the Crazy Years of the Lakers Dynasty, unless otherwise noted.
All statistics courtesy of Basketball Reference.