Kobe Bryant Offered a Young Derrick Rose Advice on How To Maximize His Championship Chances
Kobe Bryant enjoyed taking young players under his wing, and Derrick Rose was no exception.
As much as Bryant loved winning, he also loved the sport of basketball and knew nothing was forever. Rose, the top pick in the 2008 NBA draft, sought the Lakers star's guidance in the summer of 2011 and received important advice in the process.
Kobe Bryant gave Derrick Rose advice early in his NBA career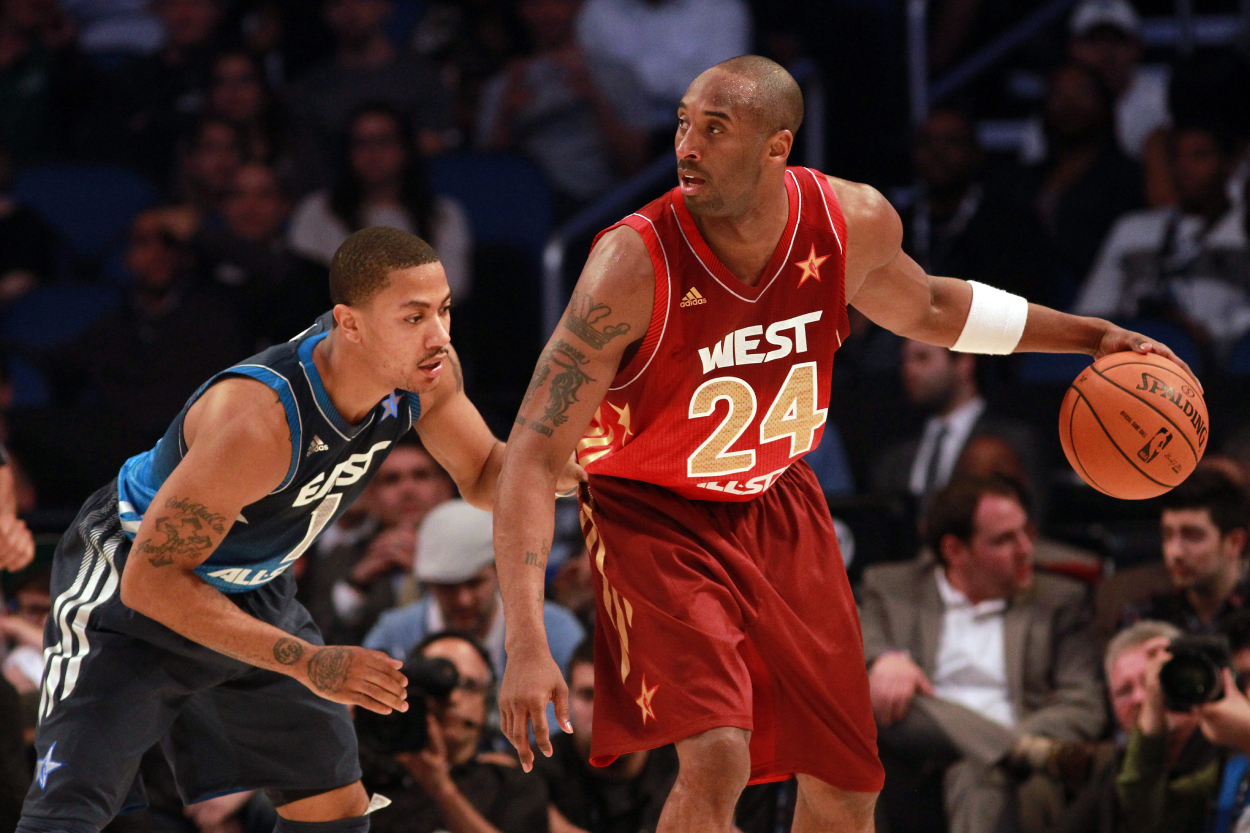 There once was a point in Derrick Rose's career when he was among the NBA's top young players.
Rose captured the league's MVP Award after the 2010-11 campaign. Although he and the Chicago Bulls entered the next season with championship hopes, they needed to hold off on pursuing those dreams. The NBA entered a work stoppage shortly after the 2011 NBA Finals ended that June.
Several NBA players found other outlets, ranging from overseas leagues to the Drew League in California, to stay active. A group of NBA stars, including Chris Paul and Kobe Bryant, played a set of exhibition games in the Philippines during the summer of 2011 to raise money for youth sports programs.
Rose went on that trip, and in an interview later that year with ESPN, he recalled seeking Bryant's advice.
"[Bryant] was telling me that to win championships, you have to have a guy who can work in the post. He also told me about certain spots on the floor where they can't double-team you. Top of the key, easy to double-team. On the sides, easy to double-team. But at the elbows, you can really pick a defense apart because if they double-team you there, somebody is definitely going to be open for a layup or something."

Derrick Rose
Remember, this was before Bryant tore his Achilles and struggled to stay healthy. At this point, he and the Lakers were still considered one of the Western Conference's most dangerous teams. Yet, the five-time champion felt comfortable offering another elite player advice on how to win a title.
Bryant and Rose had some epic matchups before their injuries
Months after teaming up in the Philippines, Bryant and Rose had an opportunity to face off in the NBA regular season.
The Bulls opened the 2011-12 season against the Lakers on Christmas Day 2011. Rose opened the lockout-shortened season with 22 points, including the game-winner, in an 88-87 victory. Bryant scored 28 points, grabbed seven rebounds, totaled six assists, and recorded two steals in the nationally-televised opener.
That marked the Bulls' second straight victory over the Lakers. A year earlier, Rose posted 29 points and dished nine assists in an 88-84 victory against Bryant in Chicago.
After several years of their respective injuries, the two guards faced off for the final time on Feb. 21, 2016. Rose scored 24 points and recorded seven rebounds in a 126-115 victory at the United Center in Chicago. Bryant, less than two months away from retiring, scored 22 points in 27 minutes.
Bryant's tragic death hit Rose very hard
Bryant tragically died in January 2020, and his passing hit Rose especially hard.
FanSided transcribed comments that Rose made about Bryant in I'll Show You, an autobiography he released in November 2020. The current Knicks guard reflected on his former mentor and what the Lakers legend meant to him.
"That's why I love Kobe so much. His death, man, that's something that's always going to hurt … It's a weird feeling. 'Oh s—, Kobe's not here. Damn.'" 

Derrick Rose
Rose added that he tried to copy Bryant's mentality and attitude more than he did specific parts of the latter's game.
Like Sportscasting on Facebook. Follow us on Twitter @sportscasting19.