Kobe Bryant Once Told an Olympic Gold Medalist That He Would Sometimes 'Just Chuck the Ball' Toward 'the Basket' and Get Surprised Whenever It Went In: 'It Plays On "SportsCenter" for a Week'
Kobe Bryant left a lasting impact on almost everyone he crossed paths with throughout his life. He wasn't just one of the greatest basketball players to ever play, but he also had a personality people gravitated toward — including Olympic gold medalist Susan Francia.
During the 2008 Summer Olympics, Bryant and Francia — a rower — got to know each other throughout multiple conversations. And during one of them, he made a comment she will likely never forget.
Kobe Bryant and Susan Francia got to know each other during the 2008 Olympics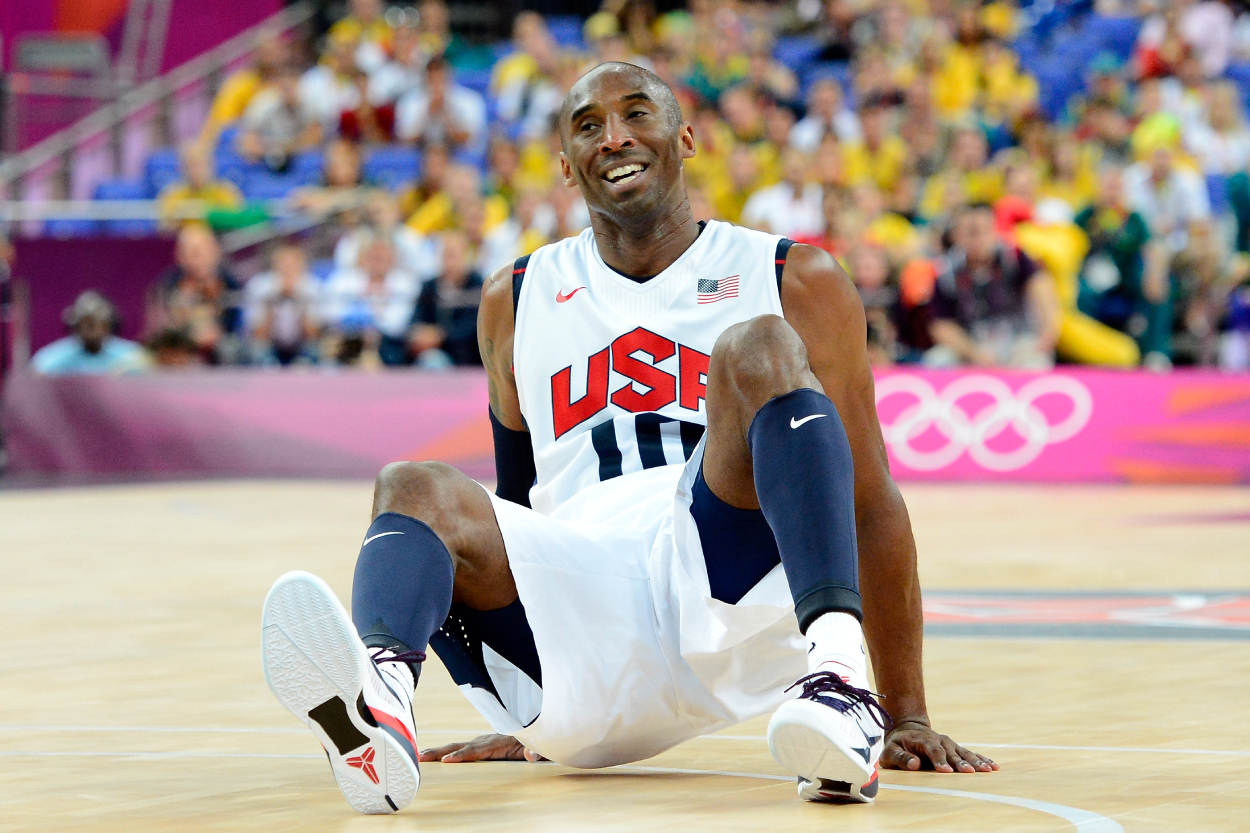 Following Bryant's tragic 2020 death, Francia penned a column in The Philadelphia Inquirer; she and Bryant both lived in Philly when they were kids, but didn't meet until their paths crossed at the 2008 Olympics.
Francia and her U.S. rowing teammates had just won gold in 2008, and while she was out enjoying her time in the Olympic Village, Dwight Howard took an interest in her medal. Bryant then joined him in admiring it, and Francia quickly couldn't believe that she had something Kobe wanted.
"I can't even explain the feeling that I had as I realized that, despite all of his trophies at home, in this moment Kobe wanted something that I had and he didn't have yet," she wrote.
After chatting about "what it took for" Francia "to get to gold," they then ran into each other multiple times following that first interaction.
One instance came at a McDonald's in the dining hall, in which Bryant invited her and her teammate to eat with the men's U.S. basketball squad.
"He was always interested in people's stories and did his best to make us feel included," she wrote. "I didn't care that it was Kobe. He was just a cool guy."
While on a media tour after the Olympics, however, the two athletes ran into each other again. This time, their conversation came while sitting on a bus, and Kobe made a comment that Francia will likely never forget.
Kobe said he would sometimes 'just chuck the ball up'
We all know how hard Bryant worked to become one of the best players in the NBA. His dedication to his craft likely made it easy for him to just trust his abilities, even if he didn't know whether the ball was going in or not.
And it appears that sometimes he actually had no idea if the ball was, in fact, going to go in.
"We went on to talk (on the bus) about his love of basketball and what it's like to be such a big sports star," she wrote in the Inquirer. "One of my favorite quotes was when he said, 'I'm going to be honest. Sometimes I just chuck the ball up there in the direction of the basket, and I am just as surprised as everyone else when it goes in. And then it plays on SportsCenter for a week!' Um, what?"
For years, Bryant surprised everyone with a plethora of incredible shots during some of the biggest moments in NBA history. But, apparently, sometimes he was just as shocked as the rest of us when the ball went in.
His elite shot-making abilities, though, also helped him get a gold medal of his own at the 2008 Olympics.
Kobe Bryant and the 'Redeem Team' won gold at the 2008 Olympics
Team USA's men's basketball team had just come off a disappointing showing at the 2004 Games when it settled for a bronze medal.
During the 2008 Olympics, however, Kobe Bryant — who wasn't on the 2004 team — led the "Redeem Team" to gold.
The U.S. went 8-0 at the 2008 Games and won 118-107 over Spain in the gold-medal game. Bryant was one of the team's top scorers that year, as he averaged 15.0 points to go with 2.8 rebounds, 2.1 assists, and 1.1 steals. The only players on Team USA ahead of him in scoring were LeBron James and Dwyane Wade.
James averaged 15.5 points, 5.3 rebounds, 3.8 assists, and 2.4 steals. Wade, on the other hand, was essentially the team's MVP. He played fewer minutes per game than James and Bryant but led the team in scoring with 16.0 points per game to go with 4.0 rebounds and 2.3 steals.
Bryant may have been wanting something Francia had while at the 2008 Olympics. But as expected, his hard work paid off and helped him win his own gold medal that year. He then later won it in 2012 as well.
It would, however, be nice to know how many shots he just chucked up during those runs.
Stats courtesy of Basketball Reference