Kobe Bryant's Deep Phone Call With a Famous Actor All Started Because They Sent Him an 'Intoxicated' DM
Los Angeles Lakers legend Kobe Bryant mentored many athletes throughout his life, especially young hoopers who were following in his footsteps. However, he and his Mamba Mentality also inspired successful stars outside of basketball.
In fact, Kobe once had a deep conversation with famous actor O'Shea Jackson Jr., and it only happened because of the latter sending Bryant an "intoxicated" DM.
O'Shea Jackson Jr. is a massive fan of Kobe Bryant and the Los Angeles Lakers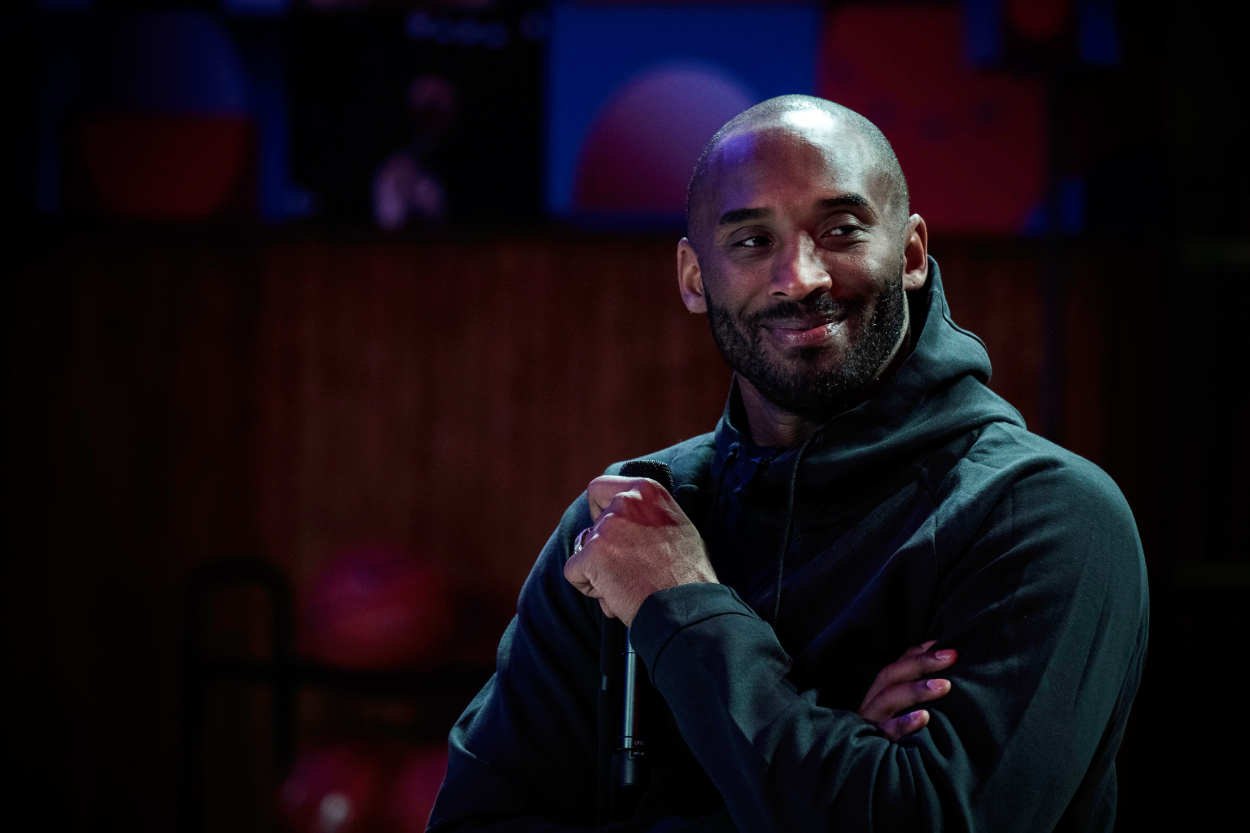 If you know anything about O'Shea Jackson Jr., you know he's a big Lakers and Kobe Bryant fan.
Jackson's father is superstar rapper Ice Cube, who has been a big supporter of the franchise for years. He also loves the sport as a whole, given that he launched the pro hoops league, the Big3.
"I don't remember when I wasn't a Laker fan," Ice Cube said earlier this year on All The Smoke.
Jackson Jr., though, is just 30 years old, so he grew up during the Kobe era in LA. And that, paired with his dad's fandom, led to his love for Bryant.
"That dude was my hero," Jackson Jr. said on the Dec. 9 episode of The Ellen DeGeneres Show. "One of the hardest days of my life was having to go to work after losing my guy."
On that same episode, though, the actor shared his funny Kobe story.
O'Shea Jackson Jr. drunkenly sent Kobe a DM
While talking to tWitch, who was hosting The Ellen DeGeneres Show the day he appeared on it, O'Shea Jackson Jr. discussed the time he sent Kobe a DM.
"I was at the house — a little intoxicated — do not judge me, and yeah, Kobe follows me on Twitter, so I was like, 'You know what, I'ma DM Kobe,'" he said. "I'm drunk; I'm like, 'Yeah, I'ma DM Kobe.' So, I hit up Kobe, and I'm like, 'Listen, man, I just want to know how do you keep going? How do you not be content? Can you give me any books, any movies you watch, any quotes? Give me something.' He gave me his number. So, I was like, 'Uh-oh.'"
Jackson, of course, waited to talk to Kobe until he was sober, but the DM resulted in the two having a deep conversation about their lives and families.
"He talked to me for 25 minutes," he said. "We talked about our parents. He had a dad that was in the league, and he was going in his footsteps; kind of the same world that I was in. Talked about work ethic, not feeling content, not feeling like [he had] done enough."
Messaging random followers on Twitter typically doesn't work out for most people, especially if they're under the influence. But it certainly did for Jackson. He got to talk to his idol, and he learned from one of the most successful stars to ever walk the planet.
Kobe Bryant also mentored NBA stars
While Kobe Bryant certainly gave Jackson Jr. a conversation he will never forget, he also mentored several NBA players.
"I had that mentorship relationship with him, where I was able to ask him almost anything," Kyrie Irving said of Bryant in 2020, per ESPN. "You know, no matter how nervous I was or how fearful I was, he was just easy to approach with those type of questions about what goes on in the day-in and day-out basis of chasing something that's bigger than yourself and when you're trying to leave a legacy or something of a mark on a game."
Phoenix Suns star Devin Booker has also praised Bryant for what he meant to him.
"The biggest thing for me was earning his respect," Booker said, per AZ Central. "To even be the guy in the room after we play them that he wanted to talk to or share advice with. Then our relationship had grown from there. Just figuring out what type of person he was outside of the Mamba Mentality. How he raised his daughters and how much of a family man he was something that was just incredible."
Kobe Bryant was a superstar basketball player, but it appears he was a superstar person as well.