Kobe Bryant Played Sneaky Pivotal Role in Anthony Davis Going To the Lakers
Back in July 2019, the Los Angeles Lakers offered up a king's ransom in order to acquire Anthony Davis from the New Orleans Pelicans. At the time, some analysts even questioned whether the Lakers had overpaid to secure the superstar forward. With one title already in the bag — and another predicted for this season — those doubters have now fallen silent.
Prior to joining the Lakers, Davis was one of the most coveted players in the league. But Los Angeles had one clear advantage, in that Davis already had a longstanding relationship with the late Lakers' legend Kobe Bryant. Here we recap Davis' NBA career so far, before detailing how Bryant's relationship with the budding superstar paved the way for the Lakers' recruiting efforts.
Anthony Davis' NBA career in a nutshell
A year before changing their name to the Pelicans, the New Orleans Hornets drafted Davis with the first pick of the 2012 NBA Draft. Davis had no trouble adapting to life in the NBA, putting up 13.5 points, 8.2 rebounds, and 1.8 blocks per game as a rookie, according to Basketball-reference.com. In his second season, those numbers ballooned to 20.8 points, 10.0 rebounds, and 2.8 blocks per game.
In his seven seasons in New Orleans, Davis was a six-time All-Star. He also received three All-NBA First Team selections, one NBA-All Defensive First Team, and led the league in blocks in three seasons.
Yet Davis' Pelicans squads only made the playoffs twice in that span, getting knocked out in the first round in 2014-15, and suffering a second-round loss to the Golden State Warriors in 2017-18.
Frustrated with his lack of postseason success, Davis approached the Pelicans in January 2019 to tell them that he would not be signing an extension with the team the following off-season, as reported by ESPN.
The following July, the Pelicans traded Davis to the Lakers. In his first season as a Laker, Davis received his seventh All-Star and fourth All-NBA First Team selections, before helping Los Angeles secure a championship victory in the Orlando bubble.
Forming a bond with Kobe Bryant during the 2012 Olympics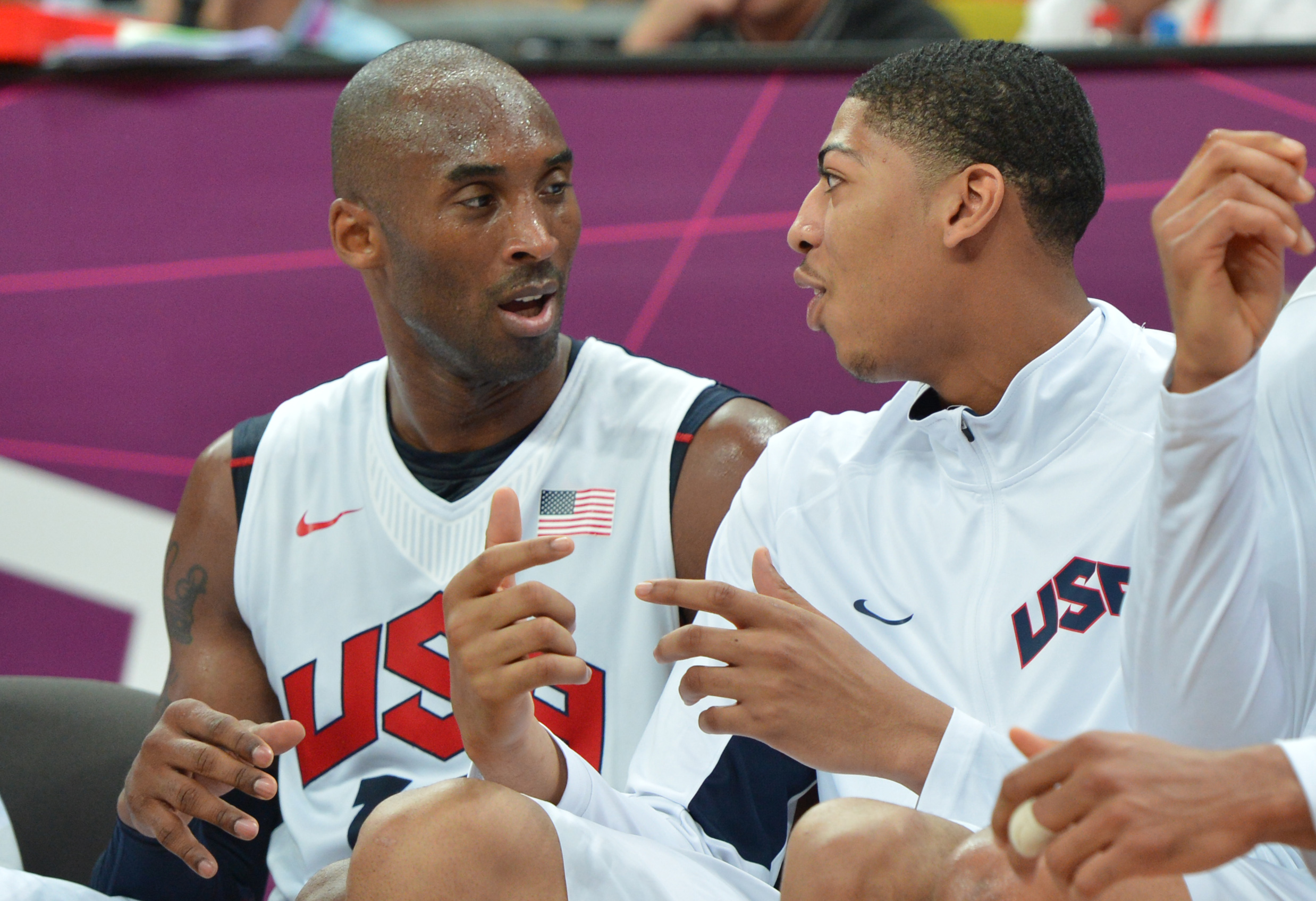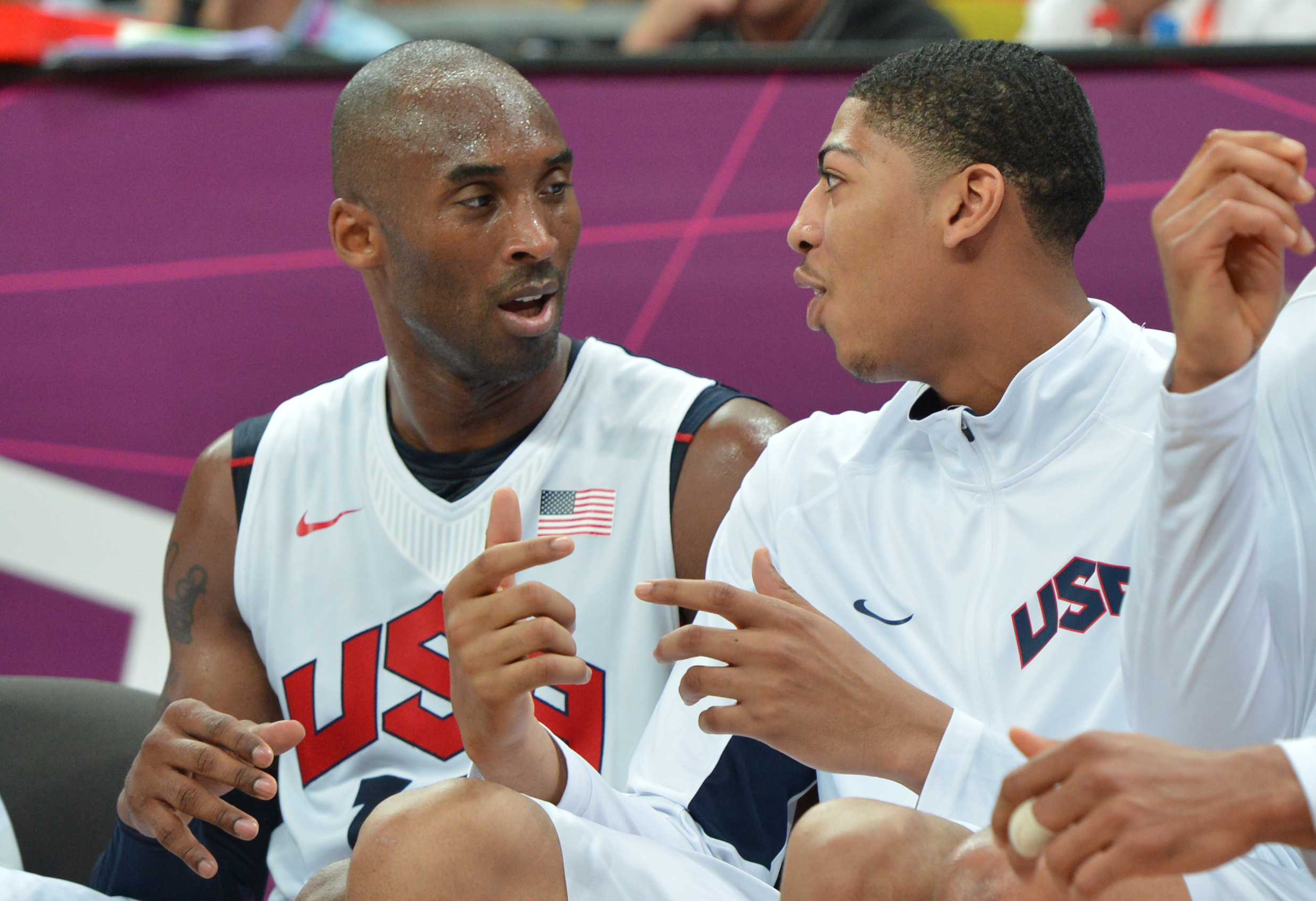 Long before he became a member of the Lakers, Davis had forged a positive relationship with Kobe Bryant. The two first got to know each other while playing together in the 2012 Olympics. As reported by the Los Angeles Times, Davis soon began to shadow Bryant's every move. The veteran and the rookie would eat together and practice together.
Davis even tagged along when Bryant went to meet up with other star athletes. As Bryant later recalled in an interview, Davis wasn't scared to seek out his advice: "It was refreshing. A lot of guys don't want to ask questions because they feel like it's embarrassing or ego thing or blah blah blah."
By the end of their time together, Bryant had become a real mentor to the young star.
Working out with Kobe Bryant in 2018
Over the following years, Bryant and Anthony Davis kept in regular touch. Whenever Bryant happened to be in New Orleans to play a game, he would always find a little extra time to spend with Davis and his family. Then, in the summer of 2018, the two men met up during the offseason to work out together in Los Angeles.
At that point, Bryant had been retired for over two years. But he still had no intention of letting Davis get the better of him. Instead, always a meticulous student of the game,
Bryant closely studied video footage of Davis before they met up. That allowed him to put Davis through the paces in a series of drills designed to help the younger star add new wrinkles to his game.
In particular, according to Sports Illustrated, Bryant helped Davis improve his footwork in the post. He also taught Davis his patented signature turnaround fadeaway shot. Bryant came away from their time together so impressed that he broke a longstanding rule of abstaining from recruiting, calling Lakers GM Rob Pelinka to say (per Sports Illustrated):
"Hey, you know I don't give you GM advice. But if you ever get a chance to get this guy, he is the avatar of what you want. His level of footwork, his dexterity, his mastery of the details of the game. Guys like this are generational players."
We may never know whether that advice influenced the Lakers decision to go all-in on Davis. Yet it clearly establishes Bryant as one of the first to put in the effort to try and recruit the superstar Davis to the Lakers.