Kobe Bryant Refused to Lose His Edge Against a Fellow NBA Legend Even at the End of Their Careers: 'I'm Still Trying to Bust Your Ass'
Kobe Bryant and Vince Carter are two of the most notable NBA stars of the 2000s. Both routinely competed for scoring titles and dazzled fans with high-flying acrobatics, especially earlier in their respective careers. They also cultivated a friendship over multiple decades, though old age did not prevent Bryant from maintaining ruthless competitiveness with Carter at the end of their esteemed careers.
Kobe Bryant explained he always felt a sense of competition with Vince Carter
Vince Carter helped fuel Kobe Bryant's competitive drive from the beginning, though he might not have known it.
Bryant revealed in 2018 that he looked up to Vinsanity in high school, when the two shared the floor as teammates in the AAU circuit. Kobe said he marveled at Carter's athletic abilities and remained aware of VC's place as the No. 1 shooting guard in the country.
Needless to say, the Black Mamba had Air Canada in his crosshairs from the start and often drew parallels between the two. It's telling, seeing as the two stars shared very similar qualities on the floor.
Both Bryant and Carter came into the NBA as springy combo guards who could finish at the rim and possessed a certain amount of flair on the floor. Each year, they appeared to add new weapons, notably getting to their spots for pull-up jumpers off the dribble and establishing themselves as elite shot-makers at the end of games.
Ultimately, Kobe and Vince became two of the best 2-guards of the 2010s and posted similar numbers during the decade. Bryant averaged 28.1 points, 5.8 rebounds, and 5.2 assists between 2000 and 2010, while Carter averaged 23.2 points, 5.3 boards, and 4.2 dimes.
Even as the NBA moved into the 2010s and both Bryant's and Carter's respective career arcs began to trend down, Kobe still had it out for Vince every time he saw the 2000 Slam Dunk champion out on the floor.
Bryant's last words to Carter as a player perfectly describe his Mamba Mentality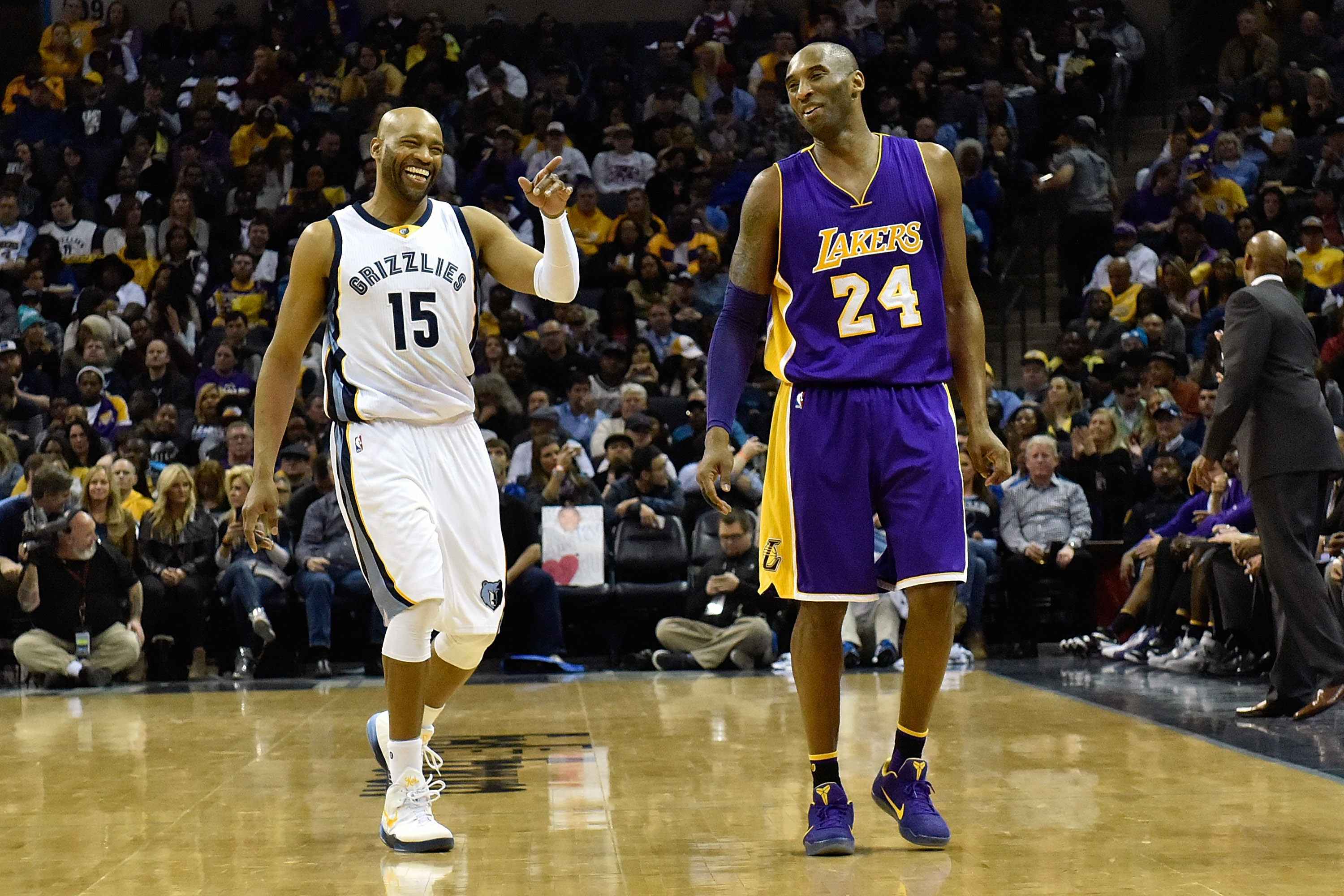 By the time the 2015-16 season rolled along, Bean and VC could no longer consider themselves stars. Both men had to acknowledge their places as veteran players in the twilight of their careers, though Kobe probably did so more begrudgingly after his 2013 Achilles injury.
Still, that didn't mean Bryant stopped competing with Carter.
According to Vince, Kobe had a succinct final message (h/t The Athletic) in the last on-floor meeting between the two. The words provide a perfect summation of Bryant's "Mamba Mentality."
"I'm still trying to bust your ass."

–Kobe Bryant to Vince Carter in 2016
Even during his farewell season, Bean made sure to remind Carter of his place as one of the most driven competitors in the history of the game.
For his part, Vinsanity understood the sentiment all too well. Kobe did not issue this statement out of malice, but rather mutual respect.
Carter developed a lot of admiration for Bryant
While Kobe Bryant still had a friendly parting shot for Vince Carter in the final matchup between the two greats, he also imparted some wisdom.
Carter said — in the aftermath of Bryant's death — that he had a running dialogue with the Los Angeles Lakers legend about being ready to retire, a conversation Bean later shared with Vince during VC's final season in 2019-20. He explained his admiration for Bryant's willingness to dive even more deeply into fatherhood during retirement and reminisced on their collective journey from high school to the pros.
So yes, Kobe's last words to Carter on an NBA court are definitive of his winning mindset. But they're also a symbol of the respect shared between longtime friends.
Stats courtesy of Basketball Reference.