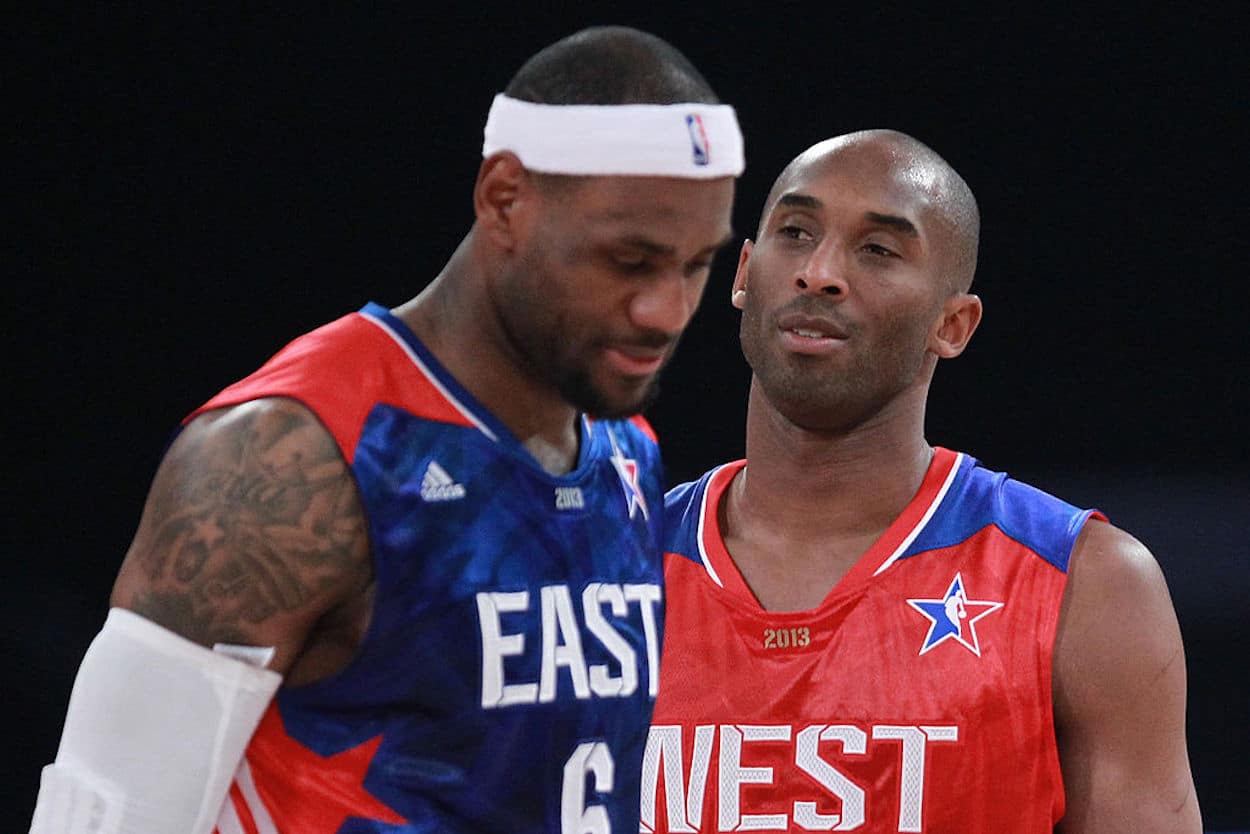 Kobe Bryant Refused to Even Watch LeBron James' Dunk During a Pick-Up Game at the White House
Kobe Bryant's Mamba Mentality carried him to the top, but it also cropped up during some more fun activities.
While Michael Jordan might be remembered for taking things personally, Kobe Bryant certainly knew how to take his work seriously. The Lakers guard became famous for his Mamba Mentality, which essentially meant there wasn't any room to relax in pursuit of greatness. Take one moment during a pick-up game as the perfect example of that.
As recounted by Joakim Noah, Barack Obama invited some basketball players to the White House to celebrate his birthday, and they all hit the court for some pick-up action. While you might think that situation would be all fun and games, Kobe wasn't having it. When King James threw down a rim-rocking dunk, Bryant refused to acknowledge what was happening.
Was that a bit petty? Or was it classic Mamba Mentality? You be the judge.
Kobe Bryant didn't want to see LeBron James dunking during a celebratory pick-up game
At this point, it's not exactly breaking news that Barack Obama is a basketball fan. If you have any doubt about that personality trait, though, one birthday celebration will be enough to change your perspective.
"I'm checking my emails, and it's like, 'You've been invited to Obama's birthday party at the White House,'" Joakim Noah recalled on an episode of The Old Man and The Three podcast. "And I didn't even know what we were there to do. I didn't know who was going. I just know I'm invited. So we go, and it's just like, the next thing you know, it's like, I'm in a van. You know, I had just, it's like LeBron, like Kobe."
The group ended up hitting the court alongside Obama — Noah made sure to note that the commander-in-chief was talking some trash which earned him a bit of physical, full-court defense — and competing. At one point, Bryant's Mamba Mentality managed to peek through the fun.
So, I'm sitting next to Kobe, and we're like, we have the next game. And LeBron gets a steal. And he's about to, you know, he's on the break. So, obviously, when LeBron catches the ball on the break, it's a sight to see. Everyone's, like, watching. Like, "OK, what is he gonna do?" And I just remember Kobe turns around and starts talking to me about, like, something completely, like he didn't even want to acknowledge the dunk. And I was like, "OK, I know I'm sick, but this guy's sick as hell, too." I was like, "This guy won't even acknowledge." I was like, "Wow." That said a lot to me, that he wouldn't even acknowledge LeBron's fast break. He didn't want the visual of him watching LeBron dunk like this. He didn't want that picture of him looking. I was like, "Wow, there's levels to this."

Joakim Noah
And, to be clear, this is Joakim Noah, a man whose entire professional career was based on being competitive and playing with an edge, speaking. For him to leave with the impression that Bryant was on another level really does speak volumes.
Kobe may have been an NBA legend who was beloved by basketball fans around the world, but maybe he wasn't the person to invite over for a fun day of pick-up basketball.