Kobe Bryant Refuses to Accept Idea of a Lakers Rebuild
S*** season. Flush it. Forget it #amnesia Next Season will be epic #blackout #bussfam

— Kobe Bryant (@kobebryant) April 16, 2014
Kobe Bryant doesn't like losing. He's also probably the first person on Twitter to use #blackout when referring to his professional livelihood. This is just two years removed from what looked like a surefire title contender — the collective NBA fan base shuddered at the thought of Kobe and Pau Gasol being joined by Steve Nash and Dwight Howard. Lakers blog Silver Screen and Roll described it as not "just a home run for the Lakers — it's a grand slam. In the World Series. Against the New York Yankees. Essentially, they've put together, on paper, one of the greatest starting line-ups ever assembled" [emphasis theirs].
That obviously didn't pan out, and Bryant spent most of this season hurt, watching Nash sit on the sidelines while Howard played starter's minutes for the Houston Rockets, who eventually nabbed the four-seed in the tightly contested Western Conference while the Lakers missed the playoffs for just the fifth time since 1975. This did not sit well with the Black Mamba. Per Duran Sports, via Twitter, he said: "I feel like killing everybody. I'm on edge all the time. I feel it probably more than anybody in the organization. Drives me crazy." And he isn't keen on waiting for help, also saying, "oh lets [sic] just go into next year and suck. Nope."
The last time the Lakers were this bad, Kobe was laboring with Kwame Brown and Smush Parker, complaining to anyone who would listen that he was on his way out the door. Of course, that was before Brown (and the draft rights to Marc Gasol) were sent to the Memphis Grizzlies and Kobe won two more championships.
He's being more diplomatic this time around, despite bailing on the team for their last couple of games to start his off-season vacation –  defensible, by the way, because no one should have had to watch a minute more of this year's Lakers squad than needed. "[Kobe] has no patience for the Lakers front office to take another year to build a contender," tweeted Dave McMenamin, who covers the Lakers for ESPN Los Angeles. "He expects changes this summer."
Bryant previously took heat from fans and experts alike when he signed a two-year contract extension for $48 million, which is large enough that it could affect the Los Angeles team's ability to dole out the big money it will take in order for the Lakers to become contenders once again.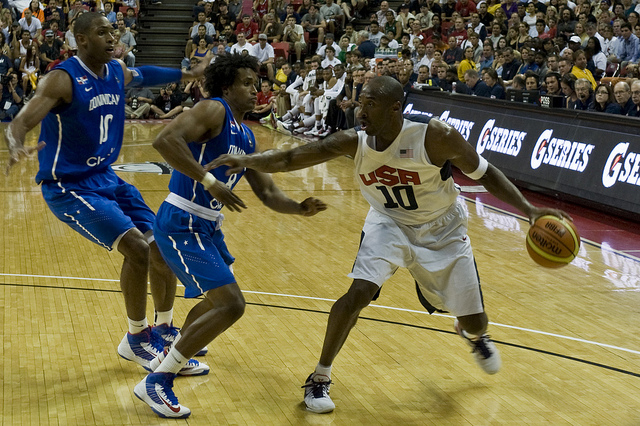 Kobe Bryant's been in the game a long time, and he has established friendships and connections all across the league, from former greats to All-Stars that keep getting better, and at least some of this offseason is going to see the Black Mamba reaching out to the impending free agents and testing the waters on how they feel about Forum purple and gold. Its almost certainly already started. Even if the free agency pool is relatively thin (aside from Carmelo Anthony, who even Oscar Robertson thinks should get the hell out of New York), Kobe wants immediate help.
It's too bad that the salary cap is going to get in the way. The Lakers will almost assuredly try to trade their No. 1 draft pick for an unhappy superstar with Southern California roots (Kevin Love), but the only way that trade will feasibly happen is if Love lets the Timberwolves know, in no uncertain terms, that he's not resigning with them. Other than that, prospects look slim, and while Bryant may not like a rebuild, he probably has no choice.
Now Read: More Rings Are Better: The 13 Most Successful NBA Players Ever