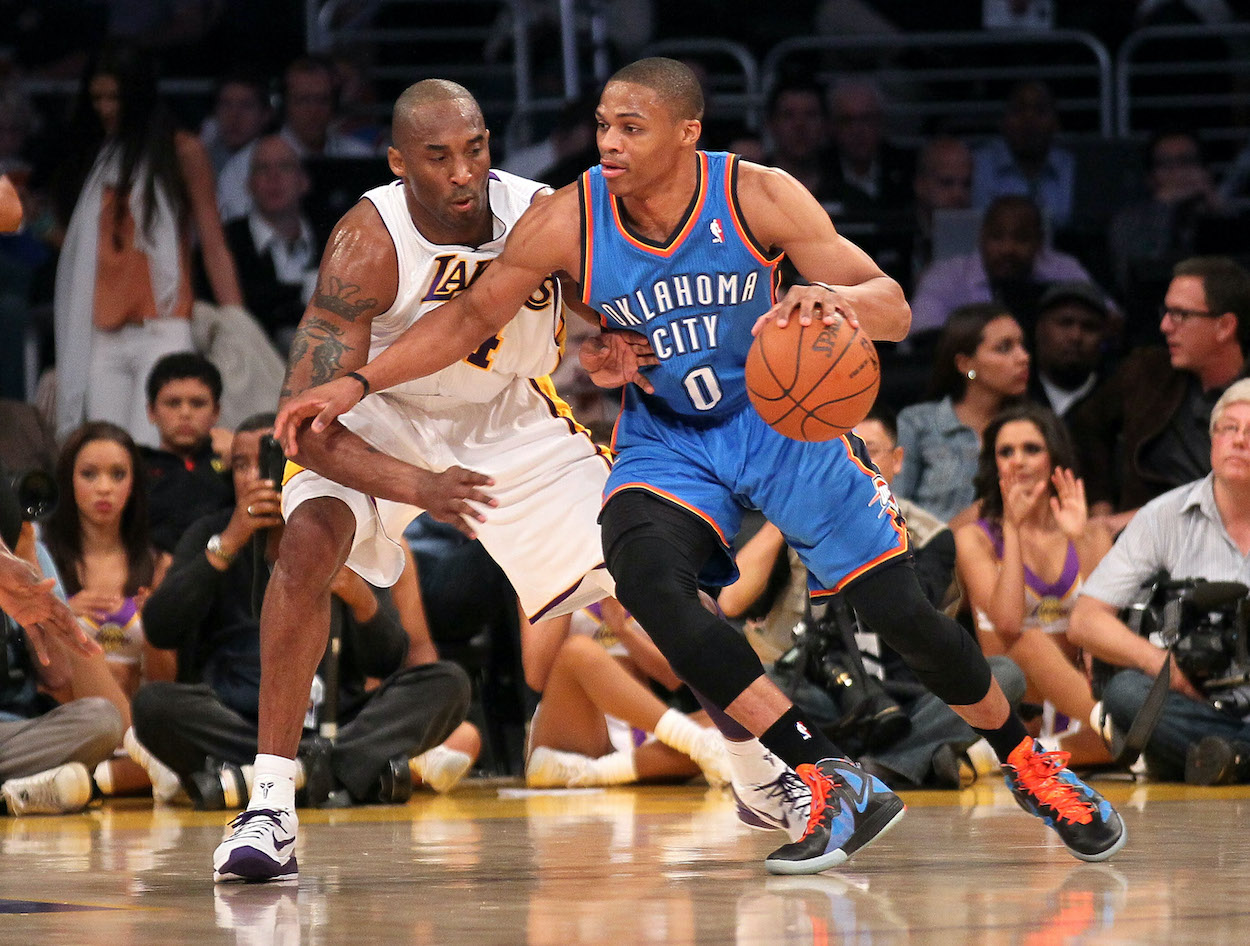 Kobe Bryant Gave a Young Russell Westbrook a Ruthless Taste of the Mamba Mentality by Destroying Him in a Friendly Pick-Up Game: 'He Was Competing Like It Was the Finals'
Russell Westbrook learned about the Mamba Mentality during a pick-up game against Kobe Bryant at UCLA.
Kobe Bryant left a lasting impression on every NBA player who was lucky enough to spend time with him. That's especially true for Russell Westbrook, who grew up rooting for Bryant as a young Los Angeles Lakers fan and eventually became good friends with his idol.
When Westbrook first got the chance to meet Bryant as a student at UCLA, he learned a valuable lesson about the Mamba Mentality after getting destroyed in a pick-up game.
Russell Westbrook had a special bond with Kobe Bryant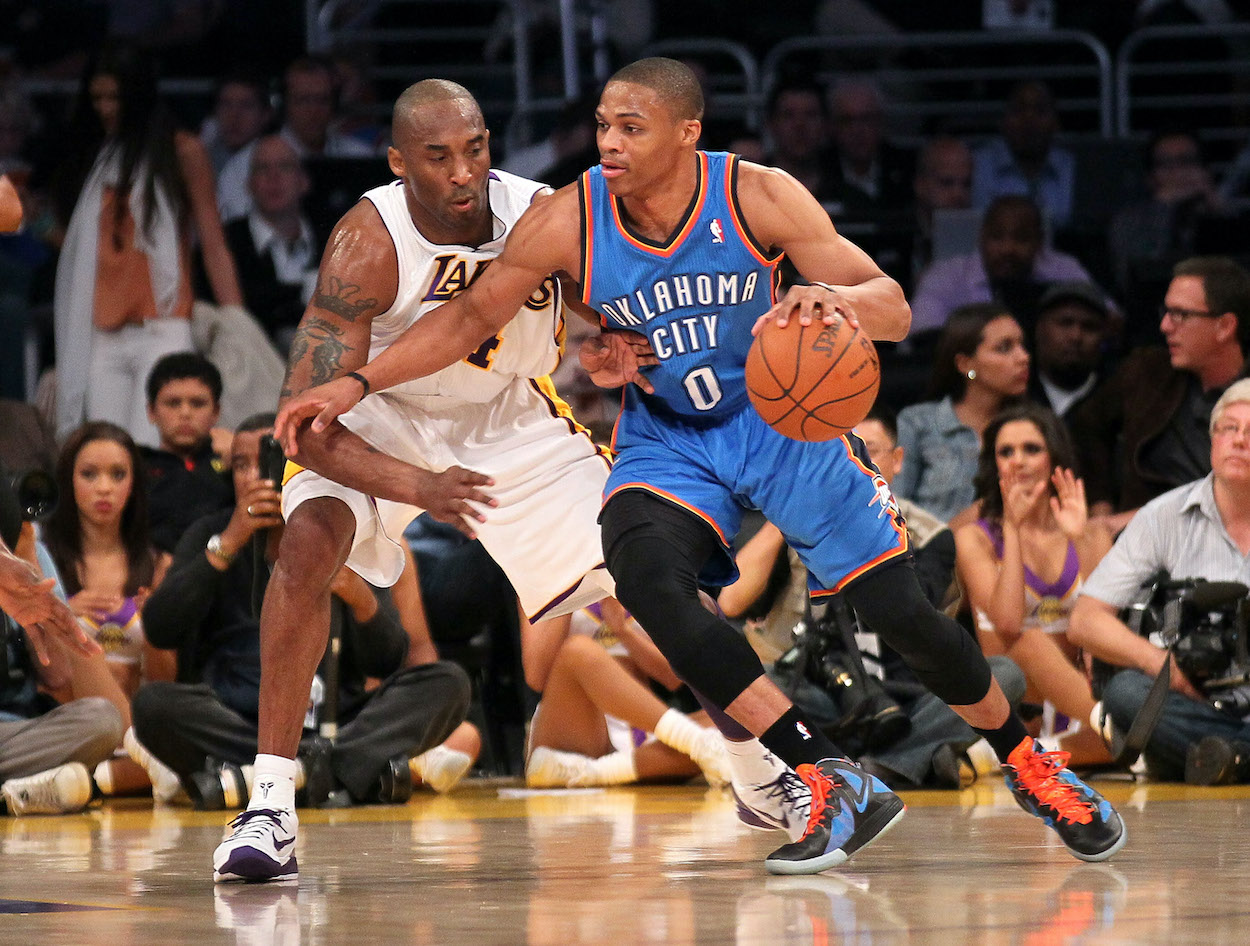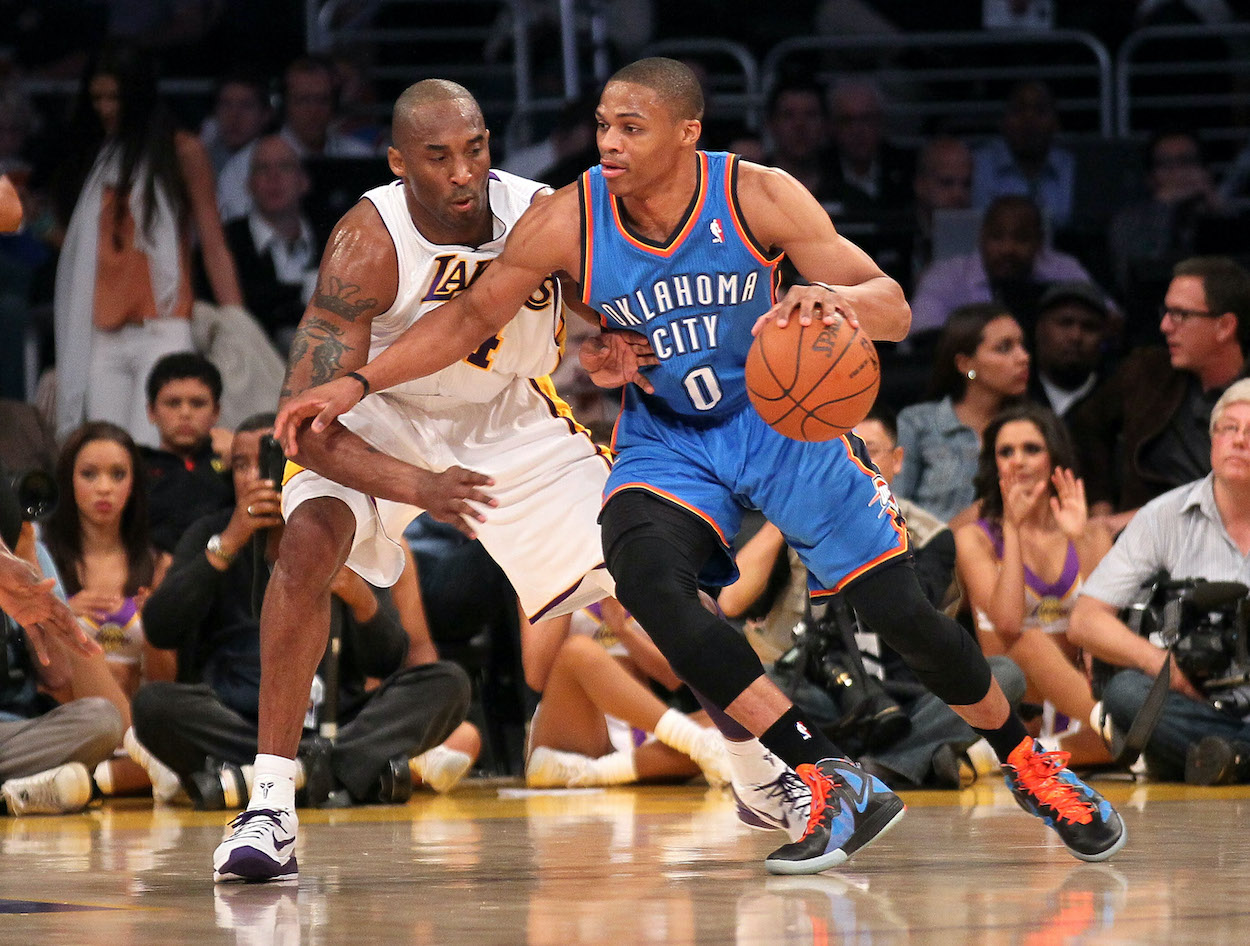 Westbrook always idolized Bryant because of his competitive fire and his relentless will to win. Growing up right outside of Los Angeles, Westbrook started watching Lakers games and quickly decided to model his own game after Kobe's.
Years later, Westbrook reached the NBA himself and got to compete against his childhood idol for eight seasons. The two became close friends over that span, and they even had conversations about Westbrook joining the Lakers one day.
Now, the lifelong LA fan will be able to suit up in the iconic purple and gold himself.
"Things that we talked about, me and him, just the potential of me being able to be a Laker and understanding what that entails," Westbrook said during his introductory press conference for the Lakers this summer. "It's just crazy to think about and that'll be with me every time I put that Lakers jersey on." 
Kobe destroyed Westbrook in a friendly pick-up game to teach him a lesson about the Mamba Mentality
Westbrook will never forget the first time he played against Bryant. It was back in his college days at UCLA, and Kobe didn't take it easy on him one bit.
The new Laker recently explained the story during an appearance on Jimmy Kimmel Live!
"Going into my sophomore season at UCLA, a lot of pick-up games would happen at UCLA, and a lot of superstars would come. But this particular day, Kobe came, and now I'm super hyped and super juiced," Westbrook said. "I'm just excited to compete because, to me, Kobe was the best in the world. I had the opportunity to compete, and me and Kobe, not going back and forth because he was basically killing me, but it's OK."
Westbrook might've got embarrassed that day, but he learned a valuable lesson that shaped the way he approached the game of basketball going forward.
The No. 1 lesson I got in that is that watching him — and to this day I think we all know it as the Mamba Mentality — but when I was younger and watching him, he was competing like it was the Finals. And to me, it was so inspiring because it allowed me to understand, this is what you need to be like, regardless of where you're at, what you're doing, however you're playing. And I took that attitude and ran with it.

Russell Westbrook
That he did.
The Mamba Mentality lives on through Westbrook
Westbrook has his fair share of haters out there. He's not incredibly efficient as a shooter, and he makes some questionable decisions in crunch time.
But one aspect of Westbrook's game you can never question is his heart.
You know the star point guard is going to leave it all on the court every time he suits up. Hustle plays, ferocious defense, and fiery competitiveness have become Westbrook's calling cards as an NBA player, and he wouldn't be that way if it wasn't for Kobe.
There will never be another player like Kobe Bryant, but Russell Westbrook perfectly embodies what it means to have the Mamba Mentality.
Like Sportscasting on Facebook. Follow us on Twitter @sportscasting19.