Kobe Bryant and Shaquille O'Neal's Lakers Teammate Is Selling 2 Championship Rings for a Worthy Cause
Being an NBA champion comes with perks and prestige, including a championship ring. Unsurprisingly, these rings can be very valuable, and this means champs can choose to sell their rings if they desire.
In fact, Lakers champion and teammate of Kobe Bryant and Shaquille O'Neal, Slava Medvedenko, is selling his two championship rings for a worthy cause. 
The 2001 and 2002 Lakers were dominant champion teams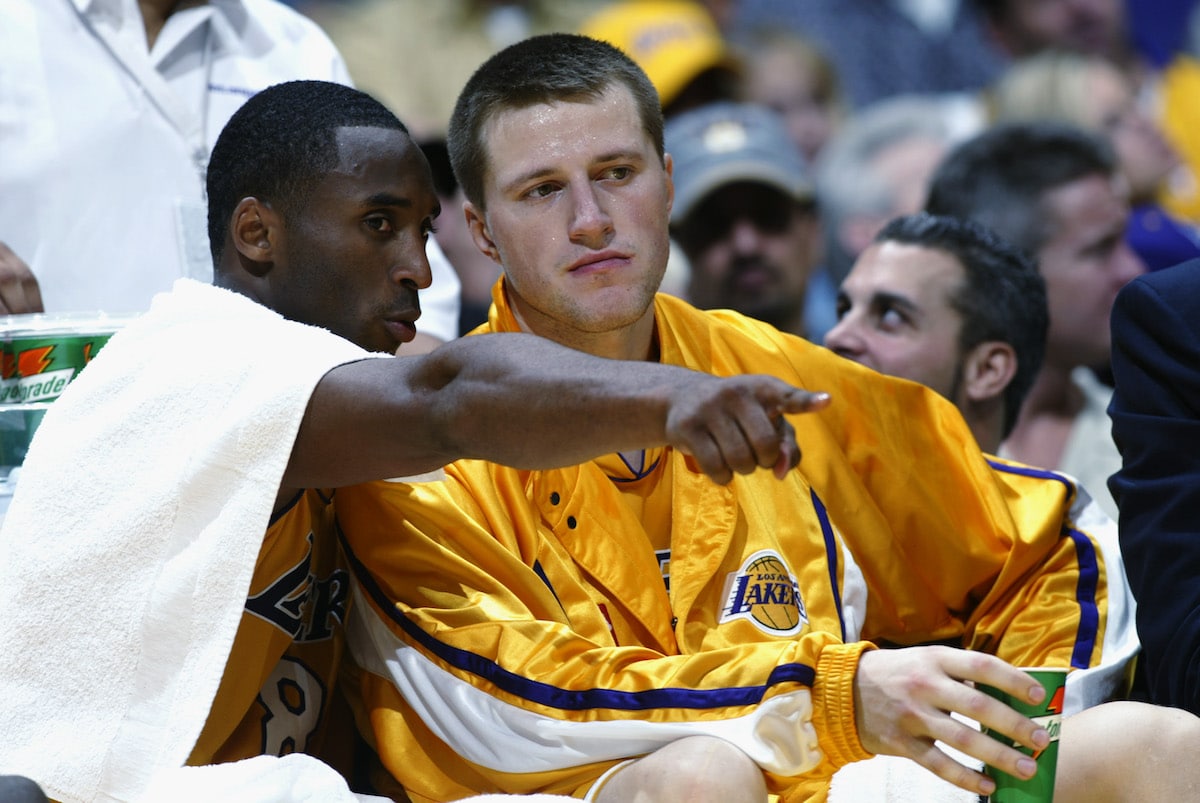 The Lakers are one of the most successful franchises in NBA history with an especially great run in the early 2000s. The three most famous athletes on those teams were undoubtedly Kobe Bryant, Shaquille O'Neal, and Rick Fox. With their leadership, LA won three championships in a row. 
Medvedenko joined the Lakers for the 2000-01 season. The power forward didn't play many games in his first season, but he played a bigger role in the 2001-02 season. That said, while he did play a handful of playoff games, he did not get as much time on the court as the All-Stars did. 
For example, during the controversial Western Conference Finals against the Kings, Medvedenko played in four games, with a total of 11 minutes played, according to Basketball Reference. The Ukrainian athlete scored two shots, and his stats weren't that much different in the finals when the Lakers swept the Nets.
Medvedenko only played in two of the four finals games, and he only made one shot, though he also only attempted one shot. 
Why Slava Medvedenko is selling his championship rings
The 2001-02 season was the last championship Medvedenko won before retiring in 2007. Until February 24, 2022, when Russia invaded Ukraine, he lived a relatively quiet life. According to Sports Illustrated, that's when the former champ decided to sell his bling to help out his native country.
Medvedenko was living in Kyiv at the time of the Russian invasion. While on the roof of a tall building in his neighborhood, he saw Russian rockets and missiles fall on his homeland.
It didn't take long for Medvedenko to join Ukraine's territorial defense forces, but the former NBA champ, fortunately, hasn't needed to use his weapon. Regardless, he wants to help Ukraine in any way that he can, and that's why he sold his rings.
His championship rings are estimated to fetch for about $100,000 a piece. Medvedenko knows exactly where he wants that money to go. Russia has destroyed a lot of Ukraine's buildings including includes schools and gyms. Medvedenko wants his money to go toward helping Ukrainian kids by rebuilding gyms so they can play and exercise inside, especially during the winter. 
Other pro athletes have sold their rings for good causes too
Last year, the late great Bill Russell auctioned off a lot of his stuff, including some of his championship rings, all for charity. Russell auctioned off 400 things, including two of his 11 championship rings, his MVP trophies, his Olympic gold medal, and more. 
Some proceeds from that auction went to MENTOR, a charity providing mentors for youth. Another portion of the proceeds went to Boston Celtics United, a charity initiative from the Celtics. In particular, Russell's donation to the charity is aimed at addressing racial and social inequities in the Boston area. 
RELATED: Shaquille O'Neal Made $286M in the NBA, Won 4 Titles, and Soon Will Have 11 More Championship Rings