Kobe Bryant Shared a Secret With LeBron James That Had Nothing to Do With Basketball
Kobe Bryant was renowned for his "mamba mentality" approach to both basketball and life. Over the years, he mentored players such as Kevin Durant, D'Angelo Russell, Dwyane Wade, and others outside the game. Very early in the career of LeBron James, Bryant delivered a piece of advice that serves as a guidepost for The King years later.
Bryant is one of those transcendent personalities revered in death as much as he was when he was alive. His competitive fire was legendary, and he left an enormous imprint on what the NBA is today. From his Hollywood-like final game to impressing upon younger players the importance of paying attention to the details, Bryant inspired and guided a generation of basketball players. One of the first was James.
Kobe Bryant emulated the best there ever was
Drafted out of high school in 1996, Kobe Bryant entered the NBA in the later years of Michael Jordan's storied career. Bryant molded and shaped what he learned about Jordan's work ethic and developed it into his "Black Mamba" identity. That, in turn, spawned the mamba mentality.
Though Bryant was a fierce competitor, he was also a willing mentor. Since his death in January 2020, dozens of players have shared tales of their interaction with him. Young stars such as Devin Booker, whose rookie year coincided with Bryant's final season, model parts of their game after Bryant. After the Black Mamba retired, Trae Young entered the NBA and cited lessons imparted by the Hall of Famer.
Though they entered the NBA nearly a decade apart, Bryant shared a particularly tight bond with LeBron James.
What was Kobe Bryant's advice to LeBron James?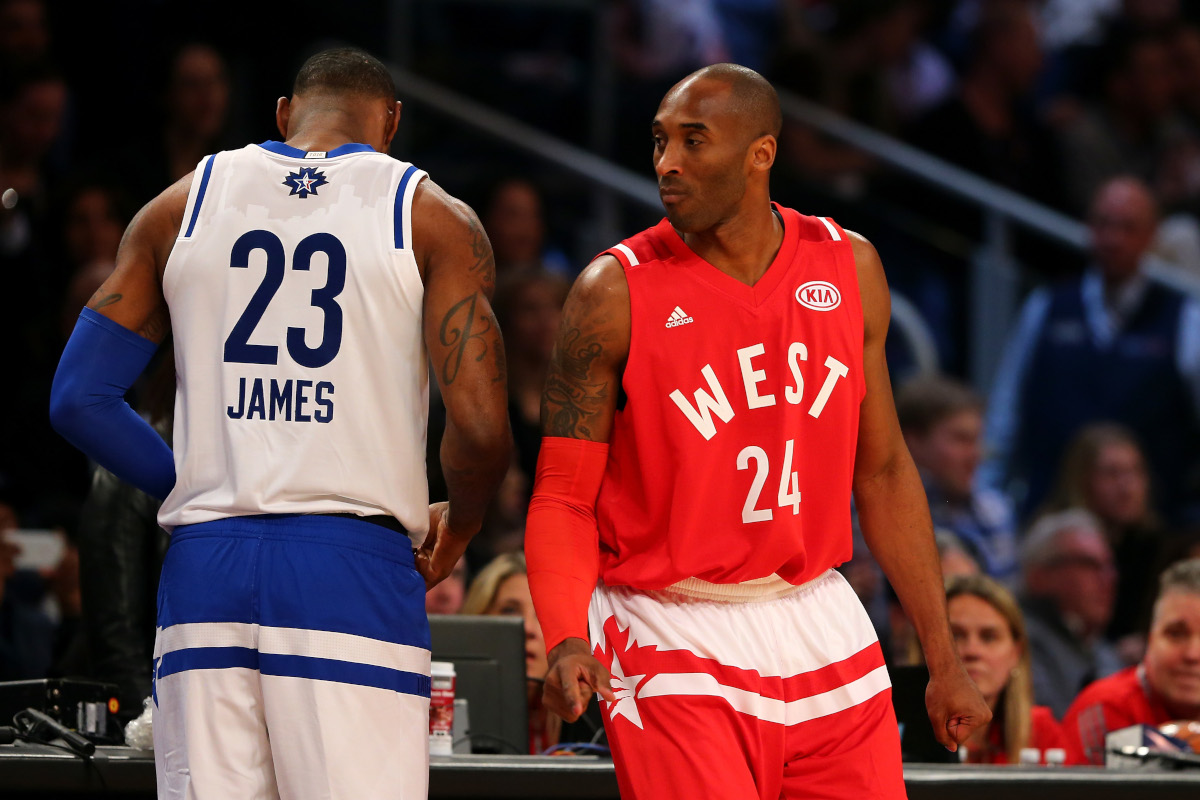 When one talks about intertwined legacies, LeBron James and Kobe Bryant are near the top of the list. The only thing missing from their on-the-court battles was an NBA Finals against each other. The odds favored that matchup happening in both 2009 and 2010 until the Orlando Magic and Boston Celtics, respectively, failed to receive the memo.
In Matt Sullivan's Can't Knock the Hustle, James shared the one thing Bryant told him that resonated most of all. It had nothing to do with basketball, competition, striving for excellence, or staying on task. Instead, it had to do with a life lesson.
"Don't rely on basketball for your happiness because it's not gonna happen. Make sure you balance your life out, you have something there for yourself in life, so when the game is over, you know exactly what you want to do."

LeBron James, recalling advice from Kobe Bryant
Primarily, Bryant was referring to life after the NBA lights faded. What made it remarkable is the message's timing.
A 17-year-old James attended a basketball camp during the summer. of 2001 He was a rising junior in high school at the time. One of the speakers at the camp was Bryant, who was a wizened sage of 22 years old.
What has James done with that advice?
LeBron James has won four NBA championships, one shy of Kobe Bryant's career total. But more than that, James has embraced Bryant's advice about attaining a work-life balance.
Besides amassing honors on the court, James also ensured he put together a legacy off the court. He created the More Than a Vote campaign to focus on voting rights. Now, the organization is shifting its focus to reforming in the criminal justice system.
As a business figure, James has earned more than $1 billion in salary and endorsements. He starred in a reboot of Michael Jordan's 1996 hit film Space Jam that hasn't gained critical acclaim. But it did have a $31.1 million opening in the U.S. and has earned $65.6 million domestically and $135.6 million worldwide through Aug. 8, per Box Office Mojo.
While we never got a LeBron-Kobe Finals, the superstars met 22 times in the regular season. James held a 16–6 edge in those meetings and scored 28.2 points per game. Bryant put up 24.6 points a night in their head-to-head matchups.
But Kobe did have an advantage in the All-Star Game. In the midseason exhibition, the pair faced each other nine times, with Bryant's Western Conference topping James' Eastern Conference in six of those games. Three times, they were both elected, but Bryant did not play due to injury.
The duo played together at both the 2008 and 2012 Olympics. USA Basketball was 16–0 and won a pair of gold medals.
Kobe Bryant had off-the-court issues, but he was also tremendously influential as a positive force for young players. LeBron James can attest to that.
Statistics courtesy of Basketball Reference and Stathead.