Kobe Bryant Would 'Sit by Himself' on Team Planes and 'Watch Michael Jordan Interviews' as a Young NBA Star
Watching Kobe Bryant was like watching another version of Michael Jordan. No, Bryant didn't have quite as much success as Jordan, but he emulated his game perfectly and had the same killer mentality Jordan had throughout his NBA career.
However, Bryant didn't just attempt to be like Mike on the court; he also tried to be like him off it. In fact, Bryant would even sit by himself and watch Jordan interviews.
Kobe Bryant and Michael Jordan had a special relationship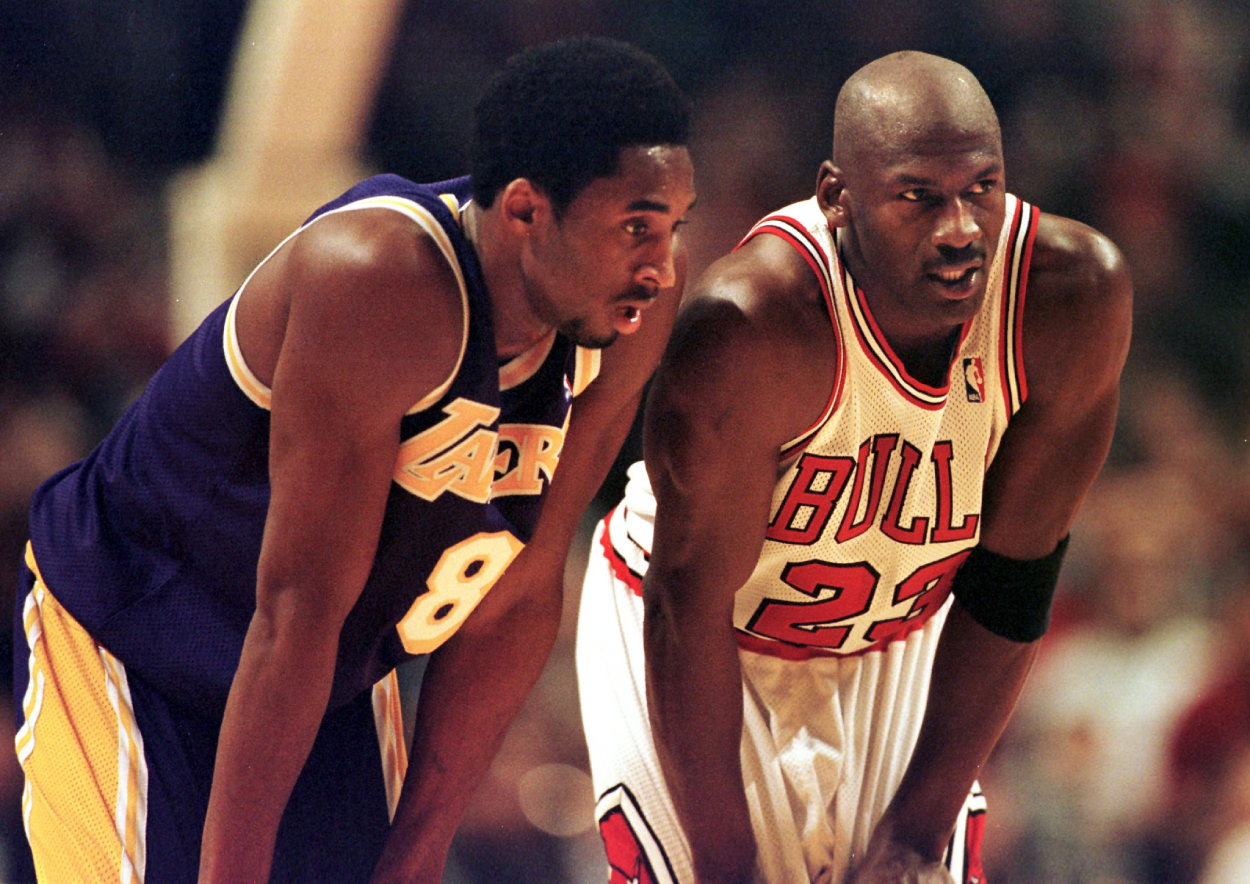 From the moment Bryant took the court in the NBA, you could see Jordan in his game. He had MJ's same moves and even a similar competitive nature.
However, although Bryant was constantly aiming to be better than Jordan, the two legends had a special relationship.
"If you just watched them interact in a game, Kobe always was like a magnet going toward Michael," Jerry West said of the two, per ESPN. "Usually Michael didn't really interact with a lot of players when he was on the court. He'd just play. But for some reason, he had this affinity for him."
It appears Bryant leaned on Jordan for inspiration and advice, too, as he called Jordan "big brother" and MJ referred to him as "little brother."
"Maybe it surprised people that Kobe and I were very close friends," Jordan said at Bryant's memorial ceremony, per ESPN. "But we were very close friends."
While Bryant mastered emulating Jordan on the court, he also tried to be like him off it.
Kobe watched MJ interviews
Jon Barry played on the Los Angeles Lakers in 1997-98, Bryant's second year in the league, and he recently discussed what it was like being on a team with young Kobe.
"He just wanted to play, and that's all he did," Barry said on the July 20 episode of The Dan Patrick Show. "Literally, he wouldn't talk on our planes. I believe he wrote a lot of lyrics, rap music. And he wouldn't join in our reindeer games of cards and all that stuff. He would sit by himself, write whatever he was doing, he would watch Michael Jordan interviews; he would never go out in the city we went to."
Wait, he would actually watch Jordan's interviews?
"He wanted to be him more than anything in the world — and be better," Barry said. " He got close, but that's all he wanted."
Bryant, indeed, got close; he and Jordan were two of the greatest players to ever play.
Comparing Kobe Bryant and Michael Jordan
Since Bryant wanted to be like Jordan so badly, how do his stats and achievements compare to MJ's?
Take a look below.
Kobe Bryant:
18 All-Star selections
Five NBA championships
Two NBA Finals MVPs
One league MVP award
Two-time NBA points per game leader
33,643 career points (No. 4 all-time)
25.0 career points per game average (No. 13 all-time)
Michael Jordan:
14 All-Star selections
Six NBA championships
Six NBA Finals MVPs
Five league MVP awards
10-time NBA points per game leader
32,292 career points (No. 5 all-time)
30.1 career points per game average (No. 1 all-time)
Jordan is widely considered to be the GOAT, so aspiring to be like him and not shying away from comparisons can be a bold thing for anyone to do. But Bryant wasn't afraid of the challenge; he accepted it and did everything he could to be better than MJ.
Whatever Bryant did while developing his game, obviously, worked and watching those interviews probably didn't hurt, either. Bryant played basketball nearly identical to Jordan and ultimately became an NBA legend.
Stats courtesy of Basketball Reference
RELATED: Michael Jordan Has Talked to His Specific Friend Almost Every Day for 30-Plus Years: 'We Have a Lot of Fun'