Kobe Bryant Taunted His Own Lakers Teammates After Hitting a Clutch Shot in the 2000 NBA Finals: 'They Didn't Even Believe'
Kobe Bryant may have had one the most successful careers in NBA history with the Los Angeles Lakers, but things weren't always easy for him. He had to earn everyone's respect, even when it came to his teammates.
In fact, Jalen Rose, who faced Kobe during the 2000 NBA Finals, recently revealed that Bryant actually taunted those teammates who doubted him after hitting a clutch shot in the Finals.
Kobe Bryant's Lakers teammates didn't like him early on in his NBA career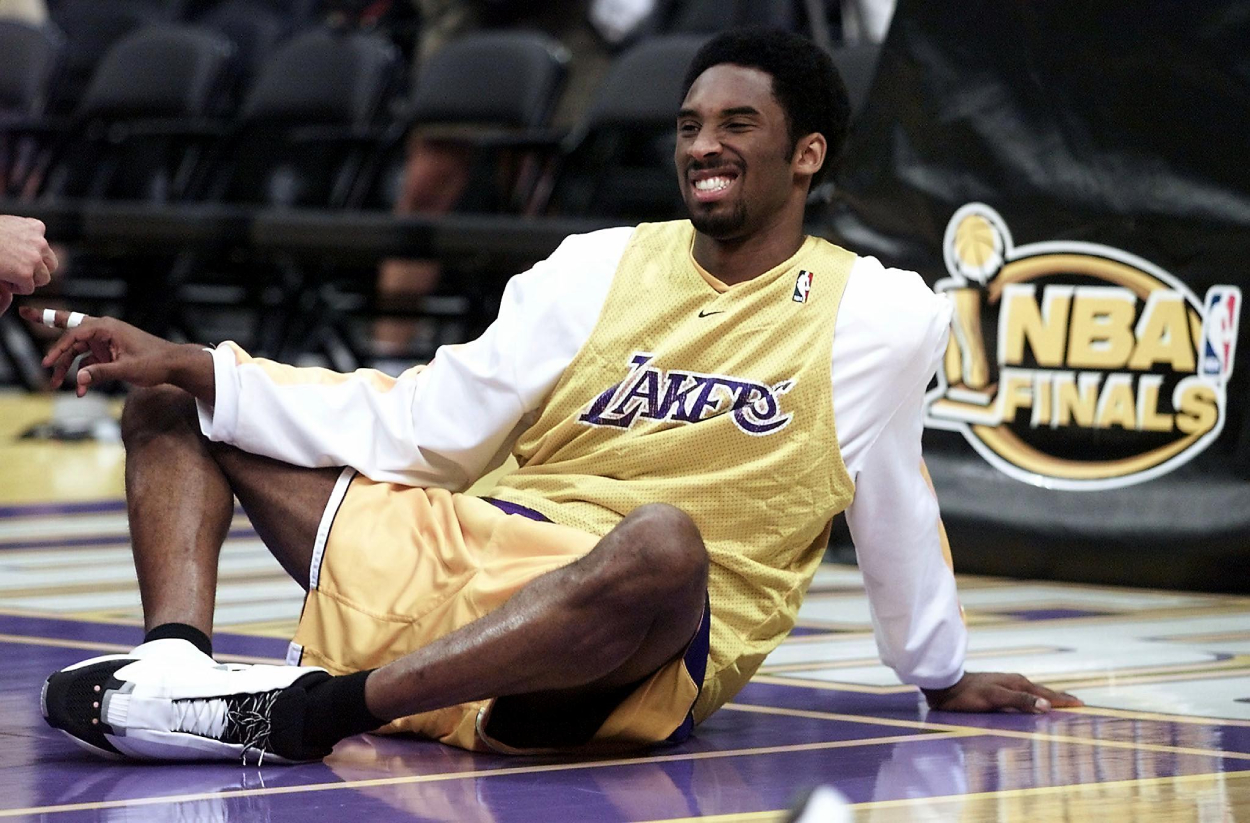 Despite entering the NBA straight out of high school, Kobe Bryant had an intensity about him early on in his career. He kept to himself and tried his hardest to be like Michael Jordan.
He was pretty good, too.
Although he only scored 7.6 points per game as a rookie, Kobe averaged 17.6 points per 36 minutes in his first season. That number then jumped up to 21.4 in his second year, even though he only averaged 15.4 per game.
However, while the future Hall of Famer proved his talent and became an All-Star, it took a while for his teammates to respect him.
According to the book Three-Ring Circus: Kobe, Shaq, Phil, and the Crazy Years of the Lakers Dynasty, a team meeting about the triangle offense during the 1999-2000 season — Phil Jackson's first year as head coach — resulted in multiple players attacking Bryant. And Jackson even later admitted that if trading Kobe came down to a players-only vote, he would have likely been gone.
But Bryant ended up proving all those players wrong later that season.
Kobe taunted his teammates during the 2000 NBA Finals
Kobe Bryant cemented his All-Star status in 1999-2000, earning the honors for the second time in his career. It also ended up being the first of 17 straight selections for him.
Overall, Bryant averaged 22.5 points per game that season, and he and Shaquille O'Neal led the Lakers to the 2000 NBA Finals against the Indiana Pacers.
LA took a 2-0 series lead against Indiana, but Bryant missed Game 3 with an ankle injury, and the Pacers won 100-91.
He, however, returned for Game 4.
During that pivotal contest, the Lakers and Pacers went to overtime. Shaq had a massive game with 36 points and 21 rebounds but eventually fouled out. So, as former Pacers star Jalen Rose put it, Bryant then had his "coming out party." 
Bryant scored 12 of his 28 points in the fourth quarter and overtime to lead the Lakers to a 120-118 win. And Rose revealed that Kobe was actually arguing with his team's bench while leading them to that victory.
"I used to hear Phil yelling at Kobe, 'Pass the ball. Move the ball. Get off of it,'" Rose recalled on the Dec. 9 episode of All The Smoke. "… I don't know what game he watching. And Shaq fouled out. Man, Kob; I love Kob so much. He went to work on us."
At one point during Kobe's take-over, he hit a jumper over Reggie Miller with about two minutes left in overtime to give LA a 114-111 advantage. After the shot, Bryant then proceeded to pump his arms downward while walking to the other end of the court.
Rose called the celebration the "get down, lay down," but he said it wasn't even directed toward the Pacers. Kobe was doing it toward his teammates.
"Because they didn't even believe in Kob," he said. " When Kob first got drafted … Kob was resented by his own teammates. By his own teammates. I couldn't believe it."
Kobe Bryant proved all those Lakers teammates wrong
That wasn't the only moment where Kobe Bryant proved those Lakers teammates wrong.
After closing the Pacers out in six games during that series, the Black Mamba and Shaq ended up leading LA to three consecutive championships. Following the 2003-04 season, though, the team traded O'Neal to the Miami Heat, and Bryant became the guy.
Kobe led the Lakers to three more consecutive Finals trips from 2008 to 2010. They also won two more titles with him.
"I [understood] how to connect the team more," Bryant said on All The Smoke in January 2020. "I didn't have to with Shaq because Shaq was the guy that connected everybody. And still drove a hard bargain, but he was the jovial one and connected everybody. So, I figured out how to do that but do that in my own way."
There was a reason he wanted the ball in his hands so much when he was younger. Kobe knew what he was doing.
Kobe Bryant may have had issues with his Lakers teammates when he first entered the league, but he eventually earned everyone's respect and became one of the greatest players of all time. Mamba is an NBA legend.
Stats courtesy of Basketball Reference